Top End Table
cDouall Stuart crossed the continent from Adelaide to Darwin, overcoming all manner of obstacles through a remote and inhospitable region. These days, embarking on an outback adventure is far more comfortable – but every bit as exciting.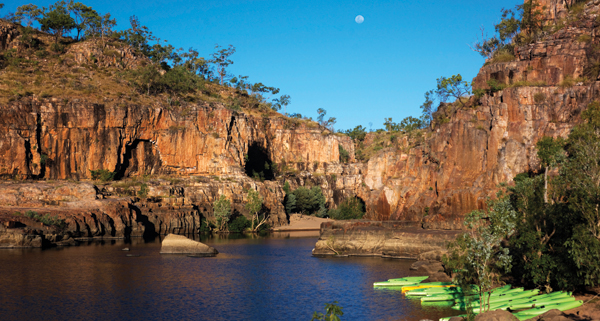 There's barely a ripple in the smooth, dark water, and we haven't seen any sign of movement in several minutes, but our guide is convinced: a crocodile is lurking just below the surface.
We keep our eyes fixed on the murky depths of Yellow Water Billabong, ignoring the glare from the early afternoon sun, black-and-white magpie geese in the adjacent wetlands, and the gentle rustling of vivid green grasses on the riverbanks.
Then the bank comes alive in a flurry of movement as a mud-green scaly body slithers from the depths, clamping its forceful jaws together against some unsuspecting prey.
This is nature at its most savage, but it's a daily occurrence in the wilds of Kakadu National Park, part of Australia's Northern Territory. Just like the stealthy crocodile, biding its time below the surface, this wilderness region has stayed quietly under the radar, attracting backpackers and campers but offering relatively little for higher-end travellers.
Until now, that is, as the arrival of new luxury lodges and more-personalised touring options open the territory to those who don't want to forgo their home comforts.
Natural selection
Darwin is the obvious gateway to the Top End, especially since Malaysia Airlines reinstated its service from Heathrow in November, flying four times a week via Kuala Lumpur from £3,486 return in business class.
Don't expect low-rise, industrial Darwin to win any beauty contests, although its revitalised waterfront and strip of seafront hotels show signs of promise. They include Mantra on the Esplanade, a comfortable choice with 204 rooms and one-bedroom apartments (from £106 in high season).
But the most exciting news on the high-end hotel scene is at casino resort SkyCity, where a recent extension has added 32 rooms fronted by a crystal-clear lagoon and man-made white-sand beach. Doesn't sound that exciting? In a city where crocodiles mean you can't swim at the beach, gearing up for an outback tour with a quick splash of sea and sand shouldn't be underestimated. Balcony rooms start at £224 and swim-up superior lagoon rooms from £250 in high season.
Granted, most visitors don't hang around in Darwin, but suggest making time for the insightful Defence of Darwin Experience, casting a light on the Pearl Harbor-style attack on the city by the Japanese in 1942 (entry £7.50, expert-led VIP tours from £53), and some extravagant Indian cuisine at Hanuman.
Stay cool in Katherine
When McDouall Stuart christened the Katherine River, which later lent its name to the spectacular Katherine Gorge and nearby town, he overlooked the more evocative epithet given by the Jawoyn people: Nitmiluk, or? 'place of the cicada'.
No matter what it's called, the dizzying scale of this deep gorge carved by the river through red-ochre rock is hard to comprehend. We cruised through two of its 13 majestic gorges, but it takes an aerial view to fully appreciate the chessboard-like layout, with deep fissures marking divisions between each square.
Aboriginal-owned Nitmiluk Tours offers 10% commission on its 13 Gorge Scenic Helicopter Flight (£127, with a remote landing upgrade from £19). The Adventure Swim Tour also flies away from crowds of cruising tourists for a different perspective (£269).
This is also a special site for the Jawoyn, a group of indigenous Australians, who still live in the area in their thousands. They are forbidden from overfishing or drinking the water to avoid angering rainbow serpent Bolung, the creator god.
Between its spiritual significance and awe-inspiring beauty, Katherine is worth more than a quick excursion off The Ghan, so it's lucky the opening of Aboriginal-owned Cicada Lodge last year – a sparkle amid a sea of mediocre accommodation – now offers an option for luxury travellers to stay a night or two and soak in the spirit of this landscape.
Park life
Visitors need more than a night to understand the uniqueness of Kakadu National Park. It's easy to spout a few of its famous facts, like the weather is divided into six seasons, or it's home to a third of Australia's bird species. But it takes being there to realise how these dramatic landscapes shift almost imperceptibly from the Aboriginals' expressively-named Knock-em-down storm season to Cooler-but-still-humid season; or begin to understand why the Aboriginals see themselves as caretakers, not owners, of a land where wildlife and nature have more power than man ever could.
Aboriginal-owned Gagudju Dreaming offers a range of tours and cruises, including the Yellow Water Billabong cruise, to explore the landscapes.
Kakadu is also home to ancient rock art sites such as Ubirr, as remarkable for its millennia-old rock paintings as its panoramic landscapes. It's one of the stops on the Full-day Kakadu Tour (£142) for guests of Wildman Wilderness Lodge on the Mary River Wetlands, and can also be arranged privately from Bamurru Plains.
With this new generation of luxury lodges and more options for individual tours, one thing is clear: tailoring the Top End for top-end travellers should be a snap.
Book it
1st Class Holidays has a 15-day package from £9,989. It comprises Malaysia Airlines business class flights, a night at SkyCity, two at Bamurru Plains, three at Cicada Lodge, then a return to Darwin for flights to Uluru and two nights at Longitude 131, a night in Alice Springs, then Gold Service on The Ghan back to Darwin. Upgrade to Platinum class from £805.
1stclassholidays.co.uk
Cox & Kings can tailor-make a six-night tour with car hire from Darwin. This could include three nights at Cicada Lodge with Nabilil Dreaming sunset cruise, Qantas flights from Darwin to Uluru via a night's stopover in Alice Springs, and two nights at Longitude 131 with luxury tour to Uluru, from £3,995, excluding international flights. coxandkings.co.uk
The Ghan: stay on track
Named after the Afghan camel-riders who explored the route, The Ghan first chugged from Adelaide to Alice Springs in 1929, yet it took until 2004 to be extended to Darwin.
The train offers three classes of carriage. Red Service is functional; the real bells and whistles are in Gold Service and Platinum Service. While gold tassels, plum-coloured soft furnishings and background jazz might be considered 1980s throwbacks in any posh hotel, here they create an atmosphere of elegance and decadence. Gold Service offers small but suitable cabins, while Platinum passengers enjoy a more spacious double bed and bigger bathroom. Both include bar service in the lounge, top quality three course meals, and off-train excursions at Katherine and Alice Springs.
Book it: A three-day journey from Darwin to Adelaide, or vice-versa, costs from £1,327 for Gold Service or £1,971 for Platinum, sold through operators including Gold Medal, Thomas Cook Signature and Anzcro.
TOP TIP
Find out more about The Ghan and other iconic rail services at railaustraliatraining.com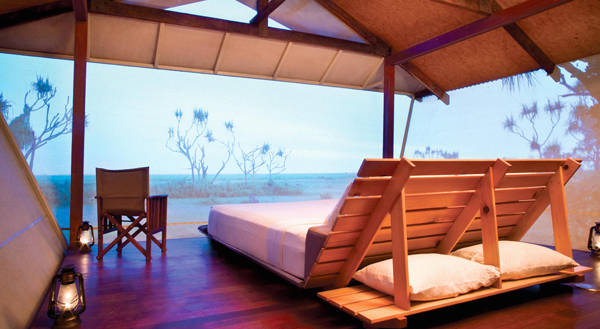 LUXURY LODGES: NORTHERN TERRITORY
Bamurru Plains features just nine safari suites with mesh sides so guests can fall asleep to the sounds of nature. Based on the Mary River Wetlands, don't expect internet access or mobile phone coverage here. From £279 per night. bamurruplains.com
Wildman Wilderness Lodge offers 10 air-conditioned cabins and 15 en-suite safari tents, five of which can accommodate families. Nature trails, private fishing and helicopter tours are available. From £193 per night. wildmanwilderness
lodge.com.au
Longitude 131° is in
Uluru-Kata Tjuta National Park, offering unrivalled access to Uluru from 15 luxury tents, with full-length windows to watch the vast
red dunes at sunrise or sunset, and numerous touring options. From £591 per night.
longitude