Feature: Shifting Sands
Qatar | July 01, 2015
Football and spa travel don't usually go hand-in-hand, but with dozens of hotels springing up ahead of the 2022 World Cup – many with a strong slant towards wellness – the beautiful game is kick-starting a new wave of tourism to Qatar.
Football and spa travel don't usually go hand-in-hand, but with dozens of hotels springing up ahead of the 2022 World Cup – many with a strong slant towards wellness – the beautiful game is kick-starting a new wave of tourism to Qatar.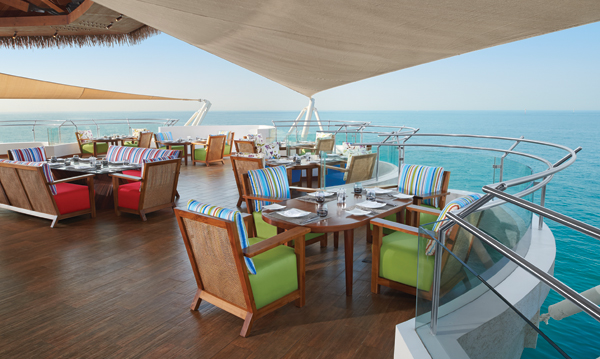 There aren't many things that would get me out of bed earlier than absolutely necessary, but this was definitely worth waking up for.With my running gear on and my iPhone camera at the ready, I set out just before sunrise for a few laps of Banana Island, a tiny islet just off Qatar's eastern coast and, since January, home to its newest luxury spa resort by Anantara.
Let's be clear – we're not talking marathon distances here. This banana-shaped island stretches barely a mile from its over-water villas at one end to a helipad at the other, and with frequent stops to take photos of the sun rising over the Persian Gulf, it wasn't exactly a taxing workout.
Yet if one night at this wellness resort had me feeling so energetic this early in the morning – so much so I couldn't resist an extra lap around the beach then a quick swim in the sea, all before 7am? – how much better would I feel after a few days?
That feelgood ethos is what Banana Island Resort Doha by Anantara is all about. The property is just the latest in a series of leisure hotel openings helping Qatar reposition itself as a destination that's about more than just corporate travel or quick stopovers en route to somewhere more interesting.
TIME FOR A CHANGEAt present, business trips account for more than half of the visitors to Qatar, but with $20 billion in infrastructure investment and a host of hotels being built to prepare for the (albeit controversial) 2022 World Cup, that's set to change.
The St Regis, InterContinental Doha The City, Warwick Hotel, Anantara and ultra-luxury Marsa Malaz Kempinski have joined the line-up of Doha's high-end hotels in the past year, with The Westin, Shangri-La and super-cool Mondrian Doha among another tranche set to follow in the next few months.
So there's certainly no shortage of cash being invested. Then again, when you're sitting on 15 billion barrels of oil and 14% of the world's natural gas reserves – a position that gives Qatar the highest GDP of any country – money isn't really an issue.
That wealth is a relatively recent development: until oil was discovered in the 1930s, Qatar relied on fishing and pearl trading, forced to ally with the Ottoman Empire and the British for protection, before declaring its independence in 1971.
But you wouldn't know it to look at Doha today. With as striking a skyline as any big city – even more impressive when you consider none of those skyscrapers is more than a couple of decades old – and mammoth construction works like man-made island The Pearl – Qatar under way, this is a city that feels very sure of itself.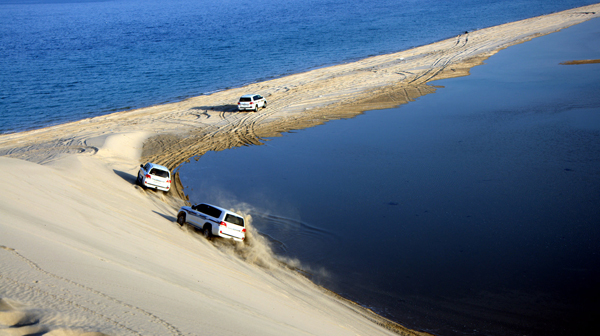 ARTISTIC ENDEAVOURSThe undisputed jewel in Doha's crown is the Museum of Islamic Art, which opened in 2008. It's worth visiting for the building alone, designed by the man behind the Louvre's glass-and-steel pyramid, Chinese-American architect I M Pei, who came out of retirement in his nineties especially to work on the project.
I defy anyone to walk into the enormous atrium and not stare open-mouthed at its magnificent Islamic-patterned dome or its 45-metre floor-to-ceiling window overlooking the West Bay (there's an Alain Ducasse restaurant on the top floor for those who want more time to marvel). Jaw-dropping moments aside, the collection isn't half bad either.
The fact that none of the artefacts originated in Qatar itself is easily brushed aside between cases of ornate Islamic scrolls from Egypt, carvings of dragons from China and paintings from Iran about Layla and Majnun, the Arabian world's Romeo and Juliet. The museum also features an array of glittering jewels that belonged to Shah Jahan, the Indian emperor who built the Taj Mahal.
Doha is trying to establish itself as a centre of culture for the Middle East, and while it's not there yet – the opening of the long-awaited National Museum of Qatar has been delayed again until next year – this is certainly a good start.
SOUQS IN THE CITY From one of Doha's newest attractions to one of its oldest, the bustling Souq Waqif is another must-see, whether you want to shop or not. Traders have gathered around this spot to barter spices and exchange livestock for a century, and although it has been tidied up in recent years, it still retains the cut and thrust of a traditional marketplace.
Its alleys are wider than the cramped, twisted souks of Marrakech or Dubai, and there's no hassle from vendors. But it offers the same array of goods, from heaped-up spices, pink peppercorns and barrels full of rose petals, to stacks of hand-woven carpets, perfumes and, in the side streets, a few air-conditioned shops selling gold and pearl jewellery.
There aren't the designer labels so abundant elsewhere in Doha – the luxury shopping mall on The Pearl is packed with the likes of Hermes, Balenciaga and Alexander McQueen – but with the men in their classic white robes and women wearing long black abayas, it's as much of a haunt for locals as visitors.
SMOOTH SAILINGNothing brings the contrast between old and new Qatar into focus quite as sharply as a dhow cruise across the bay. Idling along those calm waters in the traditional fishing boat – especially at dusk, when Doha's futuristic skyline lights up in a kaleidoscope of colour – it's hard to believe how much has changed.In less than a century, this city in the sand has evolved from a fairly ordinary fishing port to a player on the international stage. And if it can achieve that kind of transformation, who's to say what it will turn into next?
TRIED AND TESTED Musheireb Boutique HotelLocal character isn't exactly abundant in the hotels of the Middle East. With international chains reigning supreme, especially at the higher end of the market, it can be hard to find any signs of which country you're in once that hotel room door closes at night.So this little gem comes as quite a surprise. Sitting amid the handful of properties that make up Souq Waqif Boutique Hotels, this 15-room property has a strong heritage feel, with Arabic designs sprinkled across its entrance lobby and bold, heavy fabrics in its rooms.The simple breakfast spread is similarly diverse, with the usual Western fare appearing alongside huge plates of houmous and baba ghanoush, and lentil dish ful medames next to the scrambled eggs and cereals.It's not flashy – though guests who want all the bells and whistles can make use of the hammam, spa and gym at slick sister property Al Jasra next door – but will make a refreshing choice for visitors who want a balance of comfort and character.A coral traditional room starts at £106, with a junior suite from £178.SWBH.COM
TRIED AND TESTEDBanana Island Resort Doha by Anantara
"Just five more minutes", I think sleepily as the therapist treating me to an Anantara Signature Massage wakes me from my semi-meditative state. Luckily, she's just asking me to turn over, which means this massage – one of the best I've had – is only halfway through. Thank goodness, because I haven't felt this relaxed in quite some time.With separate spa and wellness centres offering a dizzying array of treatments, achieving that sense of bliss is the main aim of this island resort, home to 141 villas and suites just 25 minutes from Doha.For active types, there's pilates, tennis, kayaking and a dive centre. For quality family time, try the bowling alley, surf simulator or cinema. Or just kick back on that 800-metre beach.Sea views don't get much better than from the 11 over-water villas – a new concept for Qatar – so book one of those and clients can just hang out in the sizeable infinity pool all day. Bliss achieved.A sea-view room starts at £269 and a two-bedroom over-water villa at £1,900, both on a bed-and-breakfast basis.DOHA.ANANTARA.COM
BOOK ITAbercrombie & Kent offers a seven-night break in Doha from £1,425, including two nights at the Musheireb Boutique Hotel and five at the Banana Island Resort Doha by Anantara. The price includes Qatar Airways flights from London, private luxury transfers and breakfasts.abercrombiekent.co.uk
SENSE OF ADVENTUREDune bashing is nothing new in the Middle East, so I'll admit to feeling somewhat ambivalent about driving a good hour out of Doha just to get bounced around in the back of a 4x4. Yet this was a desert adventure with a difference.Not only was there no long snake of vehicles following each other across the dunes, or endless tracks in the sand making guests feel less like explorers and more like ants treading the same path as everybody else, but this dune-bashing trip also came with a sea view.The sparkling waters of the Persian Gulf dipped in and out of sight as we tore up and down the untouched dunes, coming to a halt at the edge of the Qatari border, with Saudi Arabia visible just across the water.This was one dune-bashing excursion that was well worth the effort, offering a feel for the rolling desert landscape that lies beyond the city's shopping malls and skyscrapers.Qatar International Adventures offers a range of excursions from Doha, including desert safaris, north of Qatar tours, Doha city tours and dhow cruise excursions.QIA-QATAR.COM