Feature: Peaks of Perfection
Italy | September 23, 2015
The snow may have gone but there's nothing slushy about the summertime fun to be had in the Tirol, with hiking, rafting, canyoning and cycling hitting all the right activity buttons for energetic holidaymakers, and fine dining to round it all off.
The snow may have gone but there's nothing slushy about the summertime fun to be had in the Tirol, with hiking, rafting, canyoning and cycling hitting all the right activity buttons for energetic holidaymakers, and fine dining to round it all off.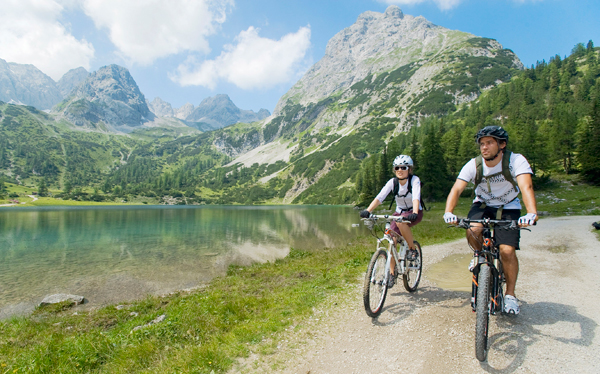 The last time I visited Austria, it was to snowboard/fall down a lot on the slopes at the ski resort of St Anton – a place probably more famous for boozy apr??s-ski shenanigans than for its snow.
My trip to the little town of Kirchberg offered a stark contrast. True, its location beside the ski resort of Kitzb? 1/4 hel makes it a place of pilgrimage for snow lovers in winter, but in summer a very different, very green Austria is revealed, chock-full of winding mountain trails, pretty Alpine flowers and one of the most cracking waterfall vistas I've seen during my travels – and I love a good waterfall vista.
Our first stop after transferring from Innsbruck was the Rosengarten hotel, owned and managed by one of Austria's most highly rated chefs, Simon Taxacher. The hotel's signature restaurant serves up some of the finest food in the country. The zinger for me was a frothy parsnip soup with black nuts; it might not sound that exciting, but crikey was it delicious.
But more about the hotel later. Our first stop post-check-in led to one of the more surreal afternoons I've ever experienced, as we headed to a local archery zone to try our hand at shooting fake deer, badgers and other assorted woodland creatures, including a disconcerting cat-sized wasp.
This was all indoors and great fun, but it's also possible to head out into the forest on an archery trail to shoot strategically placed pretend animals in what would be their natural habitat if they weren't made of foam and rubber. It offers pretty well all the excitement of hunting in the wild without actually killing anything (kitzbueheler-alpen.com). If I ever see a real cat-sized wasp, though, and I've got a bow and arrow to hand, I guarantee that freak is going down.
The next day it was time for some serious outdoor exploring of the mountains around the town as we embarked on a guided hike with the very knowledgeable Regina Höckner of the Kitzb? 1/4 heler Alpen – Brixental Tourist Board. The trail we took offered fantastic sights, culminating in a picture-postcard view combining that wonderful waterfall against a backdrop of lush green forest and a snow-tipped peak.
Along the way we stopped at a mountain hut for a 'snack' (it was massive) of a jammy pancake dish called Kaiserschmarrn, then later took lunch at the Kasplatzl dairy, which bills itself as 'the perfect spot for savouring cheese'. I was rather excited about this; the combination of a platter of the good stuff and a huge glassful of beer was very welcome. All the cheese is made on site, and tours with expert explanations of the processes involved are available (kasplatzl.at).
We were promised a visit to a spa at the end of our walk, although I think something must have been lost in translation. Rather than enjoying a sumptuous pampering treat, we found ourselves in a series of outdoor water therapy stations at the brilliantly named Spertentaler Kneippwasser, featuring ice cold fountains, ice-cold pebbly steps and an ice-cold pool that our guide insisted we walk around extremely slowly despite the hard-to-avoid urge to get out of it as fast as possible. All credit to those canny Austrians – aching legs definitely felt better the next day than they would have without it. As it turned out, a session in the sauna at the Rosenplatz later on more than made up for the cold.
If we'd not been hiking, we could have been e-biking. In Europe there's a growing popularity for sitting atop a contraption that's pretty much the same as an ordinary bike except that its battery builds up a charge as you're cycling on the flat and downhill which the integrated electric motor then uses to help you up the hills. It's perfect for the less able or those who simply don't like slogging their way uphill so much.
Kirchberg has direct access to more than 600 miles of cycle trails and 500 miles of mountain bike trails. The town is also the base for the annual KitzAlpBike Festival, one of the biking world's top events (kitzalpbike.com).
Add all this to the opportunities for climbing, rafting, canyoning, paragliding, horse riding, golf and more that it's possible to have a go at in the Kitzb? 1/4 hel area, and you've got a place that'll keep the most energetic holidaymaker happy.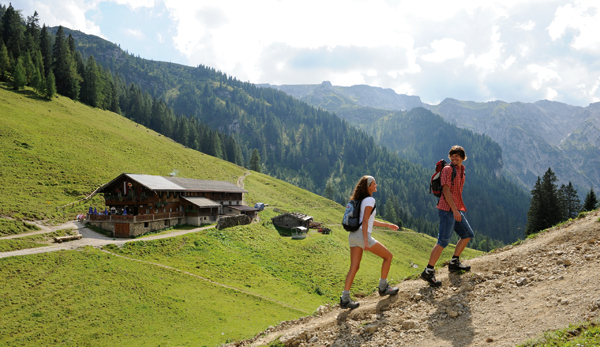 Innsbruck
If you're flying in or out of Innsbruck, you really ought to stop over in the city, which is the capital of the Tirol, for a day or two, as I did after my time in Kirchberg. Tucked away in a valley between three mountains, and gorgeous at both ground level and from above, Innsbruck brims with historical and cultural sights and has a thriving cafe and restaurant scene.
The city is renowned as a winter sports centre and has hosted the Winter Olympics twice, but in summer the hiking and biking trails in the surrounding mountains are a big draw for both locals and visitors. There's plenty to see in the city itself too, not least the former Habsburg palace of Hofburg, the most significant cultural building in Austria outside Vienna, which houses a cenotaph dedicated to Emperor Maximilian I.
A more unusual experience can be had at the Innsbruck's Grassmayr Bell Museum. You might not think you're that interested in bells (at least, I didn't think I was) but that's before you've stood in one while an enthusiastic octogenarian tour guide whacks it with a massive hammer.
Lichtblick on Maria-Theresienstrasse is a trendy place for evening dining where you can try a creative spin on local fare while enjoying a panoramic view of the city. For lunch you could take the city's funicular and cable car into the surrounding mountains to eat at Seegrube, where you can choose from a number of traditional Austrian dishes such as Wiener schnitzel and Osttiroler Schlipfkrapfen – Tirolean noodles filled with potato and chives.
Swarovski Crystal Worlds
There are several thought-provoking exhibits in the Swarovski Crystal Worlds museum's main Chambers of Wonder section. If you have kids in tow, then the enormous Playtower is the real star of the show. Featuring four levels of soft play areas, interconnected by slides and a rope web from top to bottom, children (and adults who can keep up) can scramble, climb, swing and bounce their way around the complex, which they do with looks of utter glee on their faces – it's kids' heaven.
Other Mountain Experiences
Looking for something a little different in the mountains during the summer?Sticking with the Tirol, an unusual option is to stay at the beautiful St Georgenberg-Fiecht monastery near Lake Achensee. Founded in 1138, it is still an active monastery and so not a five-star resort, but relaxation, meditation and spiritual counselling classes are available, making it a unique retreat where spiritually minded clients can escape the stresses of daily life. Three nights at the monastery start from £508 per person half board, including return flights to Innsbruck and resort transfers, through Inghams.
Further west in Austria, the Hotel Tannenhof in St Anton offers a two--day luxury BBQ and smoking course with three-toque head chef Christoph Zangerl. The hotel also offers a five--night detox, including algae body wraps, privately -tutored yoga sessions and a private hiking guide for exploring the Arlberg massif. Book through Small Luxury Hotels of the World.
At the Hotel Cristallo in Italy's Dolomites range, adventurous guests can traverse the via ferrata, or 'iron roads', with their panoramic views of the mountains. These walkways use fixed cables, ladders and bridges, and were built during the First World War as Italy fought Austria for control of the mountains. The Cristallo can be booked through Carrier.
In Switzerland, the W Verbier offers the opportunity to try out a single paragliding flight or take a five or 10-day course. There are two 18-hole golf courses nearby, with e-biking, mountain biking and bungee jumping available too. Book through Carrier.
Expert View: Hannah EldridgeAgency sales executive, InghamsEurope's mountain resorts are typically associated with snow and skiing, but for many of our guests summertime is when the hills truly come alive. The longer days, snow-free paths and mild climate make May to September a great time to explore the Alps on foot, by bicycle and even horseback.Visitors can also make use of the ski lifts in many resorts to reach higher walking trails for breathtaking panoramic views, fresh air and the delights of the local fauna and flora, which is at its most vibrant during the summer months. Inghams offers activities and experiences for those looking for something different on a lakes and mountains break, including bridge lessons in Belle Plagne, France, chocolate making in Opatija, Croatia, and wine tasting in Slovenia, which has over 28,000 wineries.In Austria, our guests can take a pottery class in Zell am See, learn to cook a classic strudel in Seefeld, and even learn to yodel on a yodel hiking trail in Königsleiten! Our city-break add-ons to eight destinations let guests team their holiday in the great outdoors with a three or four-night stay in some of Europe's most vibrant and culturally rich cities, including Vienna, Venice, Innsbruck and Munich.Relais & Châteaux Rosengarten Helpful and friendly staff, a good spa area and impressive rooms are all to be expected in a quality five-star property, and all can be found at the Rosengarten. But the standout feature of this contemporary hotel on the edge of Kirchberg is definitely the food.In this neck of the woods the cuisine tends towards the traditional and hearty – big portions of tasty Tirolean grub, but not particularly refined. The Rosengarten, however, is owned by award-winning Austrian chef Simon Taxacher, who has his own restaurant on-site, and the food is comparable to a top-notch restaurant in a major city.Cookery courses are available in the hotel's top-floor studio where you can meet the chef and follow his team, and there is private dining for special events for up to 12 people.Inghams offers seven nights at the Rosengarten on half-board followed by a three-night city-break in Innsbruck at the Four-star Hotel Adlers on B&B from £1,439 per person. The price includes return flights to Innsbruck and resort transfers. Regional flights are available from Bristol (+£69), Birmingham (+£49), Manchester (+£49), Leeds Bradford (+£59) and Edinburgh (+£69).