Tuscany three ways: City, country, coast
Italy | August 16, 2012
Joanna Booth finds that Tuscany has the holy trinity of holiday optionsLike this article? Click here to download and save as a PDF.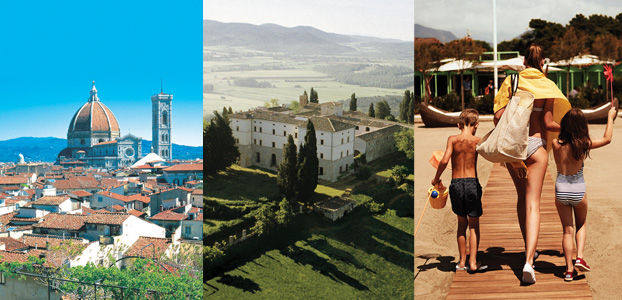 Joanna Booth finds that Tuscany has the holy trinity of holiday options
Like this article? Click here to download and save as a PDF.
Rome may be the Eternal City, Salerno may be home to the stunning Amalfi Coast, and Umbria may bear the nickname Italy's green heart, but if you're looking to find one area of Italy that can provide city stays, rural idylls and beachside fun, then Tuscany is a sure thing.
The cradle of the Renaissance was also the nursery of British tourism in Italy, but our love for Tuscany has never faded or faltered. And there's no reason for our affection to cease. As sterling strengthens against the euro, Italy isn't as prohibitively expensive as it seemed a couple of years ago. And with a diversity of options to suit couples, families and groups, it really is a region for all ages.
One of Italy's most powerful city states, the wealth and influence of Florence's citizens was written large in the streets during the Renaissance. Era-defining art and architecture are on every street corner, from the dominating Duomo to the iconic Ponte Vecchio, with the statue of David in between.
There are sights to tick off, sure, but Florence is as much about lifestyle and fashion as it is sightseeing, which means it's a city break that bears repeat visits.
British Airways and CityJet fly direct, and there's a host of hotels from the deluxe to the more manageable. In the centre of the city, try Rocco Forte's Hotel Savoy for a perfectly located urban pad; to escape the crowds – particularly useful for those who want to visit in the hotter summer months – try Il Salviatino, a gorgeously converted former hunting lodge in the Fiesole hills.
For those without five-star spending power, the three-star plus Rosso 23 is an excellent design hotel in the central Santa Maria Novella area. Cresta Holidays offers three nights here in November including flights from Gatwick from £215. A classy four-star choice in the centre is the Hotel Brunelleschi, from £605 for three nights in September from Classic Collection Holidays.
While Florence dominates the Tuscan city break market, it's by no means the only choice. Pisa is well served by easyJet, Ryanair, BA and Jet2.com, and alongside the famous leaning tower, visitors will find the Campo dei Miracoli – a 'field of miracles' with a stunning collection of religious buildings and museums – plus a beautiful botanical garden. Lucca is another lesser-known choice that's growing in popularity, where the city walls encircle nearly 100 churches and many medieval towers, and the summer months see the Puccini music festival.
South of Florence lies Siena, where the medieval centre is so well preserved it feels as if you're stepping back in time. Peel back the layers of streets to find the Piazza del Campo at the centre, where the Palio horse race is run in August. Sardatur Holidays offers seats in balconies or in the stands in the square.
Rolling hills traced by lines of vines or clumps of olive trees, punctuated by the dark green exclamation marks of poplar trees – the countryside is perhaps the first image that springs to mind when one hears the name Tuscany.And it is absolutely stunning.
There is little more idyllic than a relaxing week by the pool, winding along deserted roads to picturesque hill towns such as San Gimignano, tasting locally-grown wines, eating great food and generally enjoying the view.
The heartland of Chianti, between Florence and Siena, is utterly beautiful but very popular – try further south in Maremma or north in Pistoia for a quieter experience in high season. Car hire is pretty much essential in the Tuscan countryside unless clients want to reach the property they're staying at and not leave until they return to the airport.
Villas are popular and there are plenty on the market through the likes of Citalia, Meon Villas, CV Travel and A&K Villas – Citalia offers a week at four-star villa Le Cellole from £529 per person in September – but hotels, both boutique and larger in scale, are great for those who don't want to cater for themselves.
Castello Di Vicarello is a dreamy upmarket choice, a 12th-century castle converted into an exquisite 12-room boutique with its own vineyard and cookery school. Castel Monastero is a popular larger option, with 74 rooms, access to a golf course and polo club and a huge spa with special programmes for weight loss and preventative medicine. Sardatur offers a week here from £1,630 in September including car hire.
At the four rather than five-star level, Cresta Holidays recommends the Castellare di Tonda, another large resort with stables, driving range and kids' club, and which offers cookery and painting classes, and is right in the heart of Tuscany. The operator offers seven nights in October with BA flights from £245.
New for this year is the five-star Castello Di Casole, a 41-suite former castle property in its own estate with vineyards and a game reserve, and a church and amphitheatre in the grounds.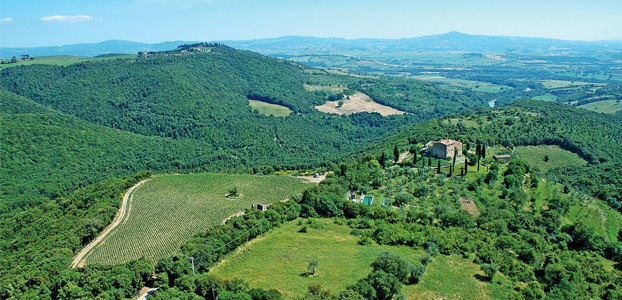 Less well known than its city and countryside, the Tuscan coast is nevertheless worth a visit, especially for families with kids who crave the seaside rather than a pool. Viareggio is the largest resort on the coast; Forte Dei Marmi is slightly more upmarket, though it's hard to find quite the heights of luxury on the coast as you can inland. Operators such as Sardatur, Citalia and Classic Collection Holidays feature these seaside resorts.
There are long sandy beaches backed by the peaks of the Apuane Alps, and Florence, Lucca and Pisa are within day trip reach, if clients want to swap loungers for culture. Car hire isn't a necessity in the same way as it is in the countryside, so if clients don't want to drive the coast may suit them better.
Viareggio is home to two historic four-star properties, the 1920s Grand Hotel Principe di Piemonte and the Hotel Plaza e de Russie, built in 1871 and offered by Citalia for £739 for seven nights in September. Luxurious choices in Forte Dei Marmi include the 29-room Hotel Byron, the former villa of an aristocratic family, the minimalist chic of Principe Forte Dei Marmi and the more blinging Grand Hotel Imperiale.
Viareggio and Forte Dei Marmi are both at the northern end of the Tuscan coast and are popular with holidaying Italians. Further south lies the quieter Monte Argentario peninsula. Wilder and more rugged, it's home to Relais & Chateau-accredited Il Pellicano near the picturesque town of Porto Ercole.
Perched on a bluff with a lift to the private beach, there are facilities for tennis, golf and horse riding, a spa and a two Michelin-starred restaurant. Classic Collection offers seven nights from £2,023 in September.