Feature: Marrakech
Morocco | February 24, 2011
New flights to Marrakech – offering premium seating – will further enhance this vibrant city's luxury credentials, says CHLOE BERMANThe souks, smells, snake charmers and pointy slippers are still there – and now so are the spas, spacious hotels and special services.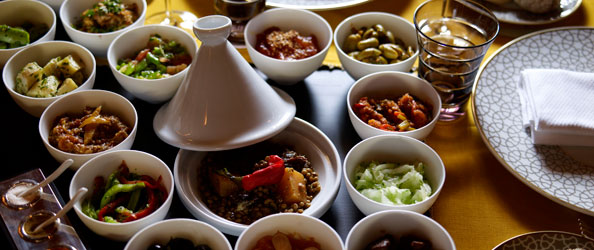 New flights to Marrakech – offering premium seating – will further enhance this vibrant city's luxury credentials, says CHLOE BERMAN
The souks, smells, snake charmers and pointy slippers are still there – and now so are the spas, spacious hotels and special services. Morocco's most colourful city, a long-time favourite of the backpacker crowd, has added marble touches to the mint tea
As our taxi hurtles down an alleyway, forcing everyone from donkeys to disabled old ladies to jump aside, I know my visit to Marrakech is going to be more than just another city break.?"It's not like this in London, no?" says our driver, grinning as he narrowly misses two young boys pushing wheelbarrows overflowing with fruit and spices.
Marrakech is famous for its souks and that's where we are headed.
Morocco's sexiest city received a boost when easyJet became the first no-frills airline to fly there in 2006. Now, the introduction of British Airways flights from Gatwick from March 27 and BMI flights from Heathrow from April 1, both with premium seating, will make it even more attractive to high-end travellers keen to avoid the budget airline experience.
Despite the growing number of tourists, the heart of the city remains as exotic as ever. We jump out of the taxi and walk down a few sleepy streets before turning a corner and witnessing the full mayhem of the souk. All around, vendors are shouting the virtues of their wares: towers of bright ceramics, piles of pointy slippers, racks of belts and vibrantly coloured handbags.
It's not just the sounds but the smells, good and bad, that assault the senses. The heady scent of exotic spices mingles with something a donkey left behind.A red Aladdin-style teapot catches my eye and before I know it I'm in a frenzied haggling war with the vendor. Even the shyest shopper will become an expert haggler after two days in the souks.
Bargaining is expected. In general, you can aim to get 50% off the asking price. Most vendors enjoy the haggling process and do it with a cheeky smile on their face. I've been told it's best to take your time to buy, as that unusual handpainted tagine? is likely to pop up again and again as you weave your way through the endless alleyways.
Determined shoppers can discover some real luxury finds, such as Moroccan carpets, cosmetics,perfumes and home furnishings. For clients who are serious about their shopping, it is worth suggesting they pay for a local guide to help them track down some real gems.
Around every corner lies another discovery. A map is virtually useless when it comes to navigating the maze of stalls. However, getting lost is part of the experience and local teens are happy to show you the way for a few dirhams.
From a tiny passageway we emerge on Djemaa el Fna, Marrakech's famous main square, home to snake charmers, acrobats, fortune tellers and monkey trainers. Admittedly, it is a tourist trap, but where else could you watch 'tooth pullers' come to the aid of cash-poor locals in pain?
As afternoon turns into evening, the square comes to life. The music gets louder and the lights come on as locals set up a labyrinth of food stalls.The sights and smells – a variety of fish and seafood, kebabs of meat and vegetables, piles of fresh salads, olives and dried fruits – are enough to tempt any hungry belly. Other smaller stalls sell mint tea, cakes and biscuits.
Each stall has someone squeezed behind it smiling and waving for you to come closer. Eventually the temptation becomes too much and I plump for a chicken tagine sweet with apricots, dates and honey. After that, there's nothing else for it but to sip mint tea on the roof terrace of Les Terrasses de l'Alhambra in a corner of the square and gaze down over the steamy haze of snake charmers, tattooists, food vendors and wide-eyed tourists.
Hotel review: LA MAMOUNIA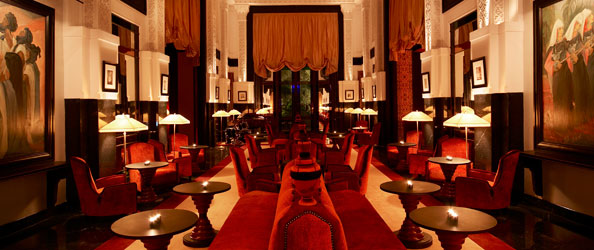 Looking out over La Mamounia's lush gardens to the old city and the Atlas mountains in the distance, I can see why Winston Churchill called the hotel "the loveliest spot on earth". The plush hotel is to Marrakech what the Plaza is to New York and the Savoy is to London. Other famous names to have strolled through its manicured grounds include Omar Sharif, Charles de Gaulle and Alfred Hitchcock.
However, through the decades La Mamounia lost some of its sparkle and closed in 2006 for a £100 million makeover. It reopened in 2009 after an all-encompassing refurbishment by French designer Jacques Garcia. His vision was to bring the hotel back to its Moroccan roots. He created a series of Andalucian-style colonnaded courtyards with lots of mosaic, marble and crisp pools of water.
Each of the 210 rooms has stunning attention to detail, with traditional Moroccan woodwork, tiling, wooden doors and stucco. These sit alongside modern touches such iPod docking stations and electric blinds.
The hotel's 20 acres of spectacular gardens with palm, orange, and olive trees offer a tranquil escape from the bustling medina. Also new is a spa with hammam, large indoor and outdoor pools, plus three exclusive riads for VIPs. A new restaurant by the outdoor pool serves amazing breakfasts and a Mediterranean buffet lunch, while an old house in the grounds has been converted into an excellent restaurant.
?