What to do, see and eat in Fez
Morocco | February 18, 2016
Morocco's oldest and arguably most fascinating imperial city, Fes-el Bali's living medieval medina is a labyrinth of souks, workshops and mosques, a sensory overload of sights and smells to a soundtrack of competing muezzin, with more than 9,500 narrow alleyways in which to get lost.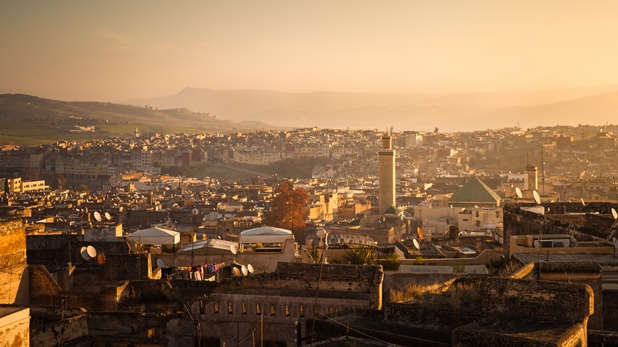 Morocco's oldest and arguably most fascinating imperial city, Fes-el Bali's living medieval medina is a labyrinth of souks, workshops and mosques, a sensory overload of sights and smells to a soundtrack of competing muezzin, with more than 9,500 narrow alleyways in which to get lost.?
Fez is the country's cultural capital and while it may have lagged behind Marrakech when it comes to chic riads and sophisticated eateries, there's a transformation underway. Ancient palaces are being reinvented, stylish riad-turned-restaurants are turning market produce into gourmet fare and designers are creating contemporary pieces using age-old crafts.
And every year, musicians – from Sufi chanters to jazz saxophonists and international headliners – descend on its medieval medina for the Fes Festival of World Sacred Music. Now in its 21st year, for more than a week, music rings out from imposing squares, tiled courtyards and Andalusian gardens.
What to see and do
Explore its UNESCO-protected 9th-century medina: the Medersa Bou Inania, the finest of Fez' theological colleges, replete with magnificent zellij tiles, carved stucco and cedar wood; the Kairaouine Mosque and what's said to be the world's oldest university, and the colourful – and smelly – medieval tanneries.
Shop for butter-soft leather coats (get one made to order), bags, and babouches (traditional slippers), beaten copper plates, ornate metal lanterns, silver Berber jewellery inlaid with semi-precious stones, aromatic spices and traditional blue and white Fassi pottery. For a more contemporary take on traditional crafts, head to Medin'Art, a new gallery and concept store in the heart of the medina.
A great way to see local life is on a fascinating foodie tour with Plan-it?Fez to discover Fassi specialties and traditional street eats, the communal oven and the age-old art of tea making.
After a hard day's sightseeing, there's no better place to relax and unwind than a hammam. One of the best is Riad?Laaroussa's beautifully restored bathhouse, where you can be steamed, soaped and massaged into a state of utter relaxation.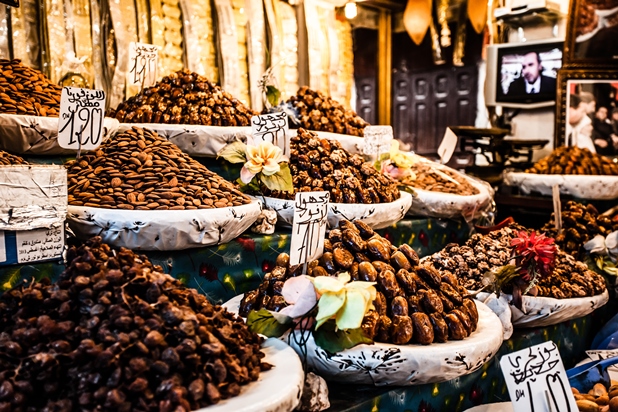 Where to eat
Restaurant 7 is a minimalist riad-turned-restaurant that's become a base for pop-ups from global chefs. Their brief is to use whatever's inspired them at the market that day to create a four-course nightly changing fusion menu.
One of the city's finest restaurants is set in the stunning courtyard of hotel Dar?Roumana, where the French chef has created a Mediterranean menu with a Moroccan twist that makes the most of fresh seasonal produce; there's an excellent wine list too.
Set in the romantic remains of a riad, the British-run Ruined?Garden comes complete with crumbling mosaic floors and lots of greenery. The menu focuses on seasonal produce and a gourmet take on typical street food, such as marinated sardines and potato cakes, and delicious Fassi specialty pigeon pastilla can be ordered in advance.
Fez institution, Café?Clock, makes the perfect place to take a break with tea or a mocktail, or a bite from the menu, including the famous camel burger. They also have a comprehensive cultural programme, where you can learn to rustle up a tagine or try your hand at calligraphy.
Where to stay
The latest luxury opening is Karawan?Riad, a contemporary caravanserai set in a palatial 17th-century riad. The nomadic French owners spent ten years creating a serene courtyard of soaring columns, a rooftop bar and seven sumptuous suites filled with one-of-a-kind global finds, antique fabrics and original art. There's intricately carved cedar wood here and dazzling zellij tiles there but the rooms are all about light and space.
The triple-height courtyard and five rooms of delightful Riad?Idrissy are filled with dazzling tiles and ornate stucco, and beautifully furnished with antiques from all over Morocco. In the morning, a flask of tea or coffee is left outside your room, before a breakfast feast in the adjoining Ruined Garden restaurant or in the library in cooler months.
Dar?Roumana is a beautifully restored former residence, with five stunning suites that showcase the work of Fez's famous artisans in their mosaic tile floors and intricate plasterwork. There's a spacious roof terrace with showstopping views across the medina's rooftops and for cooler months, there's a cosy salon complete with an open fire.
Built around a peaceful garden, Riad?Laaroussa is a beautifully restored 17th-century palace with eight spacious rooms and suites, full of archways, columns, woodwork and mosaic tiles from the city's finest craftsmen. There's an open kitchen where you can watch the chefs at work and lots of relaxed lounging spaces.
Andalucian-style Palais?Amani is a tranquil oasis from the medina's mayhem. With only 15 opulent rooms and suites surrounding a courtyard garden filled with lemon and orange trees, there's a terrace for sundowners before contemporary Moroccan dining around the fountain.
On the edge of the Ville Nouvelle, Hotel?Sahrai is a boldly designed, ultra-stylish boutique hotel. Rooms and suites are all about modern minimalism, an infinity pool and rooftop terrace bar overlooks the medina, there's a Givenchy spa with a hammam, and a French brasserie for those tired of tagines.
Around Fez
There's plenty to see around Fez, with the smaller and more tranquil imperial city of Meknes, the impressive Roman ruins of Volubilis and the holy city of Moulay Idriss, all within easy reach.
For more information see:
Morocco?Tourist BoardFes?Festival of World Sacred MusicPlan-it?Fez, for tours in and around Fez and Morocco-wide