Feature: A New York state of mind - Andaz comes to Wall Street
Australia | November 17, 2010
In 1987, a film named after a side street in New York came to be seen as the archetypal portrayal of 1980s excess.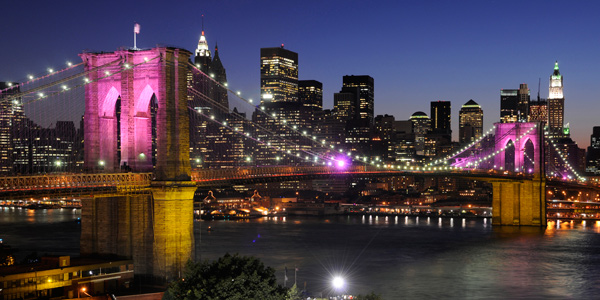 In 1987, a film named after a side street in New York came to be seen as the archetypal portrayal of 1980s excess. On their own they are two unassuming words, but put together, Wall Street is synonymous with the overwhelming power of a relative few at the financial reins of arguably civilisation's greatest-ever superpower.
Last month, Oliver Stone's sequel,?
Wall?Street: Money Never Sleeps, hit British cinema screens, resurrecting the money-driven character of Gordon Gekko, a role for which Michael Douglas won an Oscar.
It will no doubt inspire a pilgrimage of young men and women keen to make their millions in southern Manhattan, but will it also inspire an influx of tourists? After opening the second of its boutique Andaz properties on Wall Street earlier this year, Hyatt is certainly hoping so.
New York is no stranger to attracting affluent travellers. Six million wealthy people sample its unique brand of extravagant living every year, according to the city's tourist office, NYC & Company. But by choosing Wall Street alongside its "safer" locations near the midtown hotspots of Central Park and Times Square, Hyatt has clearly stayed true to its surroundings and made a high-risk, but potentially lucrative, investment.
The Andaz concept began life in Liverpool Street, London, and Andaz?Wall?Street was its second property and the first of a number of hotel openings in the area.After a two-night stay, it certainly appears that the clever minds behind the bank bill-themed property have done everything possible to ensure decent dividends.
The aim of the hotel was to remove the physical barriers between guest and host, with mobile receptionists clutching handheld computers and barmen and women with no bar to hide behind.
Diners eat among the chefs, drinkers mingle with the cocktail shakers and check-in feels like arriving at a polite and formal friend's house set as it is in a kitchen/reception hybrid with cookie jars brimming with free treats.
The wireless internet and minibars are also free – a sadly rare treat in upmarket hotels across the globe.
If Wall Street is too hard a sell to your luxury clients, then they certainly couldn't complain about the location of Andaz's even newer property.
Situated in Tommy Hilfiger's former headquarters opposite the New York public library on 41st Street, Andaz Fifth Avenue is in a prime position for lovers of the
Sex and the City lifestyle who want to worship in the credit card-operated churches of Gucci, Louis Vuitton and Prada.
Andaz?Fifth Avenue is a little less masculine than its Wall Street brother and has the feel of an enormous loft conversion with bare brick, exposed pipes and the occasional mural dotted around a simple structure.
Rooms are stylish and practical with the surprising addition of a footbath – a lovely touch aimed at guests prone to sporting fashionable, but often uncomfortable, shoes.
Andaz has provided just a fraction of the 7,000 new rooms created in New York this year, according to George Fertitta, chief executive of NYC & Co. He has to say nice things about New York – it's his job, after all. But few would disagree with his assertion that this city is always cutting-edge.
"It continually reinvents itself, providing exciting and distinctive experiences," he says. "With the addition of all these rooms, travellers will discover neighbourhoods they may have overlooked in the past."
This city, as one would expect, is not a cheap place to visit, but Mark Meredith, product manager at Virgin Holidays, says top-end hotels are more affordable than ever.
"Most are located around the top end of Midtown, Central Park or the Upper East Side, a neighbourhood that has become more familiar thanks to the hit TV show Gossip Girl," he says.
"The luxury market in New York has always been strong, partly due to its swanky city-break reputation and the number of opulent and extravagant things there are to do in the city."
?
The latest renaissance in a city synonymous with limousines surprisingly comes courtesy of a two-wheel revolution.
While some top-end customers may shy away from any form of transport requiring a little sweat, the more open-minded will spot the opportunity to see the best of Manhattan and its surrounding areas in this carbon-free style.
If you haven't been to NYC in the last couple of years, you will probably not be aware of the 200 miles of new bike lanes. However, the city has gone further than Boris Johnson's bicycle hire scheme in London to ensure a safe and enjoyable experience for pedal power practitioners.
As if to flex its credentials, the New York triathlon was in full flow on the day I hired a bike and set off on an eight-hour ride around Manhattan and Brooklyn.
Avoiding the temptation to race, my relatively gentle pace allowed me to take in Central Park, the Upper East Side, the Upper West Side, Midtown, the meatpacking district, both villages, the Flatiron district and all the way down to Brooklyn.
By the time I handed the bicycle back, the city's geography was mine for ever, along with a list of places to revisit for a closer look.
?
A year on from the launch of BA's first business-class-only service from London City Airport, boss Willie Walsh has hinted that Boston and Washington could be next on the airline's hitlist.
The business-class-only market has proved to be a difficult nut to crack, to say the least, as the likes of Silverjet and Eos will testify.
But where they failed, BA appears to be succeeding.The London City service has just 32 flatbed seats, giving passengers the feel of a private jet.
Staff are ridiculously, but stealthily, attentive – clearly some of the company's best cabin crew have been placed on board this boutique service.
Its greatest asset is the brief stopover in Shannon that effectively functions as a private VIP check-in for the US. Customers arrive in New York as domestic passengers making the journey time from runway to hotel room infinitely quicker.
And onboard internet saves 'CrackBerry' addicts a twitchy wait for access to those all-important emails. Flights are twice-daily to JFK from £2,102 including all taxes and charges.
Shake Shack: An iconic piece of NYC locals' culture serving the most amazing custard shakes in the city.
BES: Stands for Boutique Eat Shop.?A restaurant and gallery that caters to the hip, arty crowd in the Meatpacking district.
Birdland: Monday is the night when most Broadway shows are dark, and the cast members (stars and gypsies alike) head over to Birdland for a Broadway star-studded open-mic night.
Amy's Bread: They bake their own fabulous breads on the premises and also have the most delicious, hand-baked cookies and cakes.
Robert's: The rooftop restaurant at the Museum of Art and Design has aN Austin Powers ? 1/4 ber groovy decor and gorgeous views of Central Park and Columbus Circle.

Recommended by Kate Bride, concierge at InterContinental Times Square
Trump?Soho Hotel: Ultramodern property from Lord Sugar's US Apprentice counterpart Donald Trump. Glass walls adorn all rooms giving guests panoramic views of the Manhattan skyline. trumpsohohotel.com Fashion?26: A Wyndham Hotel located in the trendy Chelsea neighbourhood. Features luxurious guestrooms and a rooftop bar with views of Manhattan. wyndham.com W?Downtown: The fifth W property in New York has a stunning outdoor terrace bar and views of Ground Zero, Battery Park and the Statue of Liberty. whotels.com
Eventi: This Kimpton property is the first luxury hotel to open in the North Chelsea area located close to Penn Station, Madison Square Garden, the Empire State Building, Macy's and the theatre district. eventihotel.com
Intercontinental?Times Square: Everything you would expect from an InterContinental and more due to its location in the entertainment district, overlooking Hell's Kitchen which is known for its off-Broadway theatres and chic restaurants.