Time to tango: New flight brings Argentina closer
kly.co.uk/cms/media/eas-id-cms/15457" alt="" width="299" height="199" align="right" class="newsArticleImage">
Whenever British Airways introduces a direct flight, you can be sure it is to a destination growing in popularity with the UK market. So when the flag-carrier started flying?non-stop to Buenos Aires at the start of this year, it was a sign Argentina was on the up.
Argentina is a consistently strong performer for all Latin America specialists, and is also doing well with more mainstream operators – Kuoni's sales to the country are up 30% for the year to date. Adventure specialist Explore reports that its trips?to Patagonia are particularly popular.
Flight-wise, it's not just about BA. Iberia now flies direct from Madrid to Cordoba, giving an additional opportunity to link back to Europe without returning to Buenos Aires. And when Tam introduces extra services to Rio in August (with easy connections on to Buenos Aires), the airline will be close to offering a double-daily service from Heathrow to the Argentine capital – connecting either through Rio or Sao Paulo.
It's now easier to get around Argentina too. The country's vast size means internal flights are a must, and Aerolineas?Argentinas' north corridor route – linking Buenos Aires, Iguaçu, Salta, Mendoza, and Bariloche – means visitors can hop around the north without having to connect back in Buenos Aires.
The country is massive, and unless clients have the ability to travel over a long period they won't be able to do everything at once. W&O?Travel's Latin America expert, Simon Forster, recommends suggesting areas by activity, such as wine-tasting, horse riding, wildlife spotting or hiking, to produce an itinerary that suits customers perfectly. Mix and match the options below according to your clients' tastes.
Cosmopolitan and vibrant, Buenos Aires is one of South America's most stunning cities. Its many neighbourhoods have distinct identities. Recoleta is upmarket, with large parks, posh restaurants and the cemetery where Eva Peron lies.
San Telmo is full of colonial buildings on cobbled lanes, while the working class area of La Boca is noted for the rainbow colours of its houses, the tango dancers who can sometimes be spotted practising in the streets, and La Bombonera, the home of Boca Juniors, Diego Maradona's home club.
Palermo is an up-and-coming spot with great nightlife and boutiques, and the docklands area of Puerto Madryn has been renovated.
In terms of accommodation, clients can choose between grand historic hotels, such as Alvear?Palace and a Sofitel, and trendy boutiques. Llegado?Mitico and Home Hotel are widely featured by UK operators.
New options include the 30-room Mio?Hotel in La Recoleta, and the 60-room Awwa?Suites & Spa in Palermo. The 139-room Alvear?Art Hotel, a modern sister to the Palace, will open next year.
This is the city of the tango, and Hayes?& Jarvis has added a four-day learn-to-tango package, with lessons, visits to famous ballrooms and the opportunity to watch dance experts, from £289.
A gaucho on horseback set against the vast plains of the Pampas is one of the enduring images of Argentina, and many tourists want to stay on an estancia to experience the ranch lifestyle.
Horse riding, hiking, cycling, swimming, fishing and other outdoor pursuits are popular, and some estancias have polo facilities too. An Argentine asado, or barbecue, is a must.
Many visitors opt for estancias located an hour or two outside Buenos Aires, but the region around the city of Cordoba also offers very authentic options, and Travel 2 now features a ranch stay in the area.
Estancia?La Bamba, close to Buenos Aires, was one of the first ranches to open up to tourism and has reopened after extensive renovations. Upmarket operators such as Cox?& Kings offer it in the UK.
These imposing waterfalls straddle the border with Brazil, and it's worth recommending clients experience Iguaçu from both sides. The Argentine side is very dramatic, with visitors following a series of walkways until they can stand, soaked to the skin by flying spray, right above the 'Devil's Throat', the mouth of the falls.
The Brazilian side gives fabulous views from further away, providing stunning photo opportunities. On the Argentine side of the falls, the Sheraton is the only hotel inside Iguaçu National Park. Iguaçu is a one hour 45 minute flight north from Buenos Aires.
Argentina's northwest feels more Andean than European, and the scenery becomes increasingly mountainous closer to the Chile border. The attractive colonial town of Salta is the gateway to sights like the Hill of Seven Colours at Humahuaca and the indigenous villages of the Calchaqui Valley.
This region hasn't been a feature on the traditional tourist route but operators report an increased interest, resulting in specialist Journey Latin America launching a Salta walking tour.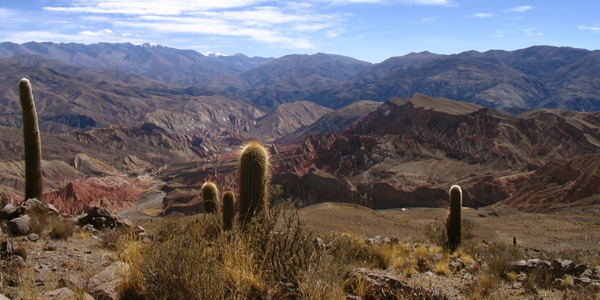 Glass of malbec, anyone? Mendoza is the heart of Argentina's winelands, in beautiful countryside in the foothills of the Andes. Wine tours are popular, or clients can simply relax in one of the beautiful wine estates. The Casa Antucura wine lodge reopened last year after a refurbishment.
Glacial lakes, snow-capped mountains, wooden chalets, chocolate shops and even the opportunity to ski – you might be forgiven for thinking that it sounds more like Switzerland than Argentina.
But Argentina's Lake District is one of the country's most popular spots, offering tourists the chance to be as relaxed or as active as they please. The main resort of Bariloche sits by the largest of the lakes, Nahuel Huapi, and is a two hour 20 minute flight from Buenos Aires.
Jutting out into the Atlantic Ocean half way down Argentina's coast, the Valdes Peninsula is one of the world's hottest spots for marine wildlife.
Visitors can wander along deserted beaches surrounded by elephant seals, and see Magellanic penguins at one of the largest breeding grounds in South America.
Whale watching is possible between July and November, when southern right whales gather in the warm, quiet waters to breed.
Patagonia is a remote and mountainous region covering huge areas of southern Chile and Argentina. In the latter, a major highlight is the Los?Glaciares National Park, near El Calafate.
The Perito Moreno glacier is the most famous, sweeping 20 miles down from the Patagonian icefield before breaking up into huge chunks of blue-white ice that float off in the lake. El Calafate is a three-hour flight from Buenos Aires.
At the very far south of Patagonia lies the island of Tierra del Fuego, which is divided between Chile and Argentina. Argentine Ushuaia is the southernmost city in the world, a small place with a frontier feel and a population of just 45,000. Activities include trekking in the Tierra del Fuego National Park, boat trips along the Beagle Channel to spot penguins and sea lions, and Patagonian cruises.
Many people choose to cruise between Ushuaia and Punta Arenas in Chilean Patagonia over three or four days, passing glaciers, forests and elephant seal colonies on the way. Cruises include trips in small Zodiac boats to get closer to this pristine environment.
Cruceros?Australis, a company that has sailed the route for 20 years, launched a new expedition ship in 2010. The Stella Australis has 100 en-suite cabins
with picture windows, a dining room, gym and observation deck.

While most travellers to Argentina opt for tours that take in the country's highlights, some combine it with other South American destinations.
Argentina & Chile
Visitors to Patagonia, in particular, often twin Argentina with Chile, and there is also easy access between Mendoza and the Chilean winelands.
Argentina & Brazil
The combination of Buenos Aires, Iguaçu and Rio de Janeiro is an absolute classic. It twins Latin America's two most celebrated cities and visits the falls and rainforest on the border between Argentina and Brazil.
Argentina &? Uruguay
Uruguay is just a ferry ride away from Buenos Aires and the area around Punta del Este is often added as a beach extension. The country is newly featured by Hayes & Jarvis, which offers a three-day Heritage of Uruguay tour, from £579, visiting the picturesque Colonia del Sacramento and the monuments