Seabourn 2012/13 highlights
s of call throughout the 2012/13 season; discover these hidden gems off the beaten track on the comfort of an ultra luxury Seabourn ship.
Our recently released 2012/13 brochure boasts brand new itineraries, including Seabourn Quest's one week voyages to the Mediterranean, 10-day voyages on board Seabourn Legend travelling to the Western Mediterranean between Monte Carlo and Rome and round trip Venice voyages on board Seabourn Spirit. Seabourn Pride and Sojourn will concentrate on sailing to the Baltic between Copenhagen and Stockholm ranging from 10-15 day voyages.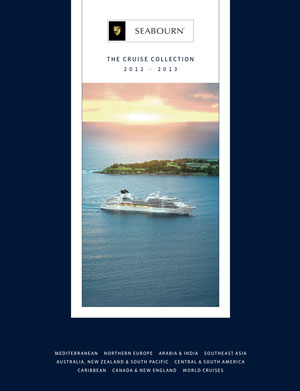 Seabourn Quest's Mediterranean season includes itineraries between Istanbul, Athens, Venice, Rome and Barcelona.
These one-week voyages are easily combinable into longer voyages with different ports enabling guests to travel the entire length of the Mediterranean.
Seabourn Sojourn continues to primarily offer cruises in Northern Europe including itineraries to Norway and the Baltic, as well as a sampling of Western Mediterranean cruises.
The season kicks off with four Western Mediterranean cruises between Rome and Barcelona.
Throughout the?summer, Sojourn sails a series of one-week Baltic cruises between Copenhagen and Stockholm
featuring three days in St. Petersburg.
Seabourn Odyssey continues to offer a rotation of four unique one-week Greek Isles & Turkey cruises from Venice to Athens, to Istanbul, back to Athens, back to Venice.
These four voyages can be combined for guests looking for a more in-depth Eastern Mediterranean experience.
Seabourn Legend offers a full season of two new 10-day voyages between Monte Carlo and Rome.
The cruise from Rome to Monte Carlo highlights the best of the Italian and French Rivieras including an overnight stay in Barcelona. The reverse direction calls on the quintessential Mediterranean Isles including Corsica, Sicily, Sardinia, Malta (featuring overnight stay), Lipari and
Ponza, plus scenic cruising of Stromboli's volcano.
These two cruises can be combined for a 20-day Combination Cruise.
Seabourn Spirit's season includes 20 departures of a new 10-day round trip Venice, Best of the Adriatic itinerary that includes Corfu, Otranto (in the up and coming Puglia region of Italy), Dubrovnik, Trogir, Pula, the picturesque port of Kotor, Montenegro and an onboard overnight in
Venice.
Seabourn Pride's season includes a series of three Baltic itineraries visiting historic capitals to charming hamlets, all featuring three days in St. Petersburg.
The itineraries range from 12-day cruises between Copenhagen and Stockholm to 14-15 day cruises between Dover (or London) and Stockholm with the notable addition of a transit through the Kiel Canal.