Rivers run through it
once-in-a-lifetime experiences await any cruise passenger in Burma. The chronic shortage of hotel accommodation means the destination has become a honeypot for river cruise companies, so there's sure to be a cruise and vessel that suits your customers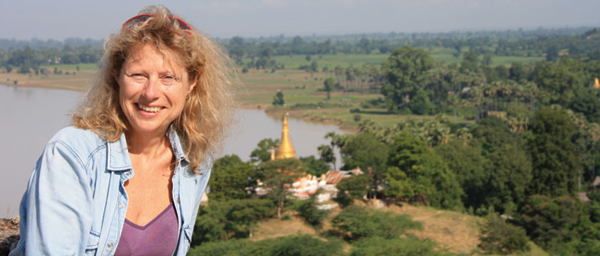 It's 6am and I'm on the top deck of Belmond Orcaella, the river ship that Belmond (formerly Orient-Express Hotels) launched on the Ayeyarwady last summer, clutching my camera and peering into the early-morning haze for signs of any Buddhas lurking in the mist.
I'm just about to head inside for another coffee when a cry goes up. Another passenger has spotted Akauk Taung, or Tax Mountain, where dozens of Buddhas were carved into the cliff more than a century and a half ago by passing sailors who had to stop here and pay a toll.
It's a spectacular sight – one of many amazing experiences you take home from a cruise on the Ayeyarwady in Burma. By the time my seven-night voyage from Yangon to Bagan ended I had ridden on a trishaw (a bike with a seat at the side) and in an ox-cart and visited one of two forts built to keep the British out (both failed as it took control of the whole country in 1885 and held it until independence in 1948).
I had visited Pyay's golden Shwesandaw Temple, said to contain two of Buddha's hairs, and imbibed local beers with the city's late-night revellers. I had also climbed to the top of one of the temples in Bagan and savoured the sound of silence as I sat looking over the plain, which is dotted with some 2,200 pagodas and temples.
Belmond Orcaella, named after the dolphins that live in the Ayeyarwady River, is the most luxurious vessel sailing in Burma. Finished with beautiful teak decking and local furnishings, it holds just 50 passengers in spacious cabins and suites, all en-suite, with floor-to-ceiling French windows.
On the top deck, there is ample seating in the sun or shade, a small pool and a bar where we gathered before dinner to find out about the next day's excursions, all included in the price, as are soft drinks and local beer. After dinner, we were treated to local dancers, puppeteers and even made wishes as we released Shan balloons into the night sky.
The ship operates a few cruises along the Chindwin River, which rises near the border with India and flows into the Ayeyarwady between Bagan and Mandalay, and from Mandalay to Bhamo in the far north of Burma, but mostly sails seven-night voyages from Yangon to Bagan and vice-versa from £3,650 cruise-only.
Whichever cruise they do, clients should stay at least one night in Yangon – Belmond's Governor's Residence is the best address in the city but the choice includes a Park Royal and a Traders Hotel – to visit the gilded Shwedagon Pagoda, 100 metres high and covered in 11 tons of gold.
Belmond has a second vessel on the Ayeyarwady, the 90-capacity Belmond Road to Mandalay, which operates short cruises between Bagan and Mandalay
that can be put back-to-back for a one-week voyage, as well as 11-night voyages to Bhamo.
Within the cruise industry, the river sector showed strongest growth in 2013 for the second year running, according to Clia UK & Ireland. Europe is in most demand (see box), but Burma has become a honeypot for river cruise companies as the voyages help circumvent the country's chronic shortage of hotel accommodation.
Sanctuary Retreats and AmaWaterways? are launching vessels in November, while Avalon Waterways will have a new vessel in autumn 2015. Sanctuary Retreats prices start from £1,350 for a three-night cruise between Bagan and Mandalay, excluding flights.???
Pandaw River Expeditions will bolster its existing Ayeyarwady fleet with three new vessels this year, while Viking River Cruises started cruising the river in January, on a ship chartered with Pandaw.
Cruising on the Mekong, which flows through Cambodia and Vietnam, also continues to grow. AmaWaterways is launching its third vessel there, AmaDara, in 2015, while Avalon, which currently charters Avalon Angkor on the Mekong, is launching its own vessel there, also in 2015.
As well as stopping at small villages along the river, clients cruising the Mekong visit Angkor Wat in Siem Reap, plus Phnom Penh and the Khmer Rouge Killing Fields and Ho Chi Minh City in Vietnam, the motorcycle capital of the world. APT's four-star Travelmarvel brand, which operates AmaWaterways' vessel La Marguerite on the Mekong, has an optional sightseeing tour (about £22) by moped, which is a great way to see the city sights. Clients sit on the back as a driver negotiates the crazy traffic and the guide follows on a separate bike.
The Ayeyarwady and Mekong are perfect for clients looking for adventure and now they have a third option – a cruise on India's Brahmaputra River on the 46-passenger Mahabaahu. It was launched 18 months ago by Far Horizon, an Indian firm represented in the UK by Perl River Cruises.
Sailing seven nights from Nimati to Guwahati or vice-versa, this is a unique cultural journey through Assam, a part of India that sees very few tourists. On my cruise we visited Hindu temples, tea plantations and small villages where the locals were as excited to take our pictures as we were to take theirs.
We tied up at sand banks that were crumbling as the water rushed past – the Brahmaputra is the fastest-flowing river in the world – saw local dancers and took safaris by boat, jeep and elephant in Kaziranga National Park, ticking off rhinos, water buffalo, numerous birds and even a tiger. Definitely not one for the faint-hearted!
Prices start from £1,575 per person on October 11 for a seven-night cruise and one night in either Delhi or Kolkata including domestic flights, transfers and excursions.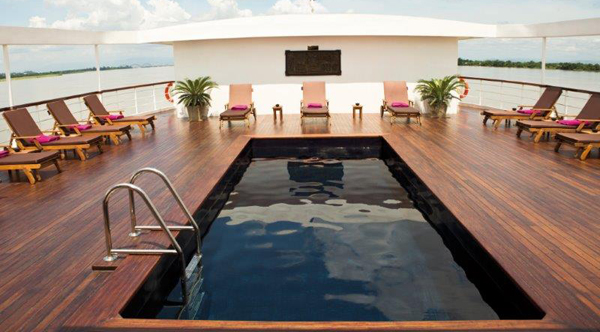 More in Europe
Some 22% more Britons took a river cruise in Europe in 2013 compared with last year, taking numbers to almost 110,000, according to Clia UK & Ireland. With more than 25 river cruise vessels launching in Europe this year and a similar number slated for 2015, there's every reason to expect demand will continue to increase.
?
New next year, Viking River Cruises will launch 14 Longships, while Avalon Waterways, AmaWaterways, Scenic Tours and its new four-star brand, Emerald Waterways will each launch two vessels.
?
Amadeus River Cruises is launching Amadeus Silver II and adding the Seine in France to its portfolio, while Riviera Travel will have a new river cruise boat, Jane Austen, and its first voyages on the Douro, but in July and August only.
?
Scenic Tours, which sells its all-inclusive five-star cruises though the trade, will be offering new 11-night cruises on the Garonne, Gironde and Dordogne rivers round-trip from Bordeaux, with wine-tasting tours among included excursions. Prices start from £3,245 including flights, transfers, soft and alcoholic drinks, gratuities and Wi-Fi.
US river cruising
It's not just in Asia that operators are opening new routes for the burgeoning river cruise market.
The American Queen Steamboat Company launched the world's biggest paddlewheel boat, American Queen, on the Mississippi in April 2012, bringing leisure traffic back to the Big Muddy for the first time since 2008.
Then in April this year it launched the 223-passenger American Empress on the Columbia and Snake Rivers in the US Northwest.
Whereas the Mississippi is all about Elvis, Civil War and plantation houses, the latter is big on scenery, wine and Lewis and Clark, who led the first expedition from St Louis to the Pacific Coast in 1804-06.
Sold in the UK by Light Blue Travel (lightbluetravel.co.uk), an eight-night cruise from Portland to Clarkston or vice-versa costs from £3,495 including flights, transfers, one night pre-cruise hotel and soft drinks or wine wi