Luxury Lines Lock Horns
owing no sign of chilling out any time soon. The lines are getting cleverer, making their ships cooler, placing new-build orders and offering all sorts of lovely extras to please their passengers. Everyone is doing pretty well but it's a dogfight out there to be the best.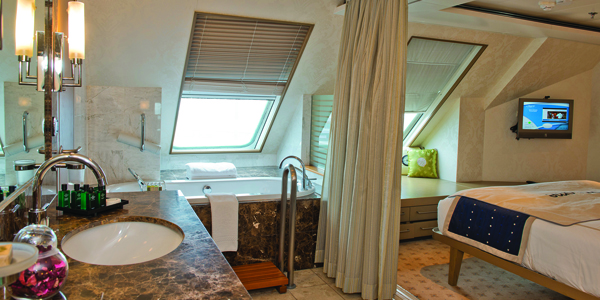 On July 15, Regent Seven Seas Cruises popped a cork from a magnum of Krug Grande Cuvée at the Fincantieri shipyard in Genoa to celebrate the start of the steel cutting for its new ship, Seven Seas Explorer.
It could equally have been celebrating the success of the ultra-luxury cruise sector – think Seabourn, Crystal Cruises, Silversea Cruises, SeaDream Yacht Club, Hapag-Lloyd Cruises and Hebridean Island Cruises – which has seen remarkable growth in recent years, according to Clia UK & Ireland, with bookings in the UK alone up almost 40% between 2008 and 2013 to just over 27,000.
Announcing the new ship, Regent president Kunal Kamlani said: "Now is the right time to expand our fleet; our travel partners have proven that there is pent-up demand for a new Regent ship."
The company is not the only six-star cruise line with a new ship. Seabourn has ordered a 604-passenger vessel to replace the capacity it has lost by selling its three 212-passenger vessels to Windstar – one has left the fleet with the other two going in April and May 2015. The as-yet-unnamed newcomer will have all-balcony suites and enter service in autumn 2016.
Crystal Cruises is rumoured to be close to ordering a new vessel but meantime is investing in its current ships. Crystal Serenity had a $17 million makeover late last year, while Crystal Symphony emerged from a $20 million drydock in October with an outdoor fitness 'garden' and fresh decor and furnishings in public areas and suites.
At Silversea, expedition ship Silver Galapagos has a new blue-and-beige look in suites and public areas after a month-long drydock. Last year, the ship was fitted with en-suite marble bathrooms, a spa and outdoor grill.
Silversea's expedition arm now comprises three vessels; the others are Silver Explorer, which sails in Antarctica in winter and the Arctic in summer, and Silver Discoverer, which will be visiting the remote Phoenix Islands in Kiribati, in the Pacific Ocean, in 2015.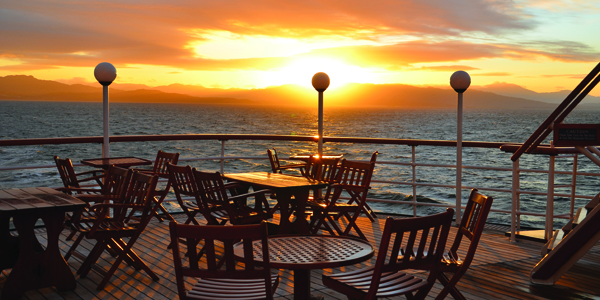 LONGER PORT STAYS
As well as constantly looking for exciting new places to take passengers, top-end cruise lines are reinventing their itineraries to include two or three days in favourite ports so passengers can see more of the places they visit and also take in the local nightlife and restaurants.
The trend was started by Azamara Club Cruises, one of a handful of premium cruise lines – the others include Oceania Cruises and Ponant – that are snapping at the heels of the ultra-luxury companies by offering more-inclusive small ship cruises without the high price tag.
Oceania Cruises, for instance, includes soft drinks and bottled water, while Ponant, a French company launching new ship Le Lyrial in April 2015, will be including alcoholic and soft drinks starting March 2015.
Viking Cruises, the new oceangoing sister company to Viking River Cruises, is also expected to fall into the premium category when it launches its first ship, Viking Star, in May 2015. Its itineraries will include overnight stays in selected ports, while prices will include shore excursions, drinks with lunch and dinner, and internet and Wi-Fi. Two more ships, Viking Sea and Viking Sky, launch in 2016.
Crystal's 2016 programme features a record 119 overnight calls in ports such as Ibiza, Papeete in Tahiti and Haifa in Israel, with two-night stays in 14 cities including Venice, Lisbon, Sydney and New Orleans.
Regent itineraries feature overnights in premier-league cities, while SeaDream Yacht Club's ships linger longer in several stylish resorts. On a seven-night Croatia cruise next summer, it overnights in Hvar, Split and Venice, while a 10-day Italy cruise includes nights in Bonifacio in Corsica and Capri.
EXTRAS INCLUDED
One of the things that binds the ultra-luxury cruise lines together are fares that include drinks, gratuities and, mostly, speciality dining. The exception is Hapag-Lloyd Cruises, which charges for drinks from the bar on its six-star ship Europa 2 – but they are free if taken from the cabin minibars.
Hapag-Lloyd argues its clients do not want an 'average' complimentary wine but, recognising that charging for drinks puts it at a disadvantage against other six-star lines, it has started to give international passengers up to €200 per person beverage credit.
Regent goes several steps further than its peers and includes flights, transfers and shore excursions in the cruise price. From January 1, it is giving passengers in its top suites unlimited free internet and Wi-Fi. Penthouse and Concierge-class passengers will receive limited free time based on the length of their cruise.
Starting April 2015, five-star line Celebrity Cruises is launching Suite Class, with a dedicated restaurant for top-paying passengers, while Michael's Club becomes its VIP lounge. Customers booking Royal, Penthouse and Reflection suites qualify for complimentary drinks. One month later, in May 2015, Celebrity Eclipse returns to the UK for its fifth season with a food-and-beer themed Gastrobar and Slush, serving frozen drinks by the pool.
SHORE THINGS
SeaDream Yacht Club is offering complimentary crew-led excursions in the Caribbean this winter for clients who want to escape the usual group tours. Trips range from a walk through Old San Juan to a bike ride around Nevis and a hike on the uninhabited island of Culebrita off the coast of Puerto Rico.
seadream.com
Ultra-luxury cruise lines regularly use small or exclusive excursions to help their products stand out from the mass-market companies. Crystal Cruises, for instance, offers a behind-the-scenes visit to St Petersburg's Fabergé Museum, in the 18th-century Shuvalov Palace, which houses 15 of the world's remaining 50 Fabergé eggs, including nine created for the last two Russian emperors. The tour, guided by the museum's curator, takes passengers into palace rooms that are usually off-limits to visitors, including the quarters of the former owner, Count Shuvalov. The tour costs $229 per person.
Silversea Cruises has added new mid-voyage land tours for 2015 including a four-night visit to Jaipur and the Taj Mahal on a 17-day cruise from Singapore to Mombasa, Kenya, departing March 6.
HEBRIDEAN GOES SOUTH
Hebridean Princess, the 50-passenger Queen's favourite cruise ship operated by Hebridean Island Cruises, is venturing south next summer for the first time since 2011, on a 59-night sequence of voyages from Scotland to London, France and the Channel Islands.
The cruise, from July 7-September 4, is on sale in seven, eight and nine-night sectors that can be booked back-to-back.
Starting from its home port of Oban, Hebridean Princess sails to Portland, visiting Ireland, the Isles of Scilly and Cornwall. It then cruises to the Channel Islands for a Footloose walking cruise, followed by a nine-night voyage to Cherbourg and Caen, for included excursions to the Second World War landing beaches, and back to Portsmouth, for a tour of the Naval Dockyard.
The ship then sails from Portland to London, where it will moor at Tower Bridge, before returning to France and the Channel Islands, and sailing back to Oban via the west coast of England, Wales and Scotland.
A new four-night taster cruise from Oban from September 4-8 visits the islands of Jura, Islay, Colonsay, Iona and Mull.
hebri