Luxury barges from Belmond
H: 720px" border="0" alt="" src="http://api.travelweekly.co.uk/cms/media/eas-id-cms/30943">
Belmond will offer two new luxury barges for summer next year adding to its Belmond?Afloat fleet.
The boats, which are called Pivoine and Lilas, will cruise along canals and rivers in Alsace and Champagne.
Six-night itineraries feature private visits to family-owned vineyards and breweries and spectacular Châteaux.?
Belmond Pivoine will cruise between Meaux and Châlons-en-Champagne along the River Marne and Canal Lateral de Marne, passing undulating hills filled with vines and pretty canal-side villages.
Highlights include a visit to the historical city of Reims and Château Vaux-Le-Vicomte, famous for its beautifully manicured gardens and grounds.Cruising the Canal de la Marne au Rhin through the heart of the Alsace region.
Belmond Lilas passes forests?of pine trees and small ruin castles on isolated hilltops between Arzviller and Strasbourg.
Along the canal, guests can visit small villages and towns including Lutzelbourg and Saverne before exploring Strasbourg, the culinary capital of the region.
The new barges are inspired by Biophilia, a design approach that brings the outside world into the interior space. Each barge is individually designed to reflect the tones of the flowers and landscapes they represent.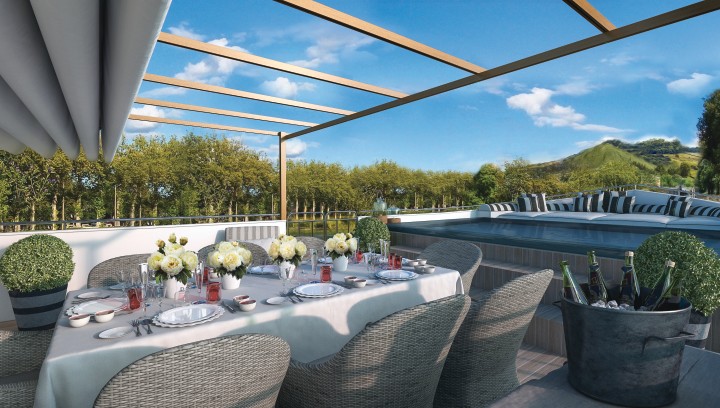 Inge Moore, interior designer from The Gallery HBA, London said: "I want to create spaces where guests can really unwind and reconnect with what is important in their lives.? I believe in order to do this, we need to look back towards nature – an antidote to our busy everyday lives. The aim of the design is to kindle a strong connection with the living, breathing world – a design which embraces a love for life and all pure living forms."
Both boats, which accommodate eight guests in four cabins, feature open decks designed as secret floating gardens, with handmade furniture and a swimming pool surrounded by potted plants.
The two new barges will bring the fleet to a total of seven. Belmond Afloat in France also offers tailor-made itineraries around Burgundy, Cote D'Or, France Comte, Saone, Provence, Valle du Rhone and Canal du Midi.?