Love's Great Adventure
vate dinners and couples massages. Is this really what a honeymoon amounts to? Sounds like any upmarket holiday, doesn't it?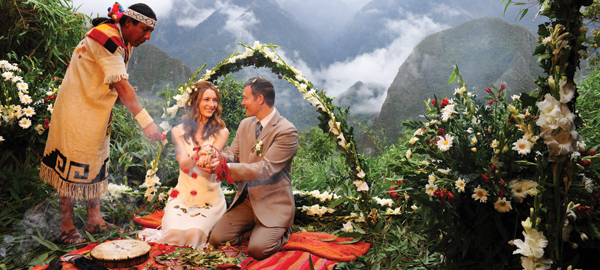 Honeymoons are huge business. People spend more than ever on what should, in theory, be a once in-a-lifetime event, so the pressure on agents to make this trip special are ramped up a hundred fold.
But when I think of honeymoons, I think of dull shots of beautiful couples walking along the beach, or laying side by side pretending to enjoy having torturous hot stones on their backs.
The two of you laying naked on beds next to each other supposedly looking lovingly into each other's eyes, while complete strangers cover you in oil? The trouble is that I would be asleep in 10 minutes and my poor (fictional) wife would have her relaxation time ruined by a snoring man.
Private suppers? I don't know. Half the reason I go to restaurants is to enjoy eavesdropping and watching other people eat while judging them quietly. I can eat privately at home whenever I like.
And as for champagne and flowers – perfectly pleasant, but I am not going to remember them for half an hour, never mind for ever. Luxury clients won't either. Such touches are so standard that clients will remember only if they are not there.
So it was with slight trepidation that I let it be known that I was writing this piece, as I expected a bombardment of the same old 'specials'.
But it didn't come. The first email came from Journey Latin America (journeylatinamerica.co.uk). It turns out that honeymoons to Nicaragua are booming to such an extent that the operator has created a Honeymoon in Nicaragua itinerary.
The 12-day trip takes in Managua, Leon, Granada, Mombacho volcano, Ometepe Island and Morgan's Rock on the Pacific coast. And if 12 days isn't long enough, the operator also offers a 15-day Honeymoon in Guatemala and Belize, which includes Antigua, Lake Atitlan, Guatemala City and Tikal Mayan ruins.
Neither itinerary features a single mention of staring into each other's eyes while eating fruit.
Journey Latin America also offers an eight-day tailor-made holiday to Peru, which includes two nights at Inkaterra's truly extraordinary Canopy Treehouse (Make it Mega-Special, page 64) at Reserva Amazonica.
The next respondent was Carrier, which continued the theme by suggesting that honeymooners should be sent to Canada in search of grizzly bears, whales, wolves, caribou, sea lions and bald eagles. The operator offers accommodation at Clayoquot Wilderness Resort on Vancouver Island or Nimmo Bay Resort in Great Bear Rainforest.
Carrier also recommended seeing Namibia from a private plane, staying at Onguma Tented Camp, Etosha National Park, Okahirongo River Camp and Wolwedans Dunes Lodge.
Maxine Roberts, head of marketing, adds: "The most noticeable trend is for more adventure-luxe holidays, as clients yearn for something a little different and 'once in a lifetime' to mark these momentous occasions.
"Destination-wise, the Indian Ocean continues to thrive for the honeymoon market, especially the Seychelles, while Hawaii and French Polynesia are increasingly being requested. Combining a US city with a Caribbean or Mexico beach has seen a substantial increase year on year."
Abercrombie & Kent's product director, Charlie Bateson, didn't mention rose petal baths at any point while talking about honeymoons. The operator has noticed a shift towards active and adventurous honeymoon breaks over the past couple of years: from climbing Kilimanjaro in Tanzania or hiking Peru's Inca trail to Machu Picchu, to spotting the big five on safari in Kenya or riding gaucho-style in Patagonia – with a little chill time at the end.
Bateson adds: "More often than not, honeymooners want twin, or even triple, destinations to combine romance and relaxation with adventure, culture, safari, learning a new skill or even volunteering."
Apparently, the operator is often asked by honeymooners to incorporate a day or two with a charitable project into their itineraries.
Gordon McCreadie, Travel 2's sales, marketing and commercial director, says there has been an increase in demand for South America and Indochina from newlyweds looking for something different.
And Danny Waine, director of Perfect Weddings Abroad, says it is rare for honeymooners to request a single destination nowadays.
"Multi-centre is massive," he says. "Pretty much every time we book someone to the Maldives, for example, they want to add on something like Sri Lanka or the Middle East.
"Or if they are going west, it's a stop in the States followed by Mexico or the Caribbean."
Belmond (Belmond.com) wasn't in the mood for typical romance either, suggesting Botswana's first luxury self-drive safari across the Okavango Delta. Honeymooners set their
own agenda with the help of a private guide and maps, and stay at the Belmond Khwai River Lodge in the Moremi Wildlife Game Reserve and Belmond Savute Elephant Lodge in Chobe National Park.
Newlyweds can also head to Myanmar with Belmond for a river cruise. During the trip, they have the option of a wedding blessing ceremony led by a Buddhist monk at a monastery in Bagan, while wearing traditional clothes.
So, to conclude, I was wrong. Honeymoons can be extraordinary – and the industry is offering experiences to the just-married that are well worthy of following the happiest day of their lives.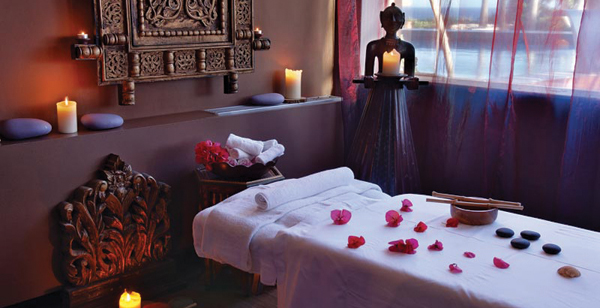 Extra Touches
GET FIT
Brides who want to look good for their nuptials can go to Bridal Bootcamp in Portugal for some intensive exercise and a balanced diet. This trip is personalised to suit your client's aims, and it all takes place in a nice hotel in the Algarve – Romantik Hotel Vivenda Miranda in Lagos.
vivendamiranda.com
GET PHOTOGRAPHED
If clients are spending a fortune on their trip, they will want some decent photos, not blurry ones taken on their phone by a waiter. Cue Flytographer, which has top-notch photographers all over the world ready to take magazine-quality shots.
flytographer.com
GET FIRST LUGGAGE
If there is a time not to have to carry your own bags, it's a honeymoon. First Luggage will make sure your clients don't see them until he carries her over the threshold of their room.
firstluggagevip.com
Expert tips
AMANDA DARRINGTON
Head of Trade Sales
KUONI
Traditionally, people preferred a fly-and-flop honeymoon to help them recover after the busy pre-wedding period. But there has been a shift: now they want to get as much out of their honeymoon as possible.
Couples are looking for more experiential honeymoons, perhaps combining two or three destinations, and our new brochure reflects this trend. An adventure tour of Chile features for the first time, combining a city break in buzzing Santiago with the wild landscape of Patagonia and the Atacama Desert.
Bali is also proving popular. It offers a little of everything: culture, dramatic scenery and a range of activities, including excellent snorkelling. The resort destinations there are incredible, so people can get out of the hotel complex and experience local life. Again, it can be combined with a city break to somewhere such as Kuala Lumpur or Singapore.
Price is obviously important – people want the best value from a 'wow factor' destination. Mauritius, for instance, gives fantastic honeymoon discounts. You can get a five-star resort on an all-inclusive basis for the same price as a B&B stay elsewhere. I recommend people stop off in Dubai after Mauritius – it helps soften the blow of leaving paradise.

Make it mega-special
BEST BEACH EXPERIENCE
Private castaway island experience for two – Maldives
Couples are taken to Koduhutta Island by dinghy or kayak and have the island to themselves for sunbathing, snorkelling, a picnic, supper and whatever else they like really – because there is nobody around to tell them to get a room.
theresidence.com/maldives
BEST BED
Inkaterra's Canopy TreeHouse – Peru
The treehouse (pictured) offers total seclusion in the middle of the Peruvian Amazon. Perched 100ft above the ground, it is built on a private platform adjoining the famous canopy walkway. Guests can view a range of wild animals that are not usually visible from the ground, and listen to the hypnotic sounds of the jungle while unwinding at the Canopy Bar.
journeylatinamerica.co.uk
inkaterra.com
BEST PRIVATE MEAL
Private dining on the Great Wall with The St Regis Beijing – China
Honeymooners staying at the hotel can enjoy dinner on the Great Wall of China and a private tour of the Forbidden City outside of public opening hours. The dinner is hosted at the Mashen Temple of the Juyongguan Pass – one of the wall's three greatest mountain passes. Diners will be rewarded with some mind-blowing views.
stregis.c