Just a drop makes a big splash with water projects in uganda
T: 378px" border="0" alt="UGANDA" src="http://api.travelweekly.co.uk/cms/media/eas-id-cms/18388">
Ask any child you bump into in rural Ugandan schools and they can reel off a list of water-borne diseases and the impact they can have on their health.
A blackboard in Kisimbizi Primary School had questions about water safety and sanitation on it that would flummox most of you. In the last few months, the school received its first tap, and no doubt, the teachers will need to put up a sign similar to those at the Hope Children's Centre in Kampala reminding children to wash their hands.
They need reminding because they have only been able to do it for two years. The children at Kisimbizi Primary School may never have done it before, but thanks to Thomas Cook Children's Charity and Just a Drop, they have clean hands today.
Maguret Namuyaba, 12, lives in Buwambi, a village that will get its first tap any day. She said: "The only water we have is a mile and a half away. It is dirty and gives us stomach aches, dysentery, ebola and other diseases."
This girl, like so many, walks for miles several times a day to get water that is guaranteed to make her sick.
That filthy water is also a breeding ground for mosquitoes carrying malaria. Collecting water means she misses valuable time in school and,
on top of this, there's the threat of rape while walking to fetch water.
In most cases, a well needs to be only a few metres deep to find enough water to provide for thousands of people – and that's where Just a Drop comes in.
Just a Drop has a very simple plan: to give people clean water.
It's a small charity, created by World Travel Market chairman Fiona Jeffery, which supports poor communities through the construction of wells, boreholes, pipelines, hand pumps and latrines, and establishes health and sanitation programmes. Its projects have reached 1.5 million people in 30 countries. It works with corporate partners such as Thomas Cook Children's Charity.
In Uganda, I saw projects funded by Thomas Cook and executed by Just a Drop. Wells, storage tanks, rainwater harvesting jars, latrines, training of local people, establishment of water committees – all help to provide clean water for scores of villages and schools.
The details are for the engineers to worry about, the headline is simple. Clean water for thousands of people and an infinitely better and longer life.
If you would like to help Just a Drop, email kelly.railton@justadrop.org or go to Justadrop.org
Every 20 seconds a child dies from water-borne diseases – that's 4,000 a day.
More children under the age of five die from water pollution than anything else in the world.
783 million people do not have access to safe water.
2.5 billion people do not have access to adequate sanitation.
More people own mobile phones than have access to a toilet.
THOMAS COOK CHILDRENS CHARITY
Through customer donations and employee fundraising, the Thomas Cook Children's Charity has committed £75,000 over three years to projects across the world that provide access to clean water for children and their families. Pete Constanti, chairman of the Thomas Cook Children's Charity, said: "We're so proud of having our own dedicated charity, working with Just a Drop, to bring clean water to so many people in Uganda."
?
Comment:Fiona Jeffery, Founder of Just a Drop
and chairman of World Travel Market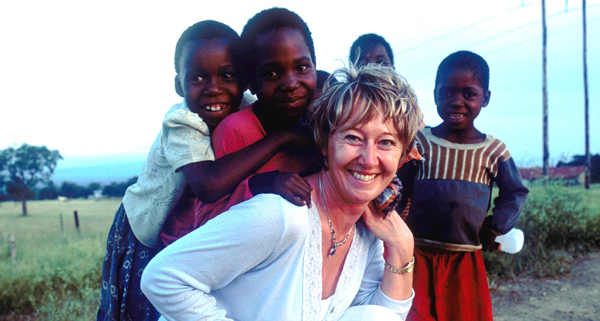 During my time at World Travel Market (WTM), I have become convinced we should use this platform to educate and inspire the industry to behave more responsibly. I believe this is our greatest long-term challenge: ensuring our industry has a sustainable future.Eighteen years ago, we launched what is now WTM World Responsible Tourism Day to tackle difficult but important issues to reduce the negative economic, environmental and social impacts of our industry.? Our aim is to create better places for people to live in and visit through getting across the business case for responsible tourism.
We can all play a part. It only takes a little vision to realise how critical it is to improve the lives of a community and conserve natural and cultural heritage.
The Travel Foundation offers insight and tips on what businesses can do. Their 'Greener Excursion' guide, for example, gives pointers in making tours more sustainable, including visiting locally-owned shops and restaurants, training local people as guides and using sustainable bio-fuel for buses.
I also set up Just a Drop as a practical way for businesses to give back when I discovered a child dies every 20 seconds because of dirty water and yet just £1 can deliver clean water to a child for 10 years.
The provision of clean water not only saves lives but allows education and economic development to flourish in these communities.?
As I write, we are carrying out water projects in the popular destination of Puerto Vallarta, Mexico, in an impoverished area only two miles from the tourist attractions. The project is funded by the Thomas Cook Children's Charity and the Institute of Travel and Tourism.
Through these projects, the industry is helping to transform the basic living conditions of the communities in which they operate. So whether you're an operator or hotelier, or work for an airline or a car rental company, we can all make a difference. My message is to act now, because every step will impact on the future of our industry a