Jordan renews partnership with renowned yachtswoman Tracy Edwards
kly.co.uk/cms/media/eas-id-cms/32039" alt="" width="299" height="199" align="right" class="newsArticleImage">
Jordan has renewed its partnership with round-the-world yachtswoman Tracy Edwards and her yacht Maiden.
The announcement was made by the Jordan Tourism Board during the Association of Independent Tour Operators' annual overseas conference, held in Jordan.
Edwards made history in 1990 by leading the first all-female crew to the finish line of the Whitbread Round the World Race, now the Volvo Ocean Race, on yacht Maiden, which displayed the royal crown of the Jordanian family.
She first formed a relationship with Jordan 30 years ago, when His Majesty King Hussein of Jordan and Royal Jordanian Airlines supported her mission to get an all-woman crew to sail across the world.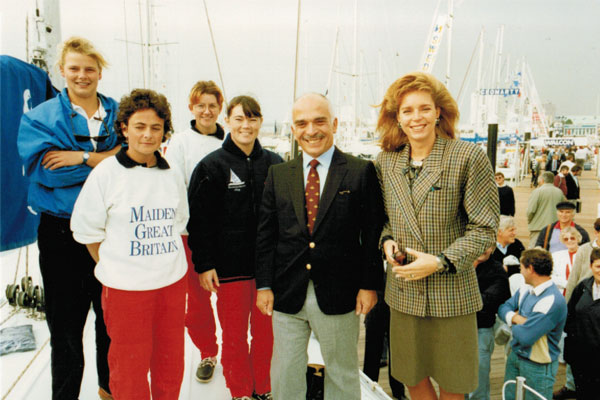 After the race Edwards had to sell the yacht but two years ago found it falling into disrepair in the Indian Ocean. Next year it will be restored to its former glory, with its Jordanian colours. The tourist board's logo will feature on the yacht.
Funding of the restoration will come from a combination of crowdfunding and sponsorship and the yacht will sail the globe as part of Edwards' not-for-profit organisation The Maiden Factor to promote education for girls and raise funds for charities such as I am Girl, Just A Drop, Girl Up and The Girl's Network.
Filming has already begun for a one-off TV series following Maiden's restoration and training of a new crew. It will be relaunched in September 2017 in London.
The film will be aired on prime-time TV and its premiere will be in London's Leicester Square at the launch before the yacht attends the 2017/18 Volvo Ocean Race in Alicante, after which it will sail to Jordan for the winter.
Edwards, MBE, said: "The boat can represent tourism. I want to tell people that Jordan is safe to visit.
"Maiden is an inspiration and I want her to engage with people all over the world. She is an icon of female empowerment, the ability and will to succeed against all odds and that's something I want to harness and use to inspire young girls everywhere to achieve their full potential.
"We must ensure that the basic human right of every girl is to have an education, a conviction shared by His Majesty King Hussein of Jordan, who was the first person help me on my initial quest to get an all-female crew to sail around the world.
"It would be an understatement to say that I was delighted that the Kingdom of Jordan under the reign of his son, His Majesty King Abdullah II of Jordan, has stepped in to help me on my new mission to inspire a whole new generation and make Maiden a vessel for peace and education across the world."
Jordan Tourism Board managing director Dr Abed Al Razzaq Arabiyat said: "When Tracy Edwards MBE told us of her new mission we were only too delighted to help.
"She has helped to inspire so many people and her new vision is something that aligns perfectly with our own in Jordan.
"Empowering women, championing girl's education and inspiring a generation is such a powerful message; it is an honour to be involved in her project and we look forward to welcoming Maiden and her inspirational crew to Jorda