Interview: Natasha Kaplinsky
e of the best known and most respected newsreaders and presenters on British television. Her career has spanned Sky, the BBC, Channel 5 and now ITV, predominantly covering news but also other shows such as Born to Shine and Strictly Come Dancing which she won in its inaugural series in 2004. Kaplinsky was the guest of honour at Caribtours' Gala Awards Dinner at London's Claridge's in September where she joined managing director Paul Cleary on stage to hand out some of the awards.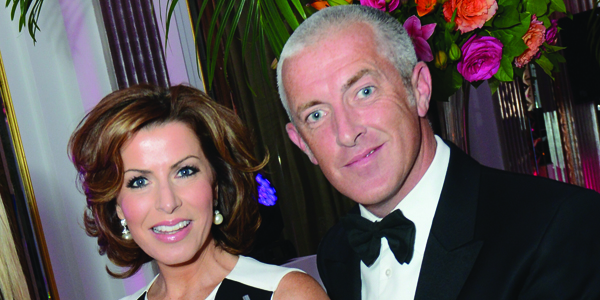 What is your favourite destination?
Our favourite destination, that we go back to again and again, is Soneva Fushi in the Maldives. We got engaged there and have been back maybe seven times. When we were there the first time, there were all these repeaters. I remember thinking why go back so many times when there are so many other amazing places in the world to see? But we have two small children aged four and five and it just works so well for us that we keep going back. It's wonderful.
Do you get recognised?
I have really curly hair which I never straighten on holiday so I do get recognised occasionally, but the curly hair is a good disguise and makes me a bit more anonymous!
What destination is on your wishlist?
I would love to experience more of the Caribbean. It's a huge destination and I've only been to Barbados and Saint Vincent and the Grenadines. I would like to see other islands.
What's important to you in a holiday?
I don't sunbathe but I love the heat. I grew up in South Africa so nothing is ever too hot for me but I never lie out in it. Nowadays I am always looking after the children. If they are happy, then I have a good time. I love the sea and the pool. Before we had children we liked a bit of culture, but now my priority is somewhere safe where the children are happy. It has to be somewhere where children are welcome and not just tolerated. If it was all too false, I would find it very uncomfortable. The other priority is being able to properly relax. Soneva Fushi's mantra is "no shoes, no news" and I love that. Now and again it's really important to just completely disconnect. I spend so much of my time chasing stories, so it's nice to completely switch off.
What was your best-ever experience on holiday?
We went on a dolphin cruise with the children this year – and swam with an albino dolphin! Our guide who'd been working in the area for 16 years said he'd only seen it once before. So now it won't be enough to see a regular dolphin, the children are only going to want to see a white one!
What was your worst holiday experience?
We got some first-class tickets to Mauritius with our Air Miles when my son was only 12 months old. He cried so much it was really upsetting everyone in the cabin. I just couldn't relax as I felt so bad for all the people that had paid good money to be there so we moved to economy. I think we became the only people to have ever downgraded themselves mid-flight as I felt so awkward. So luxury is all very well, but it's really all about feeling comfortable.
What's your least-favourite destination?
I'm an ambassador for Save the Children which I love doing, but I have travelled to some fairly difficult destinations with that role – some of the worst places on Earth in terms of people's hardship – and it certainly puts into perspective how lucky we are to be able to travel to such lovely parts of the world.
Where do you get your inspiration for holidays?
We have found an amazing travel agent who was recommended to us by friends and we trust him completely. He knows us and what's important to us, and he suggests where we should go. He knows all the different requests we have too – we're not high-maintenance but we do like things such as having a safe pool for the children, and so on. We've never met him but it's as if we have! He will regularly ring us and tell us about somewhere new we might love. He's suggested Zighy Bay in Oman for our next holiday, so we're really looking forward to that.
What is your biggest luxury?
Time. Time together with my family – and that's why holidays are just so important to us. They are definitely our biggest luxury. With my job, and my husband being in finance, we're both away a lot, so holidays are a chance for us to be together, away from everything. They give us a real sanctuary. They really are a big deal in