Interview: Levi Roots
famous man ever to walk into the Dragons' Den. He strolled onto the BBC2 show with a guitar singing about his Reggae Reggae Sauce and his life changed forever. He is now a successful businessman, musician, inspirational speaker, a regular on TV and a dad, among other things. Earlier this year he inspired travel agents at the Global Travel Group Conference where he was guest speaker. In August, guests at Jamaica House 2014, hosted by the Jamaica Tourist Board for the Glasgow Commonwealth Games, sampled jerk chicken cooked in a dish prepared? by Roots.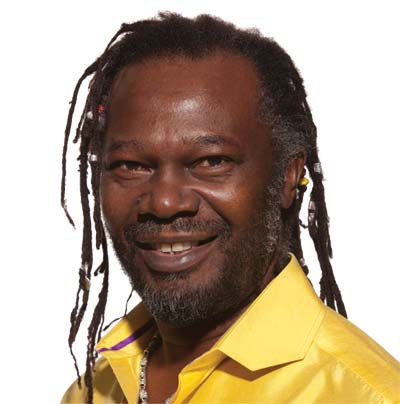 As a passionate ambassador of Jamaica, what are some of its hidden gems and why should holidaymakers go there?
There are many fantastic hidden gems in Jamaica and I'm reluctant to share them all so it stays that way! But Jamaica is famous for its beautiful rivers – it is known as the Land of Wood and Water after all! There are two particularly beautiful sites that I love to visit and they are the Rio Cobre and the famous Rio Grande.
Do you find much time to go on holiday? Where do you like to go and what's your favourite destination?
I get to travel to Jamaica about three times a year, but when I'm there I unfortunately have a lot of work to do. I have a new shop in Devon House, Kingston, I attend conferences, do TV and radio interviews and most importantly, I am able to help the community – particularly Howells Content Primary School and Glenmuir High School. But I try to find time to relax on Jamaica's beautiful beaches. It is definitely my favourite holiday destination, especially as I have family there. My other favourite destination is Cape Town.
Do you like chill-out breaks or active holidays?
I like a bit of both; I like to head to the beach; my favourite beach is Hellshire in Portmore. I also like to be a bit active. I like going rafting and snorkelling and there's always time for a barbecue or two.
Given food and music are passions of yours, do you look for destinations that offer good food or music events?
Absolutely! Music and food go hand in hand in Jamaica and there's always something going on. There are two music events that I always love to attend. They are Reggae Sumfest, which takes place in Montego Bay in July, and Sting Jamaica, which takes place in Portmore in December. Both festivals are fantastic – check them out.
Do you have any favourite places or hotels?
In Jamaica, I love to stay at the Terra Nova in Kingston, it's a fantastic hotel. I am from Clarendon, which is a small parish in Jamaica and I also like to stay there sometimes to get some peace and quiet. The Cape Grace Hotel in Cape Town is also a favourite, it's a great location surrounded by lots of nightlife and beautiful views. In Johannesburg, I stayed at The Palazzo Montecasino, which was one of the best hotels I've ever been too – it was amazing.
Which destinations are on your bucket list?
There are lots of places I am yet to venture to, but top of my list would be Ethiopia, Thailand and Brazil.
Do you use a travel agent to book your holidays?
I have used the same travel agent for a number of years now. I use Sackville Travel who are based near my home in Brixton and specialise in Caribbean travel. They always have great prices and offer a very helpful and friendly service.
The government announced a reduction in Air Passenger Duty to the caribbean earlier this year. Is it something you feel strongly about?
I do feel strongly about Air Passenger Duty, it will stop people from travelling overseas. The air fares need to be reduced so that people can travel more economically, especially when it's to visit friends and family abroad. The UK is such a multicultural country and making long- distance flights more expensive will stop citizens from maintaining that connection with their l