Interview – James Martin
t" src="http://api.travelweekly.co.uk/cms/media/eas-id-cms/17956" width="150" height="156" clip_image001.jpg officeimagetemp en_us cs4>How important an element of travel do you think food has become?
Massive. You're constantly learning in this game. Look at what has happened in the UK in the food industry – that's all due to people going on holiday. The supermarkets have more quality ingredients and restaurateurs have upped their game. In my younger years I wanted to go to France and Italy to learn. Now we're getting all the chefs from France and Italy to the UK.
Do you think that the trend has grown alongside the rise of celebrity chefs?
On TV we have given people more food knowledge, but they make their own choices when they go abroad. It's not down to TV chefs, it's down to people travelling a lot more. I never dreamed I'd be doing this for a living.
You designed the menu for Thomas Cook. What were the challenges of airline food?
The issue was the numbers. Nine million is a lot of meals – it's a bit different to doing 40 covers on a Friday night. From the factory the food goes through three or four processes before reaching the plate. Until you understand what happens to each individual ingredient then you can't understand what it takes to make it better. The banana muffin was one of the shining lights. We made it with bananas, but then injected it with maple syrup to stop it drying out. People are going to like that one.

Some cruise operators place a lot of emphasis on local produce. Is that a concept you agree with?
I don't know how cruise ships are able to do that. It's not possible. Cruise ships set sail from Southampton. There isn't a single producer around there that could produce enough food for a single cruise ship, let alone two a day. It's not true – how can you have local produce when you're bobbing around the Caribbean? All the meat is frozen. I agree with the concept in theory if you're able to do it. In the restaurant we use local produce, but we do 100 people max on a Friday night.
What was the last holiday you went on?
My first holiday for 14 years was last Christmas. We went to the Maldives. My missus booked it and I fell asleep for three of the 11 days. I went for a walk and in five minutes I'd circled the entire island. I don't think I'll be going to the Maldives again. But I love St Barts in the Caribbean. I like Italy and I love Naples.

What's your idea of holiday heaven and hell?
I'm not a beach man. That's probably my idea of hell – looking at a horizon all day. My idea of heaven is driving. I like to fly somewhere and hire a car.

Where would you drive?
I love Italy. You just fly and see little villages. I also fly to Paris – I hire a plane and pilot it myself – and then we hire a car. I fly quite a lot.
Do you use travel agents?
The last holiday I booked was through a travel agent. I'm not one of those people who go backpacking and book it on a site they've found in the ether of the internet. I want to know where I'm going and what time I've got to be there.
Where is the best country for food?
Japan. That and the UK – my mother's roast dinners. Japan is the greatest place on earth for food. It's how they view it and the quality of the ingredients they use. Here, we have all the countries nearby producing great food. But even on our doorsteps the food is fantastic.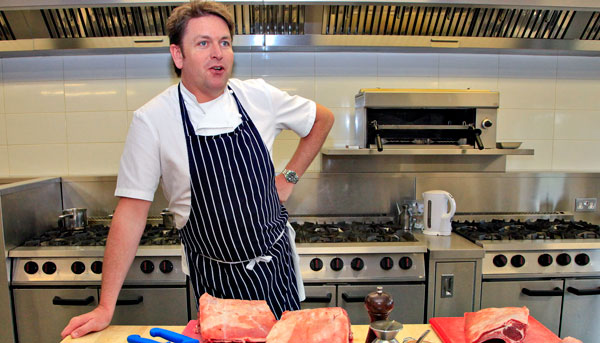 Would you choose five-star food or street food in Japan?
Street food. Having said that, I want somewhere decent to stay. I work seven days a week, 365 days a year. Singapore has these amazing hotels – but you can go out to the streets and try the chilli crab and all manner of other things.
If you could fly from country to country to eat a different meal, where would you go?
Breakfast in the UK and then an al-fresco lunch in Italy. I'd go to Capri and the Amalfi Coast and I'd have seafood, and limoncello from the lemon groves in Amalfi. Then I'd go to Spain for supper. They have amazing fish and a unique way of putting fish and meat together with chorizo. They also have the best pork in the world. If you're ever in Barcelona you have to go to La Boqueria market. It's the best market anywhere in the world. The central part is all fish, then the next ring around it is all meat, the next is all vegetables, and beyond that is all tapas bars. I could stay in there all day.
What's your most memorable culinary experience?
In Crete I was with a mountain shepherd who was shooting whatever was moving. He assured me that it was a goat, but it looked like it had two legs. Then he boiled it up, which was pretty gross, and then cooked it on the roadside. We had it with his homemade moonshine.

What's your worst food experience?
Abu Dhabi – in the middle of the desert. They had this festival where they put this camel in this fire pit and left it for 24 hours. Not only did it smell disgusting but it looked it too. This thing came out and it was j