Interview: Federico Gonzalez Tejera
els in 28 markets around the world, but there's a good chance you may not have heard of them. That's about to change. In October, the UK sales team – now expanded to 12 – will launch a trade sales blitz, including sales visits, fam trips and a London workshop on October 8. One of the key messages will be to introduce NH Collection, a new premium brand targeting the four-star plus market with city hotels in prime locations offering more luxurious surroundings and services than the chain's standard product.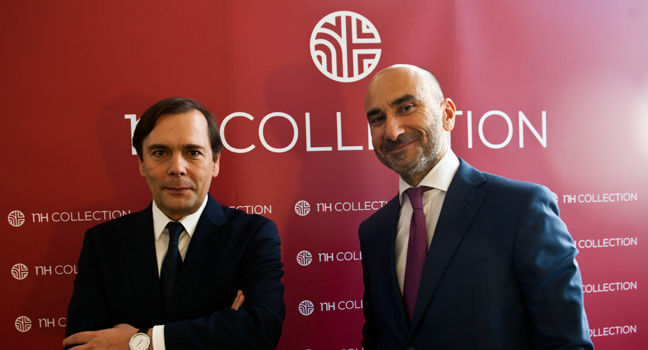 At the launch of the Collection, held at the new NH Palazzo Barocci, a boutique Venetian palazzo reviewed?here, Aspire caught up with Group CEO Federico Gonzalez Tejera to find out a little more about NH Hotels.
WHAT PROMPTED YOU TO LAUNCH NH COLLECTION?
After I joined the company in 2012, we undertook an in-depth analysis of our hotels, and realized there was not one NH. Alongside our more functional, pragmatic hotels, we earmarked those which, based on location or the building itself, had significant potential to appeal to a premium consumer. We decided to create a niche group, and by the end of the year we'll have 33 hotels within the Collection, in Spain, Italy, Mexico, Argentina and the Czech Republic. Some hotels were already in very good shape – the Constanza in Barcelona, for example – but the NH Palazzo Barocci is the first to open as a new Collection hotel.
WHAT DIFFERENTIATES NH COLLECTION HOTELS?
We want guests to leave all our hotels saying: "What a pleasure." But for the Collection, it should be more than that. The experience should leave them feeling extraordinary, with little extra touches such as daily newspapers and a complimentary ironing service. Guests won't have to ask for these things – it will be offered to them.
WHICH BRANDS DO YOU SEE AS DIRECT COMPETITORS FOR NH COLLECTION?
It differs across destinations, but you're looking at Hyatt, Sofitel, Pullman, Melia, Four Points by Sheraton, Andaz. We appeal to both leisure and business travellers.
WHY AREN'T YOU BETTER KNOWN IN THE UK MARKET?
In the past, we didn't invest enough in marketing to the UK. Now we are locating marketing spend by source market. The UK is a significant source market, and we have plans to start investing this year to create awareness of our brands. We want NH to be the number one chain in our locations, and the brand to be a warranty of trust for our guests. We believe segmenting our brands will allow us to achieve this competitive difference. We want agents to understand the significant benefit of allocating custom to our different segments – NH Hotels, NH Collection, Hesperia resort hotels, and Nhow, our design brand, which has three properties in Rotterdam, Berlin and Milan, with another opening in Santiago, Chile, next year.