Interview: Eamonn Holmes
unrise and This Morning presenter Eamonn Holmes is one of the best known faces on British TV. With such a hectic schedule holidays are particularly important, he tells Rupert Murray.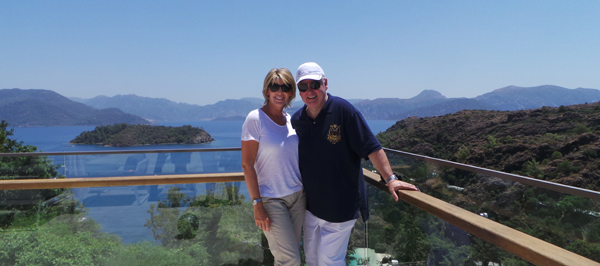 WHERE WAS YOUR LAST HOLIDAY TO?
The D-Hotel Maris in Turkey. The hotel is miles from everything so it's guilt-free relaxation without worrying whether you should be visiting a museum or seeing a sight. You just relax. With this hotel it's all about location. I might have had better food and stayed in a better hotel, but if I have I can't remember it, because what you remember is the incredible location.
I found myself taking pictures of the same view day after day. Service was impeccable and not overpowering. There is also a specially designed scent running throughout the hotel and it's so relaxing.
ANY NEGATIVES AT ALL?
The transfer is two hours and the roads aren't the best, although we did get the helicopter transfer back, which was well worth the money and a wonderful experience.
DOES IT MATCH LUXURY YOU'VE FOUND ELSEWHERE?
I have been to top end five-star places that are not that good because the location isn't great or the staff aren't friendly. If you go somewhere such as Atlantis the Palm in Dubai you've got all the luxury and the beach cabanas, but the difference here is the lack of numbers and the feeling of exclusivity. The infinity pool was always empty as people were on the beach, and the beach wasn't busy at all. Also there were no children under eight, which means there's no screaming and you can't underestimate how great that is.
HOW DO YOU CHOOSE YOUR HOLIDAYS?
A friend of ours always goes on TripAdvisor to research hotels, but we don't do that because people seem to whinge a lot over nothing, like the sheets not being right. We take recommendations from friends, as we did in this case – especially if you have children, you want to know that there is going to be enough for them to do.
HOW DO YOUR CHILDREN AFFECT YOUR HOLIDAY DECISIONS?
Now that Jack is a little older [12] we can look at more sophisticated trips but really any younger and there's no point because if the children aren't enjoying themselves, you don't enjoy yourself. There's no point dragging them around telling them to be quiet continually. As they get a bit older it becomes easier to go to places that aren't so beach focused. It is nice to travel with children if you can because it opens their eyes and teaches them a lot.
WHERE NEXT?
Jack wants to go to New York and the Maldives. We haven't ever been there and it looks like paradise. And we'd love to go to Sydney for the fireworks at New Year's Eve.