India and the Indian Ocean: Recipe for success
kly.co.uk/cms/media/eas-id-cms/22236" alt="" width="299" height="199" align="right" class="newsArticleImage">
Make travel tastier with a foodie adventure, writes Katie McGonagle
Like this and want more details? Click here to download and save as a PDF.
Did you know the British invented curry? Okay, maybe not the food itself, but having just one word to sum up the myriad flavours from each region of India is an entirely British over-simplification. Add to that the array of spice-and-sauce dishes found elsewhere in the Indian Ocean and the word 'curry' just doesn't do them justice.
Luckily, that's starting to change. With a bit of help from MasterChef and Saturday Kitchen, most of us can tell a Keralan coconut curry from a Mauritian fish vindaye, and more besides.
Find out how to use that newfound knowledge to pique clients' interest in this diverse region and its even more diverse cuisine, with our introduction to some of its most taste-tastic trips.
Variety is most definitely India's strong point; not only are its many regions home to different styles of cooking, but it also boasts the greatest selection of foodie holidays, from escorted tours exploring as many dishes as possible to excursions offering just a taster.
Steer serious gourmets towards the former – they won't regret it (except perhaps when they step on the scales afterwards).
Western & Oriental's 14-day private tour, A Taste of India, starts with vegetarian dishes in Tamil Nadu and the aromatic spices of Chettinad and Rajasthan, via kebabs and biryanis, which are the signature dishes of Lucknow and Hyderabad, to the fruit and seafood-dominated cuisine of Kerala. It's not all about eating though – there's a cooking demonstration at historic fort-turned-hotel Devi Garh by Lebua, a stroll through Lucknow's roadside food stalls, plus a lunchtime cruise on a Keralan houseboat.
On a shorter but equally food-focused itinerary, Premier Holidays' Flavours of India focuses on Kerala, Goa and Mangalore to explore south India's unique flavours. The small-group tour offers the inside track on the Lalbaug Spice Market in Mumbai, dinner at home with an Indian family, a traditional Marathi breakfast then a Goan dish at a high-end restaurant in Bandra (from £1,969 with Jet Airways flights, private transfers, five-star accommodation and English-speaking guide, in September).Feeling full at the very thought of a tour totally dedicated to food?
Don't panic – Insight Vacations' Mystical South India incorporates a spice plantation tour in Thekkady, French-influenced food in Pondicherry and meeting local fishermen and farmers in Kumbulangi, near Kochi (11 days, from £2,525 with flights).
Explore's Backroads of Kerala, meanwhile, gives guests a chance to work off those curry calories by cycling through this rural region and staying with local families for four nights to experience true home cooking (13 days, from £1,834 with flights).
There are also shorter bolt-on options, such as Intrepid Travel's Bite-size Break Delhi, which includes home-cooked meals, sizzling street food, market visits and a cycle rickshaw tour over three days in the capital (from £185 land-only).
Like a buffet packed full of their favourite foods, excursions mean clients can pick and choose a bit of what they fancy as part of a wider itinerary.
Delhi offers an array of day trips, including the Delhi Food Walk where visitors will see fresh shawarma (kebabs) being made, sample fruit beer and momos (dumplings), and local specialities such as paneertikka, finishing with ice cream-like kulfi-falooda (£31 for the three-hour tour with Attraction World).
Similar street food-focused options are also available in Mumbai and Kochi, where Urban Adventures has added a Kochi Food and Culture Tour exploring the links between the area's Muslim, Hindu and Christian populations and its signature dishes of biryani, dosa and thengapal (three hours, £47).
Of course, nothing beats a spot of home cooking, which is why homestays and cooking lessons are increasingly popular. Do Something Different's portfolio includes a full-day Culinary Adventure in Goa, visiting fish, fruit and vegetable markets to learn about the region's most popular ingredients, followed by a cooking demonstration and lunch at home with a Goan family (from £84).
For those who prefer to get a bit more hands-on, Cox & Kings has a homestay and family cooking lesson at Philipkutty's Farm in the Keralan backwaters, or a full-day cookery class with local celebrity chef Nimmi Paul in Kochi, available on its tailor-made programme or as a tour extension. The Oberoi Rajvilas in Jaipur, meanwhile, offers a chance to learn from the experts in its Cooking with Masters experience in the hotel's Indian restaurant, teaching would-be cooks about the area's herbs and spices with a souvenir recipe book and apron (£45).
Bearing many similarities with near neighbour south India, Sri Lankan cuisine is packed chock-full of chillis and spices thanks to its history as a colonial trading hub with access to ingredients from around the world.
Learning about that signature style is at the heart of Travel 2's new tour, Flavours of Sri Lanka, which stays in small farm-style accommodation and incorporates a number of cookery classes into its 10-day trip (from £1,829 including flights, transfers, some meals and sightseeing).
Likewise, Intrepid's Real Food Adventure focuses on getting under the skin of the local culture. Visitors spend a night at a tea plantation to have a go at picking fresh leaves, tour a herb and spice garden, learn how to make a traditional Sinhalese dinner complete with string hoppers (a type of pancake) and roti, and meet the famous stilt fishermen at coastal town Unawatuna.
For cutting-edge cuisine try Premier Holidays' Colours of Sri Lanka trip, which includes food-focused activities along with more mainstream sightseeing across its nine-day duration. Think top-flight city restaurants and chef-led demonstrations combined with visits to local food markets, a cinnamon plantation, and learning to cook with a farmer and his family. The tour costs from £1,629 including SriLankan Airlines flights, eight nights' four-star accommodation, on a half-board basis plus five lunches, and an English-speaking guide.
Those who prefer to make their own way around can also add in a cooking class to whet their appetites. Premier Holidays can incorporate a culinary workshop at Colombo restaurant Upali's by Nawaloka into its tailor-made itineraries, giving guests a brief history of the country's cuisine, an introduction to spices, and a chance to create their own Sri Lankan curry (from £25).
Enjoy a change of pace when it comes to cooking in Mauritius – this island's fusion cuisine is a combination of Indian, African, French and Chinese influences, and can be easily explored from the comfort of its signature beachfront hotels.
Take The Oberoi, Mauritius, for example, which offers complimentary cookery classes with the hotel chef to learn classic recipes for fish curry or fish rougaille, before completing the session with a spot of wine-tasting. Centara Grand Azuri Resort and Spa, meanwhile, celebrates its Thai heritage and Mauritian setting with cooking lessons combining both countries' cuisines, followed by a chance to taste the flavour fusions at Lazuli restaurant (approximately £30).
Shanti Maurice doesn't just ask its staff to get involved with passing on a few culinary skills – it gets their families in on the act. Grandma's Kitchen excursion offers guests the chance to dine at home and learn cooking secrets with the grandmother of one of the resort staff. Whip up honey lamb with cinnamon, fish curry spiced with tamarind and coriander, and a pineapple bomb dessert, then sit down to dine on those culinary creations.
But if clients aren't convinced by the idea of dining out on their own efforts, go with the professionals: Constance Hotels & Resorts holds its own culinary festival each year, pairing up six Michelin-starred chefs with six in-house cooks to create some mouth-watering masterpieces. The 10th annual festival takes place next year from March 21 to 28 at Constance Belle Mare Plage.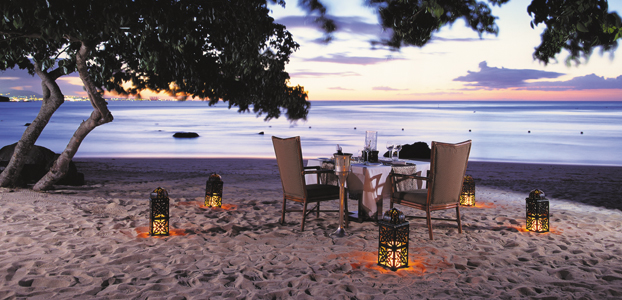 Western & Oriental's Taste of India tour starts at £3,499 for 14 days, including British Airways flights, domestic flights, accommodation, chauffeur-driven car and a private English-speaking guide.
westernoriental.com
020 7666 1234
Intrepid's Real Food Adventure Sri Lanka costs from £1,275 for 15 days, including 14 nights' hotel accommodation, 14 meals, tours and tastings and local transport. Flights extra.
intrepidtravel.com
0844 499 8487
A week's half-board at Constance Belle Mare Plage in Mauritius costs from £1,895 with Caribtours in March 2015, with flights, transfers, and use of an airport lounge in the UK.