Feature: Get more in Mauritius
Mauritius' legendary hotels were starting to look a little tired. Decor was dated, service wasn't what it used to be, and compared with the underwater nightclubs and 24-hour spas of the Maldives, Mauritius was in danger of losing its mojo.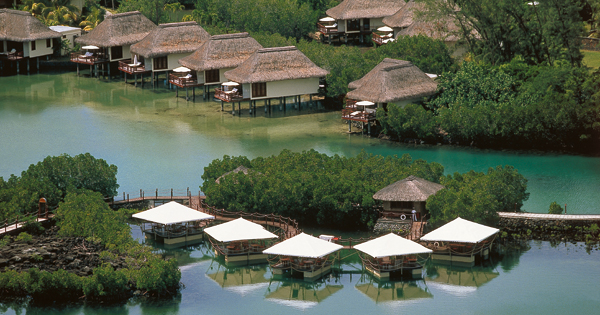 But the arrival of the ocean-breezy St Regis Mauritius last year signalled a shift in the tides.
Owen Davies, commercial director at Elite Vacations, has noticed a surge in interest: "We've had an increase in enquiries for our Mauritius portfolio this year. Five-star resorts such as Constance
Le Prince Maurice and Angsana Balaclava are popular choices, as well as the new St Regis, of course."
It's no surprise Le Prince Maurice is top of his hotlist. This Mauritian grand dame has undergone some dramatic cosmetic surgery. It reopened last year featuring a new Sisley spa, a slate-tiled lap pool, a floating bar and an injection of Asian chic to the common areas. Repeat visitors – of which there are many – will be pleased to hear that rooms retain a colonial feel with hardwood floors, wicker daybeds and marble-heavy bathrooms, but new upgrades include Mac Minis (movies on demand) in all the bedrooms and slightly lower beds (after complaints they were too high).
Lux Le Morne has also been given a facelift. Retro touches aimed at a younger crowd include a classic red British telephone box for guests to call home free of charge, pop-up bars, which change location each night, and a team of first-class baristas. Its sister hotel, Lux Belle Mare recruited British interior designer Kelly Hoppen to jazz up a handful of its suites, which now rank as some of the most in-demand rooms on the island.
Tapping into the same vein, the ultra-modern Sofitel So Mauritius is targeting hipsters with molecular welcome drinks and zany decor courtesy of the Japanese fashion designer Kenzo. Its 92 rooms have a cool minimal feel with lime bedheads, shiny limestone surfaces and tropical accents, and overall, it's great fun – especially at night when the? turndown service includes projecting a moving map of the galaxy on to guests' bedroom ceilings.
But really, it's all about the handsome new St Regis.
Languishing on a golden-sand peninsula at the southern tip of the island, the location is hard to beat. It has Le Morne, a 556-metre mountain and one of Mauritius' best-loved landmarks, as a backdrop, and the surrounding area is a protected nature reserve teeming with giant palms and vivid wild orchids.
Accommodation comes in the form of chic thatched cottages arranged in clusters, or 'villages', each served by teams of butlers housed in elegant open-fronted sitting rooms. A grand plantation-style manor house lies at the centre of the hotel boasting a genteel Victorian colonnade furnished with armchairs crying out to be snoozed in.
After a snooze, the hotel's kitesurfing school run by? specialists Club Mistral should help your clients burn all the calories they will be consuming at supper time.
The restaurants, of which there are six, sit shoulder to shoulder giving the hotel a sociable, buzzy feel in the evenings, and Aspire can testify that the spaghetti bolognese at the beachside Boathouse rivals anything you'd get in Rome.
There's also Simply India, where Michelin-starred chef Atul Kochhar, one of India's most famous exports, is whipping up a taste tornado with his daring modern dishes – make sure your clients hear about him, he's a major draw for foodies.
Kochhar is not the only VIC (very important chef) on the island. Last year, Shelina Permalloo (winner of MasterChef 2012) launched a Mauritian cookery school at Maradiva Villas Resort & Spa and is currently working with the food and beverage team to develop new menus. Not to mention everyone's favourite Chelsea boy, Tom Aikens, who recently returned from a sojourn at the Royal Palm.
So far, so appetising. But there's a lot more to Mauritius than ocean-facing suites and celebrity chefs. The jungle-filled interior of the island boasts animal parks, nature walks, quad biking, zip wiring, Segway safaris, giant Aldabra tortoises, you name it. It's paradise for holidaymakers seeking thrills beyond
the beach, and this, above all, is why people keep coming back.
Tara Taylor, product manager for Elegant Resorts, has always had a soft spot for Mauritius, saying: "There is so much on offer but you can be as active or inactive as you want to be. We encourage our clients to spend a day at the races (the season at the Champ de Mars racecourse in Port Louis is from March-December mauritiusturfclub.com), to walk with lions or cheetahs at Casela Park, or to take a helicopter flight over the island.
"The hotels are world-class and have stunning locations but, above all, nothing beats the warmth and charm of the Mauritian people."
So no matter how outlandish the offerings in the Maldives and Seychelles might get, rest assured there will always be a market for good, old Mauritius.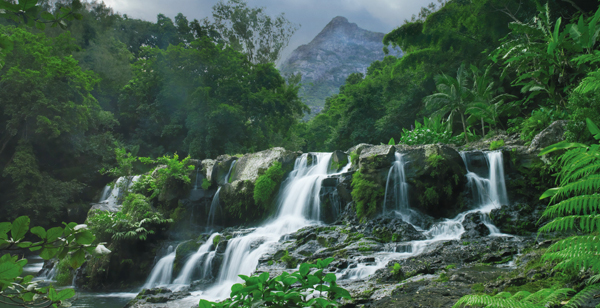 NEED TO KNOW: Travelling around Mauritius takes time. Although the island is only 28 miles by 40 miles, there's only one major highway from the airport to Grand Baie in the north. All the other roads are narrow and winding with lots of parked cars, stray dogs and cyclists to avoid. Advise your clients what attractions are nearby before they book.
TIME OUT: Mauritius is a 12-hour flight from London but with a +3/4 hour time difference depending on the time of year, it is relatively jetlag-free.
TOP TIP: Guests checking in at the St Regis Mauritius will be picked up from the airport in a new Jaguar XJ – the only one on the island.
GETTING THERE: Leo travelled to Mauritius with Air Mauritius and was a guest of Constance Le Prince Maurice.
Expert View
Tom Marchant, co-founder, Black Tomato
blacktomato.com
"Picking an island for the quintessential beach holiday is always difficult. A lot of our clients are torn between the Maldives, the Caribbean and Mauritius. Each has its own distinctive rhythm, island atmosphere and purpose, but for us, we look to Mauritius for culture and laid-back bliss. With a rich and varied history, this is a diverse island, bringing together a vibrant mix of Indian, French, Créole and Chinese influences. The country is a fascinating mix of religions, food, people and styles. Mauritius ticks all the boxes for us – lush tropical greenery, miles of white-sand beaches and clear waters, not to mention some of our favourite boutique hotels. But for me, it's the culture that makes it stand apart from its sandy island siblings."
The Aspire Top Five Activities
1) Kitesurfing
Protected lagoons and Indian Ocean breezes make Mauritius an ideal location for your clients to give the sport a try. lemornekiteschool.com
2) Pamplemousses Botanical Gardens
Nature-lovers will enjoy This 60-acre garden featuring more than 500 species of indigenous and exotic plants. Highlights include the giant Victoria Amazonica water lilies, the Talipot Palm – which lives for up to 75 years before producing its sole flush of flowers and fruit the dies – and Château Mont Plaisir, which lies at the heart of the estate.
3) Rhumerie de Chamarel
Set in a pretty mountain valley, Rhumerie de Chamarel produces agricultural rum by distilling pure sugar cane juice. It's just a 30-minute tour before your clients can get stuck in to all different flavours from vanilla to pineapple rum.
rhumeriedechamarel.com
4) Beau Champ restaurant
A sizzling contemporary steakhouse at the Four Seasons Anahita. Your clients won't find a better Wagyu steak anywhere else on the island.
fourseasons.com/mauritius
5) Casela Nature and Leisure Park
This is where the action is: a 400-metre zip wire, quad biking, canyoning, lions, Via Ferrata, Segway hire and a petting zoo.
caselayemen.mu
Expert Tips
Uma Campbell, product manager, Lusso
Boasting hotels with kids' clubs, golf courses, stunning locations and lavish spas, Mauritius is ideal for families, couples and weddings. It caters for the growing demand for villa accommodation, with high-end serviced and self-catering villa options.
The warm and friendly welcome I received at The Residence Hotel left a lasting impression. For families, Lux Belle Mare offers a range of watersports and Four Seasons Mauritius is home to residential-style villa accommodation and an Ernie Els golf course. Royal Palm is perfect for weddings and Constance Le Prince Maurice is home to the only stilted suites in Mauritius.
Island experiences vary from a 60-minute Ayurvedic spa treatment at Shanti Maurice, to a delicious meal at One&Only Le Saint Géran's Indian restaurant Rasoi.
Recommend a visit to the capital Port Louis to go to the spice market, followed by lunch at fusion restaurant Le Fangourin and if you want to mingle with locals and celebs, have dinner at Le Pescatore on Tr