Feature: Falls gold
s to microlight flights over the largest waterfall in the world, a safari holiday in Zambia offers adrenaline thrills aplenty, offset by the calm respite of Zambezi sundowner cruises and stays at five-star hotels or luxury safari camps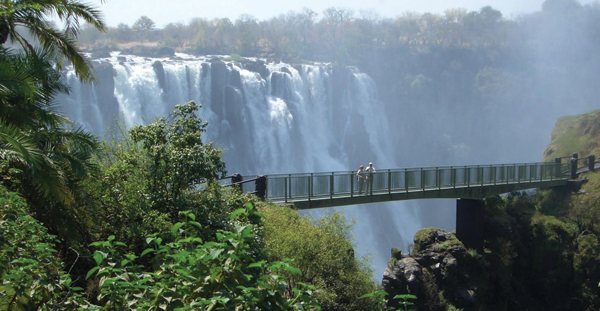 Soaring along the banks of the Zambezi with the wind in my hair, crocodiles, elephants and hippos scattered below and literally just a wing and a prayer keeping me from becoming lunch, the dominant thought was simple: could life get any better than this?
Seconds later I got my answer. The water below my microlight, piloted by Pascal, a Zimbabwean former military fighter who likes watching Top Gun, started to churn more violently and then disappeared suddenly from view. We were now flying inside the sky to ground cloud that dominated the local landscape.
Above the sound of hundreds of thousands of litres of water crashing into a vast gorge I heard myself shout: "Oh. My. Goodness. Oh holy shepherd. Gosh, oh golly gosh." Or words to that effect.
This view of the Victoria Falls, the (very safe) lawnmower-powered flying contraption in which I was flying and the spray in my face conspired to make that moment the finest I've ever experienced.
And that is what makes a holiday. In 15 minutes, courtesy of Bushtracks Africa (gotothevictoriafalls.com), Zambia has secured itself in my travel anecdotes for ever and the person who arranged it for me will never not be hugged and kissed.
Zambia is full of experiences that will make your clients feel this way about you (see 'Things to Do', below).
Step one in building their perfect trip is to book the Royal Livingstone hotel. It lies on the banks of the Zambezi, with just a subtle electric fence between you and the most terrifying of earthly beasts.
On this side of the fence a tower of giraffes, a dazzle of zebras and a crash of rhinoceroses mill around the grounds
of the five star colonial-style hotel, oblivious to the paying guests. OK, there are no rhinos: I just couldn't find anywhere else to include my favourite collective noun – crash.
In London, walking and texting has resulted in a painful encounter with a lamppost or two. In Zambia, I bumped into a black-and-white striped horse, which politely moved aside and carried on munching on the lush lawn.
One type of animal you won't fail to notice, however, are the monkeys. They parade around as if they own the place. During my visit I observed them laying on sunloungers, munching on apples, stroking each other on my bed (don't leave your balcony doors open and unattended) and one particularly upper-class simian even enjoying a glass of wine on my neighbour's balcony.
I preferred to drink my wine in the bar of this recently refurbished masterpiece in deep chairs alongside the grand piano.
The bar is named after explorer Dr David Livingstone, whose birth was 200 years ago this month. The anniversary is being marked in Livingstone with a series of events and festivities, including performances, regattas and cultural talks, between March and November (livingstone2013.com).
The Royal Livingstone hotel is set in the 46-hectare Mosi-Oa-Tunya National Wildlife Park which can be explored in a variety of ways (see below). The rooms all face in the correct direction and one can even see the giant river while face down having a massage thanks to some cunning mirror work.
You're so close to the Victoria Falls here that a short stroll or golf buggy ride through the four-star family-orientated sister hotel Zambezi Sun brings you to the entrance of one of the seven natural wonders of the world.
Despite its status, there is pleasingly little commercial fanfare. Visitors are simply offered a raincoat for the walk. As hardy Brits, we politely turned down the raincoat man's offer and merrily made our way inside. It transpired that we should not only have accepted the raincoat but also asked for scuba gear.
Assuming your client goes in the wet season (December to May) – the best time to visit –? walking alongside the falls is tantamount to getting into the most thorough shower in the history of the world.
On Knife Edge bridge, which stretches across the gorge, there's no way of telling from which direction the water is hitting you. But it's one of the best places anyone has ever stood.
As the sun starts thinking about setting, your clients should be en route to one of two places: the African Queen sunset cruise or the Royal Livingstone Express.
The Queen meanders along the Zambezi like a floating colonial bar that could easily have been drifting since the turn of the last century. Every now and then you pull over to watch a bloat of hippopotamuses yawning at you, or a float of crocodiles spying on potential meals nervously pacing the river bank with ears pricked. Nibbles are enough to keep you going but really this one is all about a decent drink and a fine view.
Clients who opt for an evening on the rails will not be nibbling. After dark, they'll be gorging on a handful of courses among old school opulence not unlike that of Orient-Express's British Pullman. The major difference is that if you get off the Royal Livingstone Express and go for a walk, you might get eaten.
While there's still light, many congregate in the open-sided back carriage from which giraffe and zebra are regular spots, and a lucky few (first come first served) can join the captain in the engine room to sound the horn and get hot and sooty.
The falls and the surrounding experiences have huge appeal in their own right but, having travelled to Africa, your client should look to explore farther afield, according to Chris Wain of Africa Travel.
He suggests combining at least two areas to get the full range of safari activities. These, he says, could include South Luangwa National Park, for game drives and walks, and Lower Zambezi National Park, for boat safaris, canoeing, fishing and game drives.
Looking beyond Zambia, he added: "Consider combining Victoria Falls with another country, such as South Africa, Botswana, Namibia or Zimbabwe."
Or for a family hoping to give their children the extraordinary moments that microlighting afforded me (without sending them over the edge of a massive waterfall), the African playground of Sun City will do the spine-tingling trick.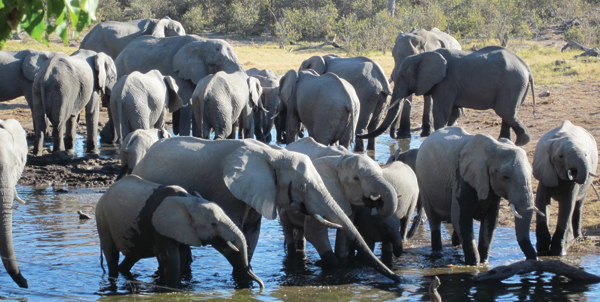 Safari camps
Chinzombo: This new camp, opening this month, is designed by award-winning architects Silvio Rech and Lesley Carstens. Set in 60 acres, and with Luangwa River frontage, it brings levels of comfort, style and elegance previously unseen in the Luangwa Valley. There are six villas, one of which is a suite, and each has a plunge pool, cooled sleeping areas, and massive bathroom with spa amenities.
Mchenja Bush Camp: Set under a grove of ebony trees. Five thatched-roof tents feature private decks overlooking the Luangwa River. Activities centre around guided walks and game drives and facilities include a bar and small plunge pool.
Luwi Camp: Luwi Camp (below) is close to a permanent hippo and crocodile-filled lagoon deep in the national park. The area is remote, with no other camps or people for many miles around, making it perfect for walking safaris. Wildlife in the area is prolific.
Kakuli Bush Camp: This tented camp on the banks of the Luangwa River is the only 'true' bush camp open for the green season. It has four traditional-style walk-in safari tents, each with en-suite bathrooms. The bar and dining chitenje (lounge) is constructed of reed and thatch forming the centre point of camp.
Expert tips
Chris Wain, sales director, Africa Travel
Consider visiting in the so called emerald season, Zambia's summer months between November and March, when there is superb birdwatching, animal births, fewer tourists, and boating is possible in South Luangwa National Park.
?
Purchase your Zambia visa prior to departure. Although easily obtained on arrival, the queues at Livingstone airport can be long.
?
Try to pre-book excursions. Activities such as elephant safaris and trips to Livingstone Island often get fully booked.?

No need to purchase expensive safari gear. Beige and neutral colours are recommended, and light boots are fine for walking.
?
Travel lightly because most light aircraft flights within Zambia have weight restrictions.
?
Think about taking the whole family. Zambia has some excellent safari houses, including Luangwa Safari House, Chongwe River House (above) and Tangala House
Things to do
Rhino Safari: Mosi-oa-Tunya Zoological Park has five white rhinos, antelope, giraffe, zebra, buffalo, and stunning views of the Zambezi River. Tours last two-and-a-half hours and run early morning or late afternoon.
Chobe, Botswana: This national park in Botswana is just an hour by road from Livingstone. The trip includes a private boat across the Zambezi and customs formalities.?
Mosi-oa-Tunya National Park: The park encompasses Victoria Falls and stretches eight miles along the Zambezi. White rhino, buffalo, hippo, crocodile, giraffe, zebra and antelope flourish here.
Elephant-Back Safari: Ride elephants with guides through the beautiful ravine scenery. The ride itself lasts about one hour, the safari as a whole about three hours.
White-Water Rafting: The Zambezi – high-volume and deep-channelled – is one of the best rafting rivers in the world.?
Quad Bikes: Explore the Livingstone area on all-terrain quad bikes.
Abseiling: Set below the Victoria Falls in the Batoka Forges, Abseil Zambia offers abseiling and a gorge swing.
gotothevic