Feature: Double blue
re now even easier to get to thanks to a biweekly flight launched by British Airways this year. But easy isn't everything. Luckily, these two have far more than ease of access to offer.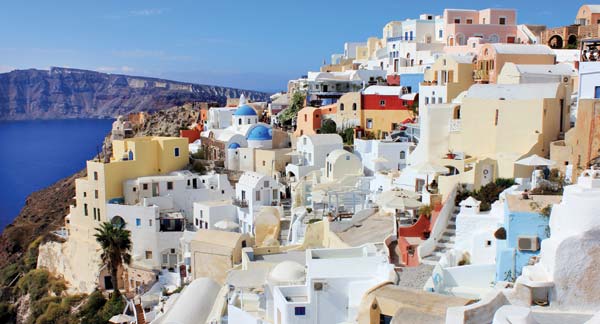 Some words are at their best when said out loud while staring into middle distance. Santorini. God, that feels good.
A wonderful name like this should be endowed only upon a place that looks like it might have been built by angels.
And if you've seen photos of the scattergun white buildings peppering the hillside with dotted sky-blue domes, you'll know Santorini has been handed to the right place.
I've always like the sound of 'British Airways' too, so combining the two and then chucking in a couple of nights on Mykonos into the mix goes some way to creating the perfect-sounding trip.
Mykonos
Mykonos is known locally as the windy island. And what lovely wind it is, keeping holidaymakers cools as the sun beats down.
The island is a combination of contemporary, swanky places to eat and drink, but with rustic, traditional Mykonos firmly intact around the edges. The landscape includes old thatched-roofed windmills and pristine sugarcube buildings dotted randomly around the dry, grassy fields and hills. Recommend that your clients hire a car but ensure they get a little one like a Smart car. Anything big makes life tricky.
Mykonos Town itself is a little classier and smarter than your average old town. It has the typical boutiques and easy-to-get-lost-in narrow cobbled streets but we also spotted designer shops including Chanel and Louis Vuitton.
The island's dining standards are high and there's a big emphasis on locally sourced, organic produce. Tell your clients to avoid typical lunchtime hours if they want the best seats as that is when cruise ship passengers are prone to swell the crowds.
In town, Little Venice, by the waterfront, is a spot to recommend for supper and cocktails but tell your customers to arrive early to get a table as it can get very busy.
From late afternoon onwards the island's party vibe gets going in the many beach bars – Ornos and Psarrou beaches stand out as the smartest. The island generally feels like a less-commercialised Ibiza – with more local emphasis and a strong Mykonos identity.
Our hotel, the Mykonos Grand, was the perfect sanctuary. Lying between the town and the more popular beaches, it was in a great location, and it smelled great too. Yes, you read that right: the reception smelled amazing – and I thought the gorgeous aromatic candle that was lit in my room one evening was a nice touch.
The rooms not only each have a balcony but also a private upstairs terrace, overlooking the pool and the sea, with dining table, day bed and sun loungers, where we had breakfast brought to us.
Santorini
A public ferry runs between Mykonos and Santorini – but it's more fun and flexible and less time-consuming for your clients to book them on a private speedboat, helicopter or air taxi/jet (jetway.gr).
Santorini, popular with honeymooners and couples, has a slower pace than Mykonos but, as we found out, it's not all soppy romantic dinners by sunset.?
Hotel Vedema was our base. Positioned in a little village south of the capital Fira, we found it charming, quirky and a little more personal than some bigger hotels. Nearby are cobbled streets, boutiques, traditional tavernas and one of those iconic blue-domed churches. It was novel to hear the sound of the church bells during a lazy afternoon by the pool.
Guests can have breakfast by the pool if they like and dinner in a beautifully lit cave (renovated catacombs). There is also a well stocked wine cellar. We loved the practicality of our adjoining rooms and sunset balcony, and enjoyed the bathroom toiletries by natural, organic Greek brand Korres – very fitting.
There are more sunset viewing spots than you can shake a stick at in Santorini. Truth is, you can see a beautiful sunset from anywhere on the island. Oia, on the northerly tip of the island, attracts hundreds of tourists to its narrow old-town streets at sundown. Instead, help your clients avoid the crowds by suggesting they head down to Amoudi Bay at the foot of the town. Fewer people know about this spot.
If your clients are wine buffs there are a huge number of wine tours on offer but the best thing to book is the wine (and cheese) tasting at the in-house wine museum at the Selene Restaurant.And better still is the cookery course here where wines are matched with local and seasonal dishes.
A Greek island trip without some time at sea is a crime. The options as you'd expect are plentiful but private hire through Caldera Yachting at the Santorini Sailing Centre is the high end way to do it whether it be a couple of hours or a whole day of food, snorkeling and visiting neighboring islands.
Santorini's relaxed feel provides the perfect antidote to lively, late nights in Mykonos - but for those in holiday mode wanting to stay up, avoid the masses and clubs in the capital Fira, and head back to Oia. Suggest your clients check out Hasapiko, a former butchers. Buzzy and good value, you can sit outside on the wobbly tables or surrounding doorsteps and mingle with the locals in the
warm evening air.
TOP TIPS FROM ZOE CORNWALL
Sales and marketing manager, Islands of Greece
Santorini
- For a Mamma Mia-like experience, recommend The Greek Wedding Show by White Door Theatro. The audience become participants in this homage to the traditional Greek wedding, meeting 'the family', eating, drinking, dancing and breaking plates. The show is set in an ancient wine cellar.? whitedoorsantorini.com
- For snorkelling and diving there is a great spot below the ancient city of Akrotiri at Caldera Beach. Close to the beach the sea bed drops 30 metres, so there are many types of fish. This dive station offers access to all the great volcanic dive spots where you can see lava formations. There is also a small shipwreck in the bay. divecenter.gr
- At the open-air cinema in Kamari, films are shown in English with Greek subtitles and they change the programme about twice a week. There are comfortable director-style chairs and a bar. cinekamari.gr
Mykonos
- For peace and quiet, head to Agia Anna for a relaxing lunch spot on the beach.
- Chora, the main town, is full of beautiful boutique shops, but as tempting as it is to go shopping, stay away between 10am and 5pm when the cruise ships stop by. In October you will be able to grab yourself end-of-season bargains.
- Spend a few days on the neighbouring islands of Paros and/or Naxos and have an island-hopping trip.
Islands of Greece is part of: visionsholidaygroup.co.uk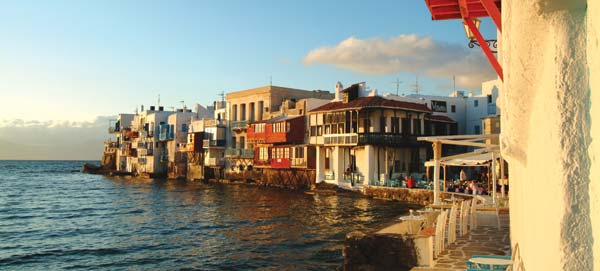 SANTORINI: Sunset Suppers

The Red Bicycle, Oia
One of our favourite places. Ask for the table at the back looking into the restaurant and over the domed rooftops. You don't see the sunset direct but you can sit side by side and take in the breathtaking scenery as it is bathed in a sunset glow. The moreish dinner was an added bonus. facebook.com/RedbicycleRestaurant
Sunset ammoudi restaurant, Oia
Here, you can avoid the hustle and bustle of the crowded streets in the town and enjoy sundowner drinks.
sunset-ammoudi.gr
Selene, Pyrgos
Voted one of the best restaurants in Europe, the dishes here are a work of art. Ask for a table at the front.
selene.gr
Ambrosia restaurant, Oia
Every table has a great view but there's only 12, so pre-booking is essential.
restaurant-ambrosia.com
Cave of Nikolas Taverna
A no-frills, traditional taverna by the waterfront. Simple, tasty seafood and seasonal, homegrown produce from the owner's farm. thecave-ofnikolas.gr
MYKONOS: Food & drink hotspots
Uno con Carne
Steaks and sushi in the setting of a beautiful garden with a huge bar at the hub. You can dine alfresco in this former open-air movie theatre or indoors.
unoconcarne.gr
Salparo
High-end taverna on the seafront and an ideal lunch spot. Think seafood and organic locally grown salads, washed down with glasses of crisp white wine. The handsome, trendy staff in their John Paul Gaultier-style uniforms are cool cats and clearly love their jobs!
facebook.com/salparomykonos
Leto Hotel Restaurant
An unexpected gem. Looks modest by day, but transforms by night. The food was some of the best of the trip.
letohotel.com
Spilia
Built within a rocky cave on the north side of the island.
hotelanastasiavillage.gr
Ornos Beach
Highly recommended. Kuzina restaurant is the island's newest hip venue.
mykonosammoshotel.com
Namos on Psarou Beach
Think lavish beach parties. Great for people watching.
nam