Feature: Animal Magnetism
e term 'friendly locals' usually belongs in the Big Dictionary of Tourist Clichés, but when it comes to the Galapagos, we're not talking about the human variety. Visitors are still novel enough to receive a warm welcome from the weird and wonderful wildlife on these remote islands.
?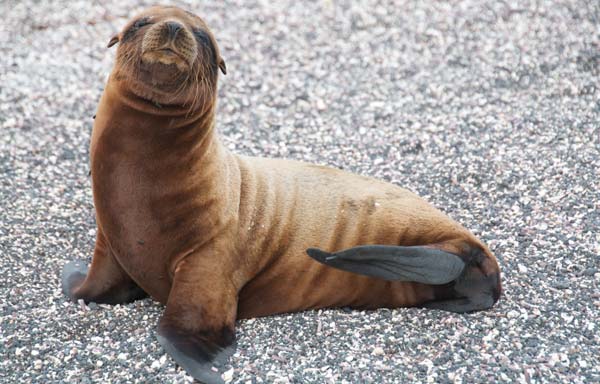 ?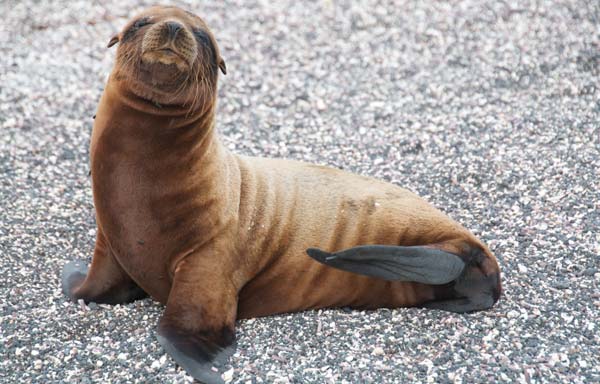 I don't think anyone in the whole world has ever been as pleased to see me as the baby sea lions at Santa Fe island.
This isn't damning their welcome with faint praise – people rarely cross the road to avoid me and I'm reliably informed I'm only averagely annoying. Those pups were just so very, very thrilled I'd come to play that it would make the reunion of long-lost twins separated at birth look half-hearted.
They shot over as I snorkelled towards them like excitable rubber bullets, pirouetting around me through the warm shallows. One swam so close to my face that after a moment looking into each other's eyes, it ended up kissing me on the forehead; this, I'll admit, may have been accidental. But the game of chase we played next – me swimming in a circle trailed by 12 babies, occasionally nibbling at my flippers – was entirely of their choosing.
In most of the world, mankind's relationship with wildlife has been seriously soured. After years of systematic abuse, our fellow creatures cringe away from us. The best we can manage is to sneak up on them, slowly, quietly, and watch in wonder until they notice and flee.
Not so in the Galapagos islands. If we've gone through an acrimonious divorce from the animal kingdom everywhere else, in these remote islands, we've just started dating. Although we've screwed up once or twice since the first human settlement in 1833 – the vastly diminished numbers of giant tortoises are testament to that – we're still in that honeymoon period, before they've really learnt to fear us. Not everything is as happy to see me as the sea lions, but about the worst I encounter is total indifference. And that's a reaction I'm used to, even outside the Galapagos.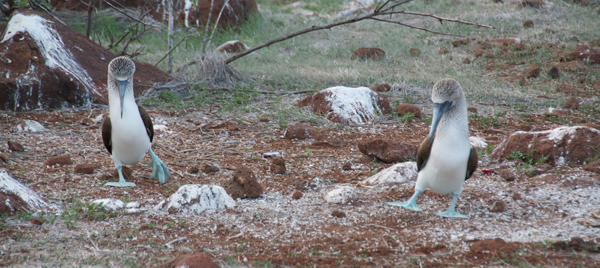 Weird wildlife
The Galapagos' unique and sometimes strange range of endemic creatures – the infamous giant tortoises, boobies with bright blue feet, the world's only equatorial penguins – and the chance to walk and swim among them, combine to make it perhaps the world's premier wildlife destination. Even clients who have taken spectacular safaris, tracked tigers or trekked jungles will be dazzled.
The islands are 600 miles from mainland Ecuador, but it feels like the journey should be measured in millennia instead. The lack of settlement and the volcanic terrain create an atmosphere so prehistoric you'd hardly be surprised to stumble over a dinosaur. In fact, on Fernandina I almost fall over a tiny version – a black marine iguana, basking in the sunshine. They carpet the shore, sprawled across one another, occasionally convulsing with sneezes – the method by which they rid their bodies of salt.
Every island has its own character, from Fernandina's swirls of black lava, where seals, iguanas, cormorants and crabs vie for our attention with an orca feeding out to sea, to ruby-red Rabida, where proud pelicans patrol the shore and in-land we spot the brightly-painted Galapagos dove.
On North Seymour, we watch the blue-footed boobies perform their Charlie Chaplin-like mating dance, and marvel at the male frigate birds who look as if they're wearing their hearts around their necks, inflating their red throat pouches to attract the ladies. Off Isabela Island, we snorkel among the largest turtles I've ever seen, until our attention is distracted by the darting forms of Galapagos penguins. On Santa Cruz we sidle up to giant tortoises, wild in the highlands, and captive in pens at the Charles Darwin Research Station, where we meet 115-year-old Diego, who lives with a harem of 11 females and has helped bump up the numbers of his species by producing more than 500 children.
Choose to cruise
With 18 islands in the archipelago, the best way to see as much as possible is undoubtedly to take a cruise. Itineraries are tightly controlled by the National Parks service to limit
the impact on the environment, and to spread visitors around the landing sites – no one wants to be crowded on their visit to one of the world's most remote spots. This does mean that to see every corner, you need to spend two weeks cruising the islands. Most visitors choose shorter itineraries, so it is worth checking whether clients have a particular species on their bucket list so you can make sure not only that they get to the right island, but also at the right time – for example, the Galapagos Albatross is only to be found on Española, between April and December.
Ship choice is equally key. I sailed on La Pinta, a luxury vessel accommodating a maximum of 48 guests in some of the largest cabins in the islands, with floor to ceiling windows. Social areas are spacious, from the dining room where we're fed, amply and well, to an observation deck with wrap-around windows, and a sundeck with loungers and a Jacuzzi. La Pinta is owned by Metropolitan Touring, one of Ecuador's biggest tourism players, which works with many UK tour operators including the likes of Cox & Kings. Passengers used to larger ocean-going cruise ships can find more familiar offerings, such as cabins with balconies, on the couple of bigger ships that cruise the islands – the 100-passenger Silver Galapagos, and the 92-passenger Celebrity Xpedition.
With any cruise, the experience on ship is only part of the story, but in the Galapagos, where many passengers aren't regular cruisers, but independent travellers who have chosen a cruise as the best way to see the islands, excursions are even more vital. Here, La Pinta excels too, with good quality snorkel gear and kayaks, and even a glass-bottomed boat for those who want to see underwater without getting wet – particularly useful for guests at the higher end of the age range. Our guides' expertise is truly impressive, their in-depth knowledge on topics from flora and fauna to history and geology meaning they're rarely stumped by a question. And with a maximum of 16 guests per guide – more National Park regulations – it's easy to hear the answers. Excursions head out two or three times each day, a combination of slow-paced rambles on land and snorkelling from the shore or the Zodiacs, and though passengers are welcome to stay on the ship if they wish, few do – we're all keen to see as much as we can.?
To sneak in an extra bit more Galapagos magic without committing clients to an extra stretch on board, suggest a few nights at one of the few land-based lodges. Most, including Metropolitan Touring's lovely Finch Bay Eco Lodge, are on the central island of Santa Cruz. From here, guests can explore the island independently on foot, mountain bike, or by kayak, organise a scuba dive or two, or take a day excursion to one of the central islands they've missed on their cruise itinerary. Even if they choose to decompress and simply relax by the pool, they'll have to share it with a feathered friend or two – blue herons turn up regularly to bathe. At least they don't hog the sun-loungers?|
Find out more: metropolitan-touring.com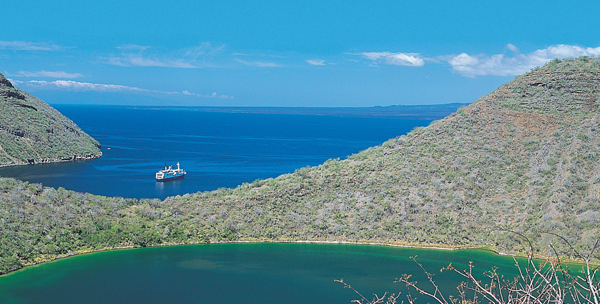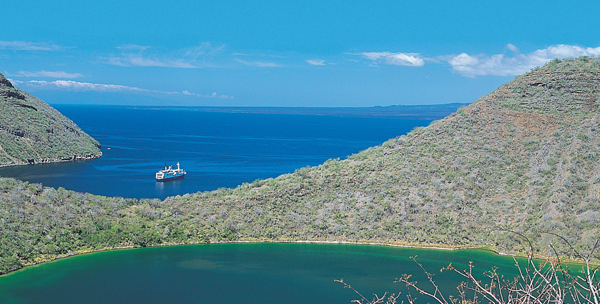 ECUADOR & THE GALAPAGOS
Until recently, most tourists twinned the Galapagos with Peru, missing out on the Ecuadorian mainland. It's a real oversight – tiny Ecuador is incredibly diverse, packing Andean peaks, Amazon jungle, cloud forest, colonial towns and sandy beaches all into a country only a sliver larger than the UK.
This is already starting to change, with visitor numbers up 17% year on year for the first four months of 2014. The destination is investing heavily, not only in promoting Ecuador in source markets, but also in major improvements on the ground – there's a new international airport, the historic centre of capital Quito has been beautifully restored, and the famous Devil's Nose railway in the Andes has been rebuilt and a new tourist train, Tren Crucero, travels the route. The luxury end of the accommodation market is growing, with a number of truly stunning new hotels (see reviews), so there's a host of compelling reasons to recommend it.
The tourist board is increasing its activity with agents, with a specialist trade site and a series of English language webinars.
Find out more at: trade.allyouneedisecuador.travel
As with much of northern Latin America, there are no direct flights from the UK, so clients will need to connect through Europe or the States. KLM flies daily to Quito from Heathrow via Amsterdam, from £672 return. Connections are also available from 17 other airports in the UK and Ireland. klm.com
CASA GANGOTENA
Every capital needs a superlative hotel, and Quito has found its star in Casa Gangotena. As the doorman ushers you in from the busy Plaza de San Francisco, it's not just the waft of air-conditioning that hits you – you're immediately encompassed by a sense of solicitous, cotton-wool comfort.
With hardly time to appreciate the exquisite art deco touches of the lobby – marble mosaic floors, intricately-moulded ceilings – you're whisked room-wards on a waft of cool towels and welcome drinks.
The 31 rooms in this remodeled 1920s mansion are spacious, with towering ceilings, serious thread-count linen and large marble bathrooms. Whatever floor clients stay on, it's worth taking a trip to the top; there's a terrace, which stretches the length of? the building, with one of the best views in the city.
While remaining firmly Ecuadorian, (the fruit bowl in the room comes with a guide so you can identify the weirder varieties), levels of service and cuisine hit international luxury standards. Breakfasts are dangerously large, with a sprawling buffet that deserves serious exploration, and the daily complimentary afternoon tea is a lovely touch, combining the best of both Britain and Ecuador, with scones and empanadas in the mix.
casagangotena.com
MASHPI LODGE
Sleeping in the jungle canopy Tarzan and Jane-style sounds romantic, but deep down we know it would result in mosquito bites in all the wrong places, if not injury and divorce. Mashpi Lodge provides the closest thing, but with air-conditioning, power showers, gourmet food and nice thick glass between you and the creepy-crawlies while you sleep.
A 70-mile journey from Quito, the strikingly modern glass and steel eco-lodge sits in its own private reserve. Technically, the canopy that guests see through the floor-to-ceiling glazing in the 22 rooms is not jungle, but primary Choco cloud forest, some of the most bio-diverse habitat on earth. The lodge itself combines low environmental impact with high design standards – it's minimalist, but tasteful.
Mashpi is a real hideaway. The reserve is only open to guests, so as you wander the paths among birds and butterflies you rarely spot another soul. Functioning like a safari lodge, packages include full-board accommodation and all activities, including what the lodge believes to be the world's only 'skybike', a contraption suspended 60 metres up in the canopy that you pedal through the leaves, past brightly-coloured bromeliads and orchids sprouting far from the ground.
Guides are of exceptional quality, with highly-qualified naturalists – ours had worked with David Attenborough – accompanied by spotters from the nearby village. Nothing was too much trouble, even setting up a surprise cheese and wine picnic by a remote waterfall for a fellow guest's birthday.
mashpilodge.com