Editor's pick: D-Hotel Maris
T: 242px" border="0" alt="" src="http://api.travelweekly.co.uk/cms/media/eas-id-cms/21705">
Chopping spring onions in front of four women, I couldn't resist trying to show off. Nothing says beta male like an apron and an efficient chopping action.
But a couple of miscalculations later and my finger was under a cold tap, a D-Hotel Maris staff member standing by with a plaster, while four deeply unimpressed women feigned concern.
Bloody spring onions. Of course, we didn't eat those. But we did eat a rather delicious noodle thing (I don't know what was in it: I was too busy being brave) that the other participants, with the help of the Turkish hotel's chefs, put together.
So guests can learn to cook here. As long as they're not a showy-offy imbecile.
Cooking is a perfectly nice thing to do, and lessons like these at the D-Hotel Maris are popular at the moment if the number of TV programmes and articles in magazines I see is anything to go by.
What I don't see much of on TV and in magazines – largely because they are not targeting pimps and rockstars – are massive yachts, seaplanes and helicopters. This must change. I love massive yachts, seaplanes and helicopters – and I'm not a pimp or a rockstar.
D-Hotel has all three. It's as if someone has given a nine-year old a billion pounds, brought them to the prettiest part of Turkey and said "what do you fancy?"
And I'm very pleased they did. Because I'm bored of understated luxury. I'm tired of words like subtlety, bespoke and minimalist, and all those other phrases that suggest enjoying serious opulence is somehow crass. Why should the nouveau riche and footballers have all the fun?
If one can't lay on the deck of a 100ft sailing yacht, sipping champagne and eating lobster on holiday, then when exactly are hard-working folk with some cash supposed to do it?
And why should they sit in a car for a couple of hours to get to the airport when there's a mini plane and a helicopter that can get you there in 20 minutes?
They shouldn't, is the answer. I vote the nine-year old billionaire be placed in charge (in line with EU working-children regulations, of course). He has made so many wise decisions. One beach is rubbish: let's have five.
The sand isn't soft enough: let's ship in tons of Egypt's finest. Baths are too small: they must be big enough for at least four hefty tourists. Oh, and let's stick them on the balcony. And sunsets are boring: let's drink bubbly drinks and play the music from Jurassic Park and Gladiator really loud while we watch them.
In short, let's have fun. Fun like children do. Not suit wearing, weight-watching, late-working, newspaper-reading grown-ups who have forgotten how much fun it is to jump on the bed and eat sweets till they're sick.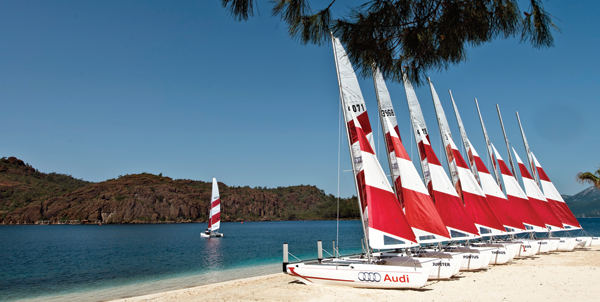 WHAT'S NEW AT D-HOTEL MARIS
- The property reopens its doors on April 25.
- The new stage at Coliseum (picture a rotunda surrounded by water and sand with daybed loungers) will host celebrity singers, renowned DJs and legendary jazz bands.
- Following the success of its summer pop-up last year, celebrity favourite Zuma will return permanently to D-Hotel Maris. The venue will showcase Zuma's restaurant, lounge and bar concept, based around the 'izakaya' style of shared eating and drinking, and will have three kitchens including a robata grill and sushi counter.??
- A luxury wooden Riva-styled motor boat has been added to the fleet of boats.
- World waterski slalom champion Holger Br? 1/4 mmer will offer training lessons.
- Two boutique shops are opening: Italian luxury linen and leathers brand Capritouch and watch shop Multibrand.
- Turkish cuisine will be served at a new restaurant along the bay.
- Presidential Suite guests will have a private butler.
dhotel.c