Delta Scores Alpha Plus
t say. So why pay more to go to see animals in Botswana than other perfectly decent safari destinations? In a word, Okavango.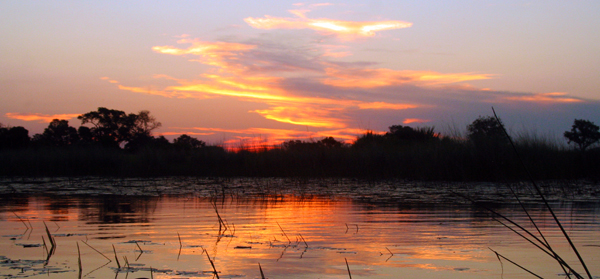 I'm just reading the morning news," explained our guide, Chief, as he leant out of the Landcruiser to examine the animal tracks in the dirt. "Lions came through here this morning, probably tracking the buffalo we saw yesterday."
Chief had picked us up the day before from Pom Pom airstrip, a dirt runway deep in the Okavango Delta in northwest Botswana. "How long have you been flying?" one of my companions had asked the pilot of our light aircraft. "This will be my second time," he replied, deadpan, before his face broke into a huge grin. This was our first exposure to something we quickly found out – Botswanans love a good wind-up.
The claim that lions were nearby was no joke, however. Testament to our guide's bushcraft skills, within 15 minutes of spotting the tracks we were parked five metres away from a pride that was cooling off in the shade after a kill.
In the Delta's private concessions (areas leased from the government by operators) there are no regulations requiring you to stick to the tracks, meaning guides can drive anywhere their vehicles can get to. This results in some incredible viewing moments: a chance encounter with cute hyena cubs and our spotter's eagle-eyed discovery of a monitor lizard lazing in a
tree were among many our group enjoyed.
Once a poor, struggling nation, Botswana has transformed into a thriving democracy, and it's making the most of its unique natural areas, such as the Delta and the Makgadikgadi Pans, one of the largest salt flats in the world.
The country has positioned itself at the top end of Africa's safari business, targeting affluent travellers looking for a trip that offers something more than their previous safari experiences as well as high quality accommodation and service.
The size of Wales and somewhat more exotic, the Okavango Delta is one of the seven natural wonders of Africa, up there with the likes of the Sahara and the Serengeti migration. Until recently it was home to four of Africa's 'big five'; now there's the chance to see them all thanks to an ambitious &Beyond conservation project that has seen six white rhinos transported to the area. The Delta's size means flying is the most common way to travel any distance, so it's an expensive place to get around, but the benefit is you're more likely to spot animals than tourists. It's this exclusivity that makes the area a special safari destination.
Besides that and the ability to off-road, there are other advantages here over the more heavily-regulated national parks. In the delta your guides can take you on night drives, shining a spotlight on grazing hippos, nocturnal birds and other wildlife not usually seen during the day; if you're exceptionally lucky, you might chance upon the anteater-like pangolin, so rarely seen that even Chief has spotted it only once.
You can also explore the area by foot on a walking safari. The slower pace of these allows your (thankfully armed) guide to teach you more about your surroundings than is possible in a vehicle, and it's great to be able to properly immerse yourself in the environment outside of a four-wheel drive. The real bonus of this area, though, is being able to explore the waterways of the delta itself, either in traditional fashion in a dugout canoe called a makoro or in a speedboat; I spent a wonderful afternoon in the latter, fishing in the lagoon and taking an afternoon dip, before sipping a sundowner by the water's edge.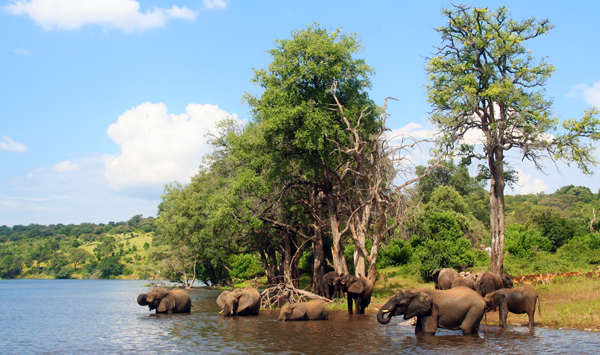 The other part of the country I visited, Chobe National Park in the northeast, is equally impressive but quite a different animal, so to speak. You can't venture off-road and it's far busier, but the big draw here is the extraordinary abundance of wildlife – you'd struggle to avoid it. The park is home to the highest concentration of elephants in Africa. It also boasts so many impalas that I'm ashamed to say our group eventually became a little blasé about them. Just impalas? Drive on, Chief!
The Chobe river is the reason for this zoological feast. For the best view, visitors should take a private boat cruise, which can be arranged by any operator. I particularly enjoyed a comical standoff between an elephant and a buffalo over which got to use a mudhole. Needless to say, the elephant won.
In terms of accommodation, there are two options. The first is a traditional safari lodge, albeit well into the depths of the bush rather than near a town; the second, more adventurous offering is a 'mobile safari' with stops at tented camps – oases of luxury and safety in areas that you'd least expect it.
It's good to experience both types of accommodation. Ideally, stay in a mobile tented camp first – it's great being in the thick of it – but after a few days a more refined stay at a lodge like Xaranna (review, page 47) will be welcome, particularly for older clients.
So, who is a Botswana safari for exactly? Wildlife lovers is the obvious answer. But note too that as well as game animals there are about 550 bird species on show, which will delight British twitchers. Dedicated birding tours are available but typically feature less impressive accommodation – our guides were very knowledgeable about the birdlife anyway, so most clients will be happy on a regular tour. Additionally, safari veterans looking for a new thrill should be swayed by the Okavango Delta, as there's nowhere quite like it.
Sample product: Wild About Africa offers a 12-night small group trip to Botswana incorporating &Beyond's 10 night Botswana Explorer Expedition. Spending nights in Maun, &Beyond Nxabega in Okavango Delta, &Beyond Savuti, &Beyond Chobe and Elephant Camp by Victoria Falls. From £4,622 including flights with South African Airways, transfers, most meals and activities.
andbeyond.com; wildaboutafrica.com
Special Sights & Farther Afield
The Makgadikgadi Pan, southeast of the Okavango Delta and surrounded by the Kalahari Desert, is one of the largest salt pans in the world. It's only really accessible during the dry season between March and September, but the otherworldliness of its glaring white surface is a rare experience.
Victoria Falls, on the border between Zambia and Zimbabwe, is a short journey from Kasane on the edge of Chobe National Park. There's a better view from Zimbabwe, but from the Zambia side your clients can book a microlight flight over the falls – Aspire editor Rupert Murray described it as the finest moment of his travelling life.
Also nearby in Zambia is Livingstone – named after the explorer, I presume. The Royal Livingstone is the ritziest address in town, but for a lodge stay book the River Club. Visas must be obtained at Zambia's border. Flights from the UK to Botswana are? via Johannesburg – if your clients fancy a relaxing stay here after their safari, recommend the Saxon Boutique Hotel, bookable through Abercrombie & Kent. Clients will need to have had yellow fever shots if travelling via South Africa.
Expert View: Kim Nixon, sales manager, Wilderness Safaris
The summer rains period from December to the end of March is a time of plenty when many herbivorous species drop their young and predators abound. Migrant birds arrive and the wildlife is at its most diverse. A hidden gem at this time is Deception Valley in the Kalahari, which provides an ultra-productive game experience where desert wildlife and their young congregate en masse with many attendant predators. A good tip for an Okavango itinerary is to combine a water-focused camp with a land game-viewing camp. The Linyanti, Savute and Chobe regions are the elephant heartland of the country, with thousands coming to the waters to slake their thirst. The Savute Channel is a lifeline of water to the arid interior, attracting great populations of game.
&Beyond properties
Xaranna, Okavango Delta: A stunning five-star lodge consisting of nine large villas, each with its own plunge pool and an al fresco shower facing the delta. Its remote location is the very definition of idyllic, and the food is delicious. Take a boat trip through channels created by hippos and enjoy a sundowner while watching elephants cavorting in the water. xaranna.com
Nxabega, Okavango Delta: The en suite tents in this fixed camp contain full-sized double beds with private shower facilities. The surrounding area features a fantastic variety of wildlife and can be explored on day or night game drives, walks or by makoro. Getting there has recently become a lot easier with the completion of an airstrip just minutes from Nxabega.
nxabega.com
Mobile camps, Chobe National Park: These mobile camps are similar in setup to Nxabega, except they can be packed up and moved elsewhere. You're completely safe in your guide's hands, but note that as with the others this camp is entirely open and it's not unusual for lions, elephants, buffalo and other Chobe residents to wander near the tents at night – personally, I think this is brilliant, but it may be an understandable concern for some.
andbeyondafri