Corfu hotelier bucks closure trend with significant investment
mg style="WIDTH: 253px; HEIGHT: 253px" border="0" alt="owner" src="http://api.travelweekly.co.uk/cms/media/eas-id-cms/17251">
Vassilis Dracopoulos is a businessman who inherited his father's 390 bed Marbella Beach hotel in Corfu, Greece 14 years ago.? This season, the dire economic situaton? has led to the closure of 17 hotels on the island? and several others are only opening for the months of June, July and August. But this 40-something businessman is bucking the trend. Over the winter he spent eight million euros refurbishing the bedrooms and restaurants and plans are in place to spend another four million euros this winter on a spa, children's centre and family accommodation. It is a tactic that seems to be working with 60 to 70 per cent occupancy rates even in the low season. Here we ask him about the history of the hotel and why he is investing while most of his competitors are pulling back.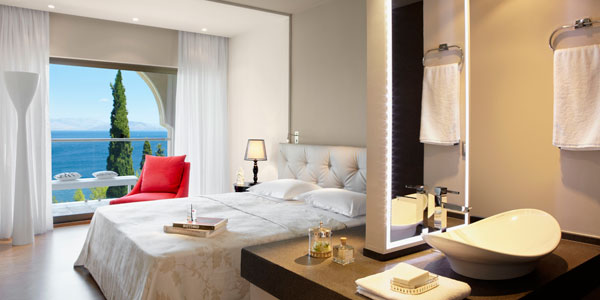 How and when was the Marbella Beach Hotel? built?
The hotel started as a hobby 40 years ago. My grandfather came over from Athens to say farewell to his business partner and fell in love with this area. A British gentleman was about to buy this 100 hectare spot, so he bought it on the spot. At first he came with friends, and then they brought their friends. In the early seventies he decided he wanted to build the most deluxe hotel in Greece. Onassis' sister was also building a hotel a mile down the road and together they were going to make it a luxury hot spot.
Was it a success?
The military coup changed everything for him. They cracked down on entrepreneurs and he died from stress and so never saw it finished. My father decided that he wanted to finish the project in honour of his father and it opened in 1974, managed by Holiday Inn.? It was incredibly high-end, the staff wore white gloves and the guests included film stars and royalty. The hotel was exceptional in terms of the quality but it was not profitable and at the end if the seventies my father decided to lease it off to his friend, the owner of Club Med for a 20 year term. It is one of the best areas for water sports so it was perfect for them.
How did you come to take it over?
I was working in the States at the end of that leasehold period? my father was dying of cancer so I decided that I should honour his memory by taking it on myself. I took on my grandfather's? general manager and we opened in 1999 again as a hotel. I had spent summers here in the house we have in the grounds and I love the place. Last year I decided? that the best way forward was to invest in? the hotel. After 14 years I have learned from my mistakes and I realise that I need to be here myself. It's a family business and? clients like to see me here? so I now come a couple of days every week.?? I brought in a new young manager and have spent 8 million euros on renovating the bedrooms and restaurant areas.? We ran out of time for the spa and the children's centre but? that will be done? this winter – we are spending another? four million on improvements. It can be difficult to make such a large hotel feel special for couples as well as families.
Our plan is to split the property so that there are distinct areas. The main building will be for couples and the cluster blocks and cottages in the gardens will be for families. We are building a dedicated children's area which will have it's own pool and there are four restaurants, including an Italian that we have just introduced which offers more privacy for couples . We are looking for an even split in the number of?? rooms - with 70 per cent of the bookings being couples and 30 per cent families.
What is the one thing that makes the Marbella Hotel really special?
The sea in front of us. It is a blue flag site. There are dolphins, sea turtles and wonderful wildlife and it is a designated Unesco site. It's a wonderful place to go diving.
Who are your clients?
We have a lot of British and we are targeting that market. The Germans come at the beginning and the end of the season, but? this year they are not so keen. And of course the internal market has collapsed. The Russian market is growing, but we prefer the British.
How have you been coping under the current crisis?
So far we have been an oasis of stability. We have 200 staff and unlike nearly every other business we have not reduced wages but I ask more of them.? They have to work harder and smile more. The only way we can get out of this crisis is by offering more. Most of our competitors are reacting by cutting down on costs, we are doing the opposite and it is giving us the edge.
You deal with lots of UK tour operators, what is your message to them?
Value for money. That is why our clients are coming here. We offer excellent value for the prices we charge. Also service - we cannot be the best hotel in the world, but we can seek to be the best for service.? The water is crystal clear and the views from the terrace are spectacular
What do you think your grandfather would say?
What a fool I am! No, I think he would be very proud. We have built this hotel against economic logic but in the end money is not everything.? The satisfaction I get out of it is important.
-????????? Classic Collection Holidays (0800 294 9318; www.classic-collection.co.uk) offers 7 nights at the 5* Marbella Beach Hotel, Corfu from £665 per person this June (£715 per person this July) based on 2 sharing a double room on a half board basis. Price includes return flights from London Gatwick (other UK departure airports available) to Corfu and private transfers. Guests can enjoy a complimentary upgrade from half board to all-inclusive on all stays taken and completed between September 24 and October 31 2012 saving £378 per couple per week.