China: Blue jasmine
kly.co.uk/cms/media/eas-id-cms/22161" alt="" width="299" height="199" align="right" class="newsArticleImage">
Katie McGonagle discovers pandas and panoramic views in China's Sichuan Province
Like this and want more details? Click here to download and save as a PDF.
What's black and white and blue all over?
No, not an unhappy zebra or a sad penguin as the punchline usually goes, but a cuddlier kind of animal – the panda – and an enchanting natural landmark named after it.
Panda Lake is just one of the mind-blowingly beautiful lagoons scattered across Nine Villages Valley, a remote region in China's Sichuan Province, where the waters glow with every imaginable shade of blue and green, topped by towering mountains, cascading waterfalls and some of the most spectacular scenery in the world.
It's hard to imagine these landscapes being any more impressive – except perhaps in winter, when visitors who don't mind wrapping up warm will find the valley blanketed in thick white snow, thundering waterfalls frozen in mid-air and mist stealing gently across icy lakes early each morning.
That was the scene greeting my fam trip group hosted by Wendy Wu Tours, which has added an itinerary to coincide with the annual Ice Waterfall Festival (Festive Fun, page 70) and boost its winter programme to China.
But for any wildlife lover wondering where the pandas come in, there's no need to worry: they're just an hour's flight away at the world's largest giant panda reserve near Chengdu – and if you're lucky, you could even get a cuddle.
The panda obsession was clear from the start. As soon as we stepped out of Chengdu airport following British Airways' direct 10-hour flight from Heathrow, we saw the animal's image emblazoned on every taxi and in every shop or stall we passed.
There's every reason to champion this endangered species: there are fewer than 2,000 in existence, more than 100 of which can be found at the Chengdu Research Base of Giant Panda Breeding.
They include the 14 'aww' inspiring baby pandas that hit the headlines around the world when they were born last year. They're still too young to be out in the reserve's natural habitat, but their toddler counterparts were just as adorable, climbing up and toppling out of trees, while the adults munched on bamboo.
Visitors can learn about their care and even – for an on-site donation of around £200 – get a chance to meet them in an up-close encounter. If ever there were a way to make friends and family jealous, this is the money shot – though be prepared to don surgical-style clothing to avoid endangering the animal's health.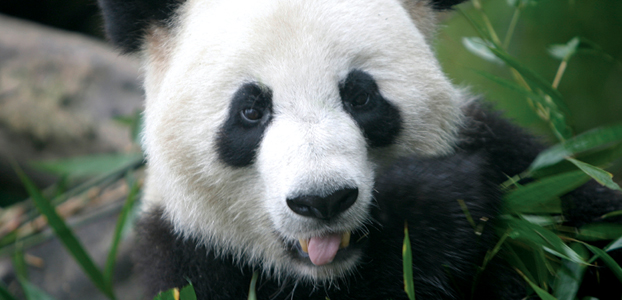 While pandas might be the big draw, there's more to discover in this fast-paced city. Pedestrianised shopping area Wide and Narrow Alley offers a lesson in local culture, with ornate teahouses packed with people sipping an array of brews, and snack stalls serving up rabbit heads, chicken feet and pigs' trotters – yum!
Save time too for a stroll through People's Park, where we weaved between outdoor dance lessons and impromptu games of badminton before finding ourselves at the rather curious Matchmakers' Corner. Imagine a lonely hearts' column brought to life in the middle of the city's biggest park, with dozens of pushy parents jostling each other to pore over laminated posters (like classified ads, only more weather-proof) to find a potential match for their eligible offspring.
Cap off the cultural immersion with an evening combining two of the area's key customs: Sichuan Opera and hotpot. The former is less about music and more a mix of dance and acrobatics, with a rousing finale of 'face-changing', where a talented dancer switches between brightly-coloured masks in the blink of an eye. I defy even the most observant spectator to spot the swap – I certainly couldn't.
It's the dinnertime entertainment at Damiao Hotpot Restaurant in Jinli Alley, one of the best examples of this traditional Sichuan style of dining. Good chopstick technique comes in handy as diners pick out raw food then hold it in a bubbling fondue-like stockpot – choose mildly spicy or blow-your-head-off-hot – until cooked, then tuck in. It won't be everyone's cup of tea – any haters of food-sharing or spicy bites should steer clear – but for those who like sociable dining, it's great fun.
There are plenty of ways to overcome a language barrier, but I never knew a rousing rendition of Auld Lang Syne would be one of them. As we sat swapping after-dinner stories in the colourful home of the family who had just hosted us for a tasty Tibetan-style meal, the conversation turned to traditional songs from each country, and we discovered the New Year tune is just as popular in China as the UK.
Our welcoming hosts started to apologise for not knowing the English words, then giggled as we explained we barely know them either. Yet standing arm-in-arm and mumbling our way through a few verses at the end of an enjoyable evening, any differences in culture or language disappeared without the need for an interpreter.
That was no easy feat, since we were half a world away in Shuzheng Village, the largest settlement in the remote but breathtakingly beautiful Nine Villages Valley, also known as Jiuzhaigou, and reached by an hour's flight from Chengdu and a two hour drive.
This area is named after the nine villages inhabited by settlers from Tibet, who fled their country in the 14th century to escape religious persecution (they practise a different strain of Buddhism) and lived there without much interaction with the rest of the world until the 20th century.
Their unique culture is a joy to discover, from historic Buddhist temples and colourful prayer flags rising up towards the sky, to highly-decorated homes juxtaposing old and new – think vibrant wall murals depicting ancient Tibetan myths next to enormous plasma-screen TVs.
There's a strong sense of responsibility for preserving the natural environment: there's no hunting, fishing or logging within the national park; no transport other than official buses; and guests can't swim in or skate on the lakes.
Having provided the sweeping landscapes for films such as Hero, Crouching Tiger Hidden Dragon and House of Flying Daggers, every turn reveals another truly outstanding spot, with names like Mirror Lake, Cascade Pools and Five Colours Lake. Yet 'five colours' doesn't really do justice to the myriad shades of blue and turquoise in this deep, clear lake nestled between the mountains, and Cascade Pools swirl with shades of sparkling cyan and aquamarine plus waters so clear you can see fallen tree trunks at the bottom of each rippling pool.
Hop-on hop-off buses follow a loop around the park, ferrying visitors between key highlights, but there are also boardwalks connecting many popular spots, offering a richer – albeit slower – way to explore.
However you get around, you'll want to find time to stop, stand still and absorb the silent beauty of this tranquil valley.
Nine Villages Valley is a stunning place at any time of year, but its annual Ice Waterfall Festival brings the valley alive with a riot of colour against a backdrop of crisp white snow.
In common with many cultures, it marks the middle of winter and countdown to spring – and in this high-altitude area, where temperatures fall well below zero in winter, that's an important milestone.
The celebration officially kicks off with a ceremony of music and dance in front of the magnificent Pearl Shoal Waterfall, part flowing and part frozen in mid-cascade, and attended by international dignitaries as well as dozens of local people dressed in Tibetan costumes of colourful embroidery teamed with practical fur headgear.
Of course, we later found there's another way to keep warm when we attended the party outside the 428-room Sheraton Hotel, near the entrance to the national park. The late-night extravaganza was filled with music, bonfires, barbecued lamb and fiery barley wine – though whether this potent brew was to help stave off the cold or encourage us to take part in the conga line-style dancing was up for debate. But the most magical moment was when snowflakes started falling gently over the crowds to end our festival experience on a high note.
Book it: Wendy Wu Tours has added a Winter Wonderland itinerary coinciding with next year's festival, departing January 13.
The 10-day tour starts in Beijing to explore the Forbidden City, Great Wall and Summer Palace; continues to Xi'an for the Terracotta Warriors; then Chengdu and its panda reserve; followed by touring Nine Villages Valley and visiting a family home.
Prices start at £2,690 for international flights, transport, accommodation, meals, guided touring, entrance fees and visa.