Analysis: Britons cut overseas holidays as economy bites
kly.co.uk/cms/media/eas-id-cms/15354" alt="" width="299" height="199" align="right" class="newsArticleImage">
Consumer sentiment towards overseas holidays changed over the course of the summer, exclusive research for Travel Weekly has found.
The squeeze on household income from inflation outpacing earnings appears to have had a growing impact on booking plans as the summer progressed.
A series of surveys by consumer research specialist TNS found a declining proportion of consumers planning or taking a holiday abroad between May and August, without a significant increase in the domestic market.
It appears most potential holidaymakers' plans changed? from considering a holiday to not having one, and that some who intended to book in the spring subsequently failed to do so.
The TNS research was conducted among groups of more than 2,000 adults in May, July and late August.
In May, it found 34% intending to take a summer holiday abroad and 19% undecided. At that time, 11% planned to take a holiday in the UK and 36% said they would not go away.
By July, 36% had taken or planned a holiday overseas. One in 10 remained undecided and the proportion choosing to take a UK holiday had risen to 14%. Two out of five UK adults (40%) were intending to do without any holiday by then.
In late August, the proportion not taking a holiday had grown to almost half (48%). The percentage of respondents settling for a domestic break was unchanged from July at 14%. However, the proportion of consumers who had taken or still planned a holiday overseas had fallen to 31%.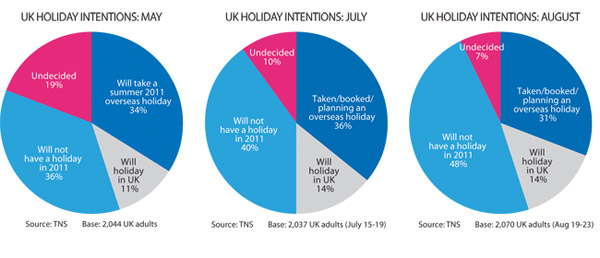 The results suggest most of those in the spring who were undecided about going away did not take a holiday.
There is a margin of error attached to all research results. However, the sample sizes and scale of the changes suggest more than a margin of error at work here. The proportion of UK adults intending not to take a holiday grew by one-third between May and August.
At the same time, the numbers planning an overseas holiday declined in this period – just as the economic outlook darkened and government spending cuts hit.
The proportion of adults with children who decided not to take a holiday of any kind this year rose from 37% in July to 53% in August.
There was some regional variation in the results. More than half the adults in the sample in the northeast, northwest, east of England and Scotland went without any holiday this year, compared with 38% in the West Midlands and the southwest.
However, more West Midlands respondents (21%) took UK holidays than respondents from other regions, including the east of England (6%) and London, the northeast and northwest (all 10%).
London retained the highest rate of potential holidaymakers in August at 12%. The results suggest some consumers may have been holding out for late bargain holidays in August and been