Sri Lanka: Pick of the crop
September 30, 2016
Sri Lanka's popularity is undoubtedly spiralling and new hotels abound.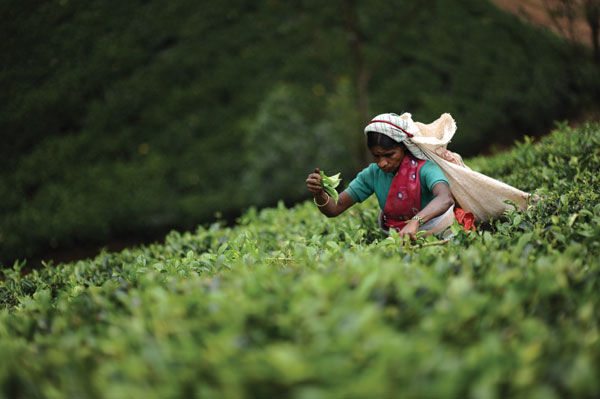 Sri Lanka's popularity is undoubtedly spiralling and new hotels abound. Sarah Gordon went to see three of the best in class on a boutique luxury adventure in the south.
Somewhere during the drive from Colombo to Sri Lanka's tea country I seem to have gone a hundred years back in time. Five hours after leaving the busy, colourful, crushing capital, I am among emerald terraces as resplendent as a peacock's tail.
Ladies are bent double in the fields picking tea leaves with lightning speed and flinging them into baskets on their backs. Children run along the unpaved road in crisp white school uniforms. And around a bumpy bend, a tea planter's bungalow appears. I am greeted by a butler and the strains of 1920s jazz drift out of the lounge, where a tan leather Chesterfield sofa stands regally opposite the fireplace and a wooden drinks trolley proffers carafes of sherry and port. The snooker room is all set up for a game and my suite – one of four – sports a four-poster bed, a call bell on the bedside table and a clawed freestanding bath in the bathroom. It is as if the 21st century never happened.
Welcome to Dunkeld, which despite its lost-in-time ambience, only opened this year as the latest of five bungalows scattered around beautiful Castlereagh Lake, near Peak Wilderness Sanctuary, to form Ceylon Tea Trails – Sri Lanka's original Relais & Chateaux property. The Fernando family, owners of the famous Dilmah tea plantation where these former managers' bungalows are set, used to host guests in the vintage properties from time to time and realised they were rather good at it. Thus, the idea of a boutique plantation experience was born. Serenity is the name of the game in this lush valley. I am woken each morning with 'bed tea' brought to my private terrace, a wonderful tradition I wish I could adopt in everyday life. Lazy days are spent playing croquet on the lawn, hiking and biking the surrounding hills, and floating in the infinity pool where the water seems to disappear straight into the lake below. A routine is established by the familiar sight of executive chef Gayan, who pops up before each meal to take my order.
"A traditional Sri Lankan breakfast tomorrow, madam? Which fish would you like as part of your four-course lunch? And may I suggest a chilled glass of sauvignon blanc with your five-course dinner?"
It is easy to see how the colonial Britons fell in love with tea country. Every day is like the best of English summers. From the pool I watch clouds scud across the valley, in the afternoon I grab a bike and peddle to a neighbouring bungalow for lunch. And in the evenings music drifts up from a nearby village as fireflies flit in the darkness. One morning I kayak on the lake then join a complimentary tour of the plantation, learning how a process little-changed in over a century still produces one of the top 10 teas in the world. Many guests choose this spot to completely switch off and relax, indulging in massages, afternoon tea and special baths of jasmine and bergamot. Others book a tennis game on the court at Tientsin Bungalow and even make the dawn hike to Adam's Peak – the holiest mountain in Sri Lanka. For culture, Kandy – and the Temple of the Tooth, housing Sri Lanka's most important Buddhist relic – is just two hours' away. So too is Nuwara Eliya, the pretty hill town known as Little England and famed for its mock Tudor architecture and the members-only Hill Club, ideal for afternoon tea.
While Sri Lanka's tea country celebrates the romance of colonial Ceylon, Tea Trails isn't the only property offering a boutique experience. Individually-owned hotels have been springing up since 2009, when the civil war with the Tamil Tiger rebels ended.
The Fernando family has opened a hotel right on the tip of the south coast. Far removed from its Tea Trails sister, Cape Weligama is perched on a cliff-top and has 39 terracotta-roofed villas and suites dotted among 12 acres of landscaped gardens. Where Tea Trails has call bells and croquet, Cape Weligama offers a spa and gym and a water sports centre with scuba diving, surfing and sunset cruises.
There is still the same dedication to service and style – butlers look after five villas each and instead of complimentary carafes of port and sherry, there is a free minibar. Families are welcomed, but there is also an adult-only Moon Pool, a 60-metre-long crescent infinity pool perfect for sunset swims. But my infinity pool – shared with just two neighbours – is my favourite spot for a morning dip.
With a similar all-inclusive concept to its hillside counterpart, I merrily enjoy Sri Lankan hoppers (savoury-topped bowl‑shaped pancakes) for breakfast, afternoon cream tea and ice-cold cocktails without having to worry about the cost.
The main De Mauny restaurant is perfectly placed for sea breezes and ocean views, Kumbuk promises traditional Sri Lankan fare and there is even teppanyaki at Misaki restaurant. Twice a week, there is a seafood celebration called Pola, which means 'market' in Sinhalese. The freshest catch is displayed and you can decide how you would like it prepared.
The colonial Dutch city of Galle is just half an hour away and is another Sri Lankan time-warp. The fort is enclosed in thick walls; a pretty tangle of streets lined with colonial red-roofed villas dripping with tropical flowers, quirky boutiques and bustling cafes. It has become the hub for the fashion set when they visit.
One place they will all be staying is Tri Lanka, set on peaceful Koggala Lake, just 20 minutes, but a whole world away, from the bustle of Galle. It refers to itself as a sustainable luxury design hotel, but it is so much more than that.
Photographer Rob Drummond and his yoga teacher wife Lara fell in love with the lakeside patch of land and out of it they have created 11 suites – three with private infinity pools – designed in a spiral design to allow them all a beautiful water view.
Hotel manager Oliver James greets each guest and as he hands me an ice cold drink and sits me down next to the infinity pool, I sink into a whole new level of relaxation.
Every element of this hideaway is carefully considered down to the finest detail. The spiral of buildings follows the Fibonacci sequence and is crowned with a pretty water tower that houses two rooms and is topped with a 360-degree sunset lookout spot.
The only sounds you hear are birdsong and one evening while watching the sun set, I spot a group of monkeys climbing the tree in front of me.
A treetop yoga shala is where Lara and her fellow teachers take dawn and dusk yoga classes and its rustic design somehow works alongside the gleaming glass of the library set among the foliage and the pristine white of the al fresco living area.
The modern twists make me feel like I am at a chic Ibiza retreat, but the nod to Sri Lankan heritage and craft keep the atmosphere relaxed. The suites are perfectly positioned to catch the breeze, and food from the edible roof garden often makes it into the Sri Lankan fusion dishes.
While Tea Trails made me feel like I'd slipped back in time, Tri Lanka makes me want to abandon modern life altogether.
---
Things to do in tea country - Brandon Clements, Abercrombie & Kent senior travel consultant
1. Don your apron and prepare to get messy while eating spicy seafood at Ministry of Crab in Colombo.
2. Climb Sigiriya Rock and visit the ancient cities of Anuradhapura, Polonnaruwa and carvings at Dambulla cave temple.
3. Head to Yala to see leopards and sloth bears in Wilpattu National Park and camp at Leopard Trails. Get close to wild elephant at Udawalawe National Park.
4. Head east during May to October and experience the beaches of Trincomalee and Pasikudah to dive, snorkel or take a catamaran cruise. Head to Aurgam Bay for deserted beaches and great waves.
5. The Kandy Esala Perahera is held every July or August to pay homage to Lord Buddha's Sacred Tooth Relic. The festival is colourful and vibrant with dancers, musicians and elephants.
6. Enjoy tea and cakes at tea houses in Sri Lanka's high country. Stay at Ceylon Tea Trails and enjoy the views of Castlereagh Lake and surrounding hills.
7. Trek to the top of Adam's Peak for sunrise. The peak is in central Sri Lanka and is known for the Sri Pada (sacred footprint of Buddha) a 1.8-metre rock formation near the summit.
8. Watch the stilt fisherman near Koggala or jump in and try to catch one yourself.