Gran Canaria: Gran designs
September 30, 2016
Gran Canaria is upping its game for luxury travellers, finds Katie McGonagle.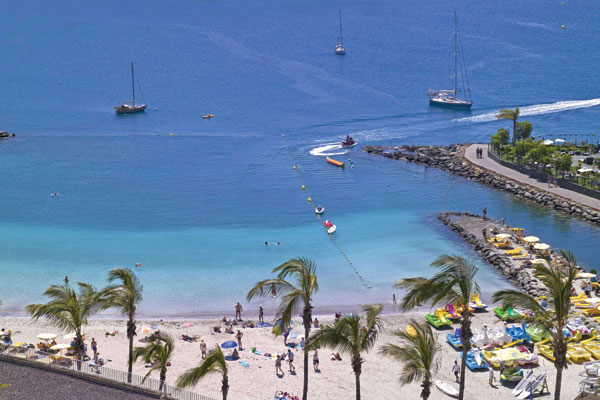 Gran Canaria is upping its game for luxury travellers, finds Katie McGonagle.
'Gran Canaria is like a mini-continent', says the bartender as he whips up a fiery Asian Mary – like a Bloody Mary but more exotic thanks to a hefty kick of wasabi and stylish presentation straight out of the pages of Wallpaper*.
I've been here an hour and a half and already it's the third time I've heard the locals compare their tiny Atlantic island to a continent. Sure, they put it down to the weather – Gran Canaria has five micro-climates, apparently, so while one part of the island can be drenched with rain, the rest can be basking in blue sky and sunshine – but there's definitely a tinge of pride in there somewhere.
And quite right too. This island has played a part in centuries of world affairs, sent Columbus on his way across the Atlantic in search of the New World, and lays claim to the invention of rum long before the Caribbean. It's Spanish-speaking yet fiercely independent, takes pride in its thriving LGBT scene and boasts a wild, untouched interior that's as much of a draw as its golden-sand beaches.
Capital gains
Visitors fly in and out of northeastern capital Las Palmas, the largest city in the Canary Islands and bigger than most in mainland Spain. Its pastel-hued shops and pavement cafes are attractive enough, and earlier this year played the backdrop to Brad Pitt and Marion Cotillard as they filmed war thriller Allied, due for release in November.
But it's in the Old Town, La Vegueta, that the capital's real character shows through, with cobbled streets snaking around sharp corners in a deliberate attempt to throw off would-be invaders, and handsome buildings with more than a whiff of the colonies about them.
Nowhere is that colonial connection more evident than the 15th-century Casa de Colón, once the governor's house and said to have been the spot where Christopher Columbus stayed during brief sojourns en route to the Americas.
It's now home to a small but insightful museum charting the history of exploration across the Atlantic, packed with roughly-drawn maps and antique globes that say more about the attitudes of the map-makers than the geography of the lands they profess to represent. I had no idea Gran Canaria had spread its influence so far and wide, but these worldly islanders were among the early settlers as far afield as Louisiana, Texas, the Dominican Republic, Cuba, Puerto Rico and farther south in Venezuela, Uruguay and Peru, with some communities still recalling their Canary Island links to this day.
Those looking for a little more excitement can swap the museum for a Segway ride along the seafront; Segway Tours runs small-group outings in districts around the city ( segwaylpa.com ). Alternatively, stop for a bite to eat at the lively Mercado del Puerto, where cured meats and strong Canarian cheese are always on the menu.
Inner beauty
If Las Palmas has its beauty spots, they're nothing to the low-key charm of the island's interior, where tiny towns and villages are scattered across the hills, and wild landscapes offer fertile territory to walkers and mountain bikers with a penchant for adventure.
One of the best-preserved towns is the historic pilgrimage site of Teror (not nearly as fearsome as it sounds), where colonial-style mansions stand shoulder to shoulder along wide, sweeping streets, punctuated only by wrought-iron balconies so plentiful and pretty they would merit their own Instagram account. We arrived in the middle of the Sunday market to find ageing couples dancing in the courtyard and stall-holders selling food and flowers, though it's a quieter, less touristy affair midweek.
Anyone searching for real solitude, though, will find it in the vast, verdant landscapes of the volcanic interior, where the enormous caldera and rugged, mountainous terrain provide ample walking trails, or good views reachable by road for those who don't consider hiking boots an essential item of holiday-wear.
Southern belle
Ditch the walking shoes in favour of flip‑flops down on the south coast, home to the nature reserve of Dunas de Maspalomas, an undulating expanse of dunes which shift with the wind and feel more akin to Arabia than a small Spanish island – though since Gran Canaria is barely 150 miles off the African coast, that shouldn't come as a surprise.
A short helicopter ride over the shores of Playa del Ingles brings into sharp perspective how close these golden-sand beaches and vast blue seas are to arid desert‑like landscapes. Helicopter rides cost from €80 for a 10-minute flight with Canarias Helicopters (canariashelicopters.com).
Along with those sandy south-coast beaches goes the inevitable array of resort hotels. Gran Canaria has its fair share of mass-market development, with dozens of familiar hotel brands lining up along the coast.
Yet that's no reason to throw in the towel for luxury-loving clients just yet. A gradual upscaling of the island's hotel product over recent years is enticing a wave of visitors from the upper end of the market. There's still a way to go before it rivals Santorini or the south of France in the luxury stakes, but if history has taught us anything, it's that this little island can achieve big things given the right set of circumstances. So maybe the mini-continent comparison isn't so far off the mark after all.spain.info grancanaria.com
Bohemia Suites & Spa
Built in 1969, this property was a leading light in the hotel boom that shaped south-coast resort Playa del Ingles for generations, but the best part of 50 years and a massive refurbishment later, only a few features remain from the former Apolo Hotel. In its place is an adult-only design-led property which has, once again, redefined the region's hotel scene by attracting a new, high-end clientele.
Decor is rich and opulent, with a palette of purple, red and gold accented by Philippe Starck-designed chairs and an abundance of natural light. Its 67 rooms range from deluxe rooms and junior suites to three corner suites and two sky suites complete with freestanding claw-footed bathtubs, but all are spacious and kitted out with tablets, Apple TVs, professional coffee machines and more.
Its two pool areas offer space to stretch out, as does the sizeable gym and outdoor yoga pavilion, where lessons take place as the sun rises over the Maspalomas sand dunes below.
Yet it's the superbly creative food and beverage offering that elevates this property from the ordinary to the outstanding. What the 360° Restaurant does for dining, the Atelier Lounge & Cocktails does for drinks – taking fresh, local ingredients and turning them into works of art that are almost, but not quite, too good-looking to taste. And with a view over the night-time neon of Playa del Ingles, these open-air venues would be enough to justify a journey to Gran Canaria by themselves.
Rates start at ??204 for a deluxe double room, or ??344 for a junior suite, including breakfast. bohemia-grancanaria.com