Feature: The Cook Islands
May 31, 2012
There are few places farther away from the UK than the Cook Islands.
There are few places farther away from the UK than the Cook Islands. But it was worth the journey when Captain Cook arrived in 1773, and it's more than worth the (far simpler) journey now. And the explorer won't have received a welcome to match ??the one that awaits anyone who visits today.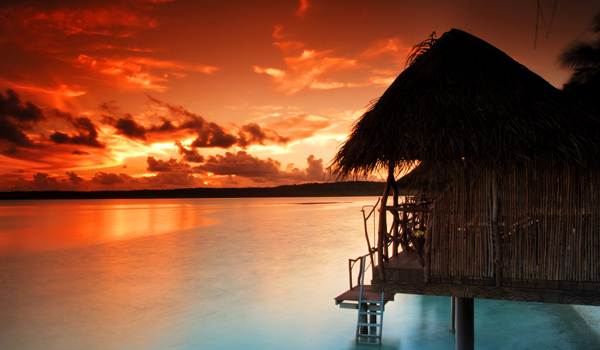 Judging by my recent experiences, the practice of serenading weary passengers at the baggage carousel has fallen out of fashion of late, but thankfully nobody appears to have told Jake Numanga.
The ever-smiling musician and his trusty ukelele have greeted every international flight landing in Rarotonga, the largest of the Cook Islands, for as long as anyone can remember. It's a welcome touch; by the time I'd hummed along to a few of Jake's ditties, collected my bags and caught a few fragrant whiffs of the lei garland I'd been presented with, I was fast recalibrating to 'island time'.
The islands have had strong ties with the UK since Captain Cook set his eyes on them in 1773, so it seems a shame only a few thousand of us a year make the journey. To be fair, they're not the easiest sell to spoilt-for-choice Brits, who can expect at least 24 hours of travel time, but their relative isolation, coupled with the locals' friendliness and laid-back approach to life, provide a welcome sanctuary from the rat‑race rigours of modern life.
While you could always just kick back in your hotel, the Cook Islands is one of those destinations that rewards visitors who like mixing with the locals, whether shopping at Punanga Nui, Rarotonga's weekly market, attending a church service, or mulling over a few cool ones on a Friday night in the capital, Avarua. Then there's the scenery. Aaaaah... the scenery. Let's not forget, we're talking about Polynesia and the South Pacific here – evocative words apt to conjure up heady images of bone-white beaches, gently swaying palm trees, reef-edged lagoons and romantic hideaways. And let me tell you, the Cooks don't disappoint.
My first drive around Rarotonga revealed a mountainous interior and a lush landscape punctuated with quaint, single-storey houses and small white churches. My appetite whetted, I signed up to do a nature trek with Pa, a local legend with more stories than the Bodleian Library. While on the small island of Atiu, famed for its coffee, caves and birdlife, I also enjoyed the nature trek run by 'birdman George'; supping home brew with George and his pals in their bar was a highlight.
Legend has it that it was from the Cook Islands that voyaging canoes or 'waka' set off to populate distant lands such as New Zealand and Hawaii, and locals are suitably proud of their rich heritage. Such stories are recounted at the 'island nights' held at hotels and venues such as Highland Paradise. A tourism staple, they use the media ??of dance and music to tell the tales.
Ukeleles aside, the biggest draws, of course, are the reef-ringed islands' picture-perfect beaches and crystal-clear lagoons, which offer a haven for sealife and water sports such as kayaking, snorkelling and windsurfing. Now, Rarotonga is no slouch in this department, just look at Titikaveka, Arorangi and Muri Beach, but the true local beauty queen is the island of Aitutaki.
With its beautiful scenery, it is fertile ground for weddings and honeymooners, as the number of starry-eyed couples tiptoeing around its Blue Lagoon will attest.Not being newly betrothed myself, I decided to check out some of the options on Aitutaki's lagoons. Kitesurfing, paddle boarding and catching bonefish are all popular activities, but I chose to take a boat excursion to teeny One Foot Island, stopping en route to check out Rapota and Moturakau, the two deserted islands where the TV shows Survivor and Shipwrecked are filmed, and indulge in a spot of snorkelling.
As the overgrown site of the half-baked, part-built Sheraton hotel on Rarotonga illustrates, previous flirtations with the luxury market haven't always gone according to plan, and there's still work to be done in terms of service delivery. But with improving airlift, new high-end accommodation and a much-improved ship terminal, it really is starting to look like a case of 'paradise found' for the Cook Islands.cookislands.travel/uk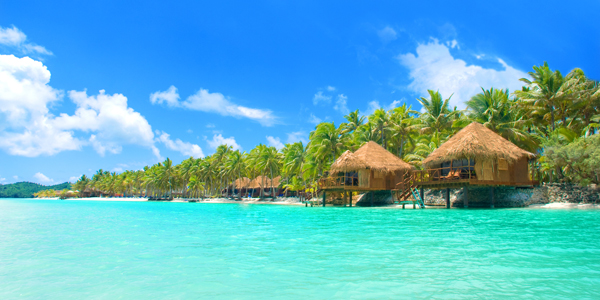 Stay On Rarotonga, the best options come in small packages. The? charming, 14-bedroom Little Polynesian is a great spot for weddings, while the Crown Beach Resort, which is undergoing a root-to-branch refurbishment, is packed full of new facilities and high-quality fixtures and fittings in its 36 villas. littlepolynesian.comcrownbeach.com
Most resorts are smaller operations that typically lack restaurant facilities but boast villas with well-equipped kitchens so guests can choose to self-cater, get local chefs in or eat out. One of the longer‑established operators is Sea Change Villas, with its massive, two‑storey executive villas. My favourites included: the stylishly simple and modern Te Vakaroa, which had six villas that share an infinity pool; Rumours, with its spacious 'ultimate villas' and spa facilities; and neighbouring Te Manava, sister property to the bigger Pacific Resort down the road. While the latter's villas vary in style and quality, the presidential and ultimate beachfront ones are gorgeous. sea-change-rarotonga.comtevakaroavillas.comrumours-rarotonga.comtemanava.com
The secluded Royale Takitumu comprises 10 thatched villas and a pleasant pool area amid manicured grounds. royaletakitumu.com
On Aitutaki, the Aitutaki Lagoon Resort & spa is in an enviable spot and trades on having the only overwater villas in the islands. I preferred the Pacific Resort Aitutaki set amid manicured grounds and mature foliage with an infinity pool. For a more intimate experience, Escape, home to just three sumptuous villas (more are planned), and Etu Moana, with its eight thatched villas, are both good bets. aitutakilagoonresort.compacificaitutaki.comaitutakiescape.cometumoana.com
Don't Miss
Gaining an insight into the local culture at Highland Paradise ??or Te Vara Nui village.
Shopping for black pearls – Harbour House in Rarotonga is a good bet.
Spotting whales off Rarotonga's reefs, from September to November.
Learning about the local flora on a Pa's Treks nature hike.
Watching the sunset over a cocktail at Aro'a, a quirky beachside bar.
Seeing Aitutaki's Blue Lagoon and getting your passport stamped ??on One Foot Island.
Having a Robinson Crusoe moment on a deserted island in the Aitutaki atoll.
Getting There
How to travel to the Cook Islands
Air New Zealand's Heathrow-Rarotonga service via Los Angeles is the easiest option from the UK, but it still takes at least 24 hours, including a few spent in the airport. Consider combining a stay in the Cook Islands with a trip to New Zealand or Australia: Rarotonga is only a four or six-hour flight from Auckland or Sydney, respectively, with Air New Zealand.
FAST FACT
Travellers visiting the Cook Islands on June 5 or 6 will be able to witness the Transit of Venus. It was to observe this rare natural phenomenon, in which the planet Venus can be clearly seen moving across the face of the Sun, that Captain Cook first sailed to the region in 1768 as part of a scientific study to measure the Earth's distance from the Sun.
?