Feature: Islets of the Caribbean
September 26, 2013
A beach lover's and sailor's idea of heaven and a classic picture of paradise, the British Virgin Islands' is a playground for the rich and famous and it can't fail to win your clients over.
A beach lover's and sailor's idea of heaven and a classic picture of paradise, the British Virgin Islands' is a playground for the rich and famous and it can't fail to win your clients over.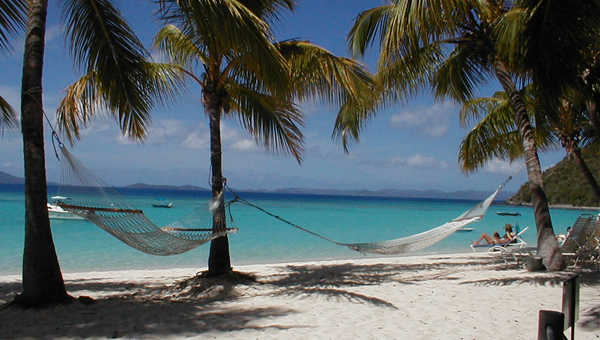 Private yachts, rum and jewellery. Open a British Virgin Islands visitor guide and these are the first three things you'll notice.Which suggests that although the cluster of about 60 islands is a playground for the affluent and mega affluent nowadays (Branson and Google co-founder Larry Page own land) the priorities haven't changed much since pirates sailed these islands.
With pirates it's hard to know where fact ends and Jack Sparrow begins but we do know they liked sailing, jewels, drinking rum and spending downtime in the BVIs.The details are blurry at best. Did Blackbeard maroon 15 men on Dead Chest Island? Did they drown while trying to swim to Peter Island? Is Dead Man's Bay on Peter Island so-called because of their failure to swim there? Was Robert Louis Stevenson's Treasure Island based on Norman Island as some suggest?
Who knows? What we do know is that this place looks like somewhere pirates in the movies should hang out, and standing on the bow of a boat wearing a silly hat and drinking a Cuba Libre is more fun if the coves, bays and islands you're headed to have piratey names.Boats are cars here. Without one you're marooned. It's like living in a home county without a four-wheel drive or being a Londoner without an Oyster card.
I'm told by those in the know that this collection of islands is boating nirvana. Thankfully there are loads of them, whether your clients decide to hire a private catamaran with crew for a few days (see box: Staying on a boat), jump on water taxis, or have a go at sailing themselves. Every hotel I stayed at (reviewed p46-47) was reached by boat. The arrival and departure at Scrub Island, Oil Nut Bay, Guana Island and Peter Island was, without fail, an occasion, not a logistical process.
At Guana we were even given flowers to toss into the ocean as we pulled away. Legend has it that if your flower floats to shore, you will return someday.Many of the best places, such as Bitter End Yacht Club, are only accessible by water. After dropping anchor, a tender took us to what is accurately billed as a 'rollicking nautical village'.
Clients can stay here if they like, and they are going to have to if they want to explore this mile of beach peppered with restaurants, bars, a sailing school, dive shop, boat and fishing charters, hammocks and people drinking the signature cocktail, 'painkiller'.Bitter End is on Virgin Gorda (population 3,500), which is the Territory's third-largest island after Tortola (population 21,000). As the focal point of a world-renowned financial centre, Tortola should be a place where you see lots of men in suits rushing around counting their money.
But if Canary Wharf were on the beach, everyone would wear shorts to work – and that's what the dress code is here; bowler hats and board shorts. There are enough beaches and bays, such as Smuggler's Cove, Long Bay Beach and Apple Bay, for a month-long seaside holiday and, in terms of local culture, unsurprisingly this island hordes the best bits. The Folk Museum, Fort Burt and Mount Healthy Windmill are all personal favourites, although I spent more time on Main Street in Road Town than all three put together.
I still can't decide if my eyes or my nose enjoyed it more, with the smells of local spices, jams, rums and soaps lined up alongside art, fabrics and handcrafted jewellery. Tortola also has the BVI's highest peak – Sage Mountain, which rises 1,716ft above sea level. It's a national park and deservedly so.What Tortola doesn't have is The Baths on Virgin Gorda – even the Giant's Causeway in Northern Ireland would be a little jealous of its geological formation.
It's hard to explain in adult terms so imagine a giant holding a load of boulders, perhaps in a game of marbles. He (or she) then drops the lot on and around a stunning beach. They land in a way that creates an incredibly beautiful and leisurely assault course as you squeeze under, climb over and wriggle between countless enormous smooth circular rocks before finally emerging onto the beach I mentioned.
The 'batholiths', or giant boulders, were actually brought to the surface through Volcanic eruptions.Tell your clients to eat at the restaurant Top of the Baths beforehand and advise them to take a bottle of water on the journey through the rocks.
AnegadaWhile sailing around, it seemed that the horizon was constantly tempting us to head for it. It is the northernmost point of the BVIs that was calling – a strip of land named Anegada by the Spanish or 'drowned land'. It is the only coral island in the Virgin Islands' volcanic chain and, despite measuring 11 miles by three, its highest point is 28ft above sea level.
And although it is a few hours away by boat from its sister islands, the wonderful BVI place names spread far and wide with Cow Wreck Beach, Flash of Beauty and Bones Bight topping the bill.Anegada is a wildlife spectacular above and below sea level. The reef makes it the winner of places to snorkel or scuba in the BVIs.
Clear springs that bubble from coral beds support an array of plants, trees and flowers including loblolly pine trees, frangipani, turpentine trees, feathery sea lavender and wild orchids. On the nature trail at Bones Bight, rare rock iguanas are the star attraction and for birdwatchers, Nutmeg Point is the preferred hang-out.The BVIs as a whole wins the 'places I didn't want to leave' competition. The? guidebook's closing gambit was houses for sale. I must say, it's tempting.bvitourism.co.uk
Staying on a boatWe spent the night on Slick Business, a catamaran that merges extreme comfort with the pleasures of simple sailing.Clients can hire the whole thing, which includes double staterooms, a captain and a chef, all meals, snacks and hors d'oeuvres, all beverages and watersports and snorkelling gear. All rooms are equipped with 46in flatscreen TVs and stereos. Or guests can take a single room and meet new people. They shouldn't shy away from doing this as never have I got to know people so well or so quickly as onboard this floating adventure.We were dropped off on abandoned beaches for snorkelling and Frisbee, sailed to the best spots the BVIs has to offer at the best times, and at night time we were served spectacular food followed by drinks and dancing to the widest selection of music I've ever heard with only fish close enough to be annoyed by the volume.Hiring the whole boat for one week including airport transfers, one night in a hotel and six nights on board costs from £14,825. The boat visits Cooper Island, Virgin Gorda, Marina Cay, Cane Garden Bay, Great Harbour and The Bight.moorings.co.uk
Island activitiesREBECCA BURGESS - CARIBTOURSThe 60-minute flight from Antigua to the British Virgin Islands is definitely worth the effort as you are greeted by a beautiful cluster of islands and an array of hotels to suit all tastes and budgets. This is paradise for those who like life at sea and on the beach, but there are also some fantastic restaurants, gorgeous spas and land-based activities. Here are my suggestions for land-lovers.Explore the diverse natural terrain of the North Sound and hike the walking trails, which are home to really tame green iguanas and pygmy geckos.If staying at Biras Creek, take a Boston whaler out for the day and island hop around the stunning North Sound; discover hidden coves at Leverick Bay and Bitter End, and grab a drink at Saba Rock and watch the boats come and go. Horse lovers will enjoy meeting the paso fino horses at Biras Creek and discover their fascinating stories of how they were rescued from Puerto Rico. The Monday night mash-up at Bitter End Yacht Club is somewhat of a legend in the area with yachts from all over the world pulling into the harbour for a night of drinking or dancing. Try the signature 'painkiller' cocktail, which is not for the faint-hearted. Visit Coco Maya in Virgin Gorda, a restaurant and cocktail lounge that fuses elegance with relaxation on a white-sand beach. Enjoy an exotic blend of Asian and Latin cuisines with creative twists such as hoisin duck tacquitos and hand-rolled sushi and then dance the night away at the Bath and Turtle bar. A visit to The Baths on Virgin Gorda is a must! Navigate the rocks and granite boulders before taking a dip in the glorious turquoise waters below.