Feature: Family matters
December 01, 2011
Mum, dad, two children, three stepchildren .

Mum, dad, two children, three stepchildren . . . and don't forget granny. rupert murray looks at luxury options for families of all shapes and sizes.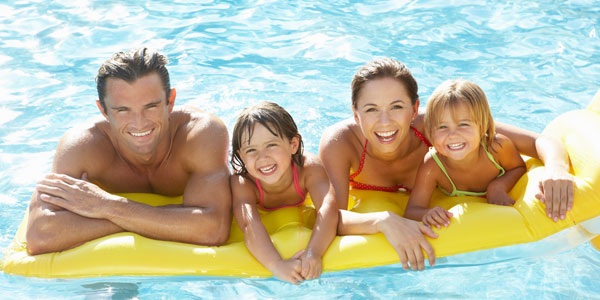 Yesterday's family had 2.4 children. Today's is as likely to have stepchildren from previous marriages, as well as new partners and grandparents. But the good news for you is that more of these extended family groups are booking holidays together.
Buzz words in travel spread like a virus. As soon as you hear one once – staycation or glamping, for example – it's generally not long before you've heard it a hundred times and dream of the day it disappears.
There are two that have caught my attention in the past few months: 'familymoon' and 'reconstructed family'.
Not long ago family holidays were simple. Two adults, 2.4 children. Their holiday appetites were quenched by a villa or interconnecting rooms in a hotel, and perhaps a kids' club.
But, as Darwin predicted, they've evolved – in size and list of demands.
The phrase 'reconstructed family' most recently entered my ears courtesy of Western & Oriental boss Kerry Golds; although, to be fair to her, she immediately apologised for using it and expressed hatred for the term.
"The average family number is being skewed as, for example, children from the first marriage travel together with the children from the second. You often get families of six or more," she said.
Amanda Darrington,national sales manager at Kuoni, describes this sector within the family market as "massive".
And it's agents who will benefit. Amanda Matthews, managing director of Designer Travel, says: "It's happy days for agents because accommodation for bigger families is virtually impossible to find online, but we have a list of these properties and the suppliers that offer them.
"The other challenge is the mix of small children from the new marriage and older ones from first – it's not easy to find hotels that cater for both."
Larger family groups also come courtesy of the recession, according to Golds. As money gets tighter, the grandparents – and, in particular, their wallets – get involved and they often go on the holiday too.
Caribtours has seen a 30% increase in sales for these multi-generation luxury family holidays for 2012, according to managing director Paul Cleary.
The most popular hotels are Carlisle Bay in Antigua (which is also one of Carrier's top two family sellers) and Spice Island Beach Resort in Grenada.
"We are receiving more requests than ever for large group bookings that include up to four generations," says Cleary. "They tend to be long durations, peak season and are usually a treat from the grandparents."
Jo Clarkson of Seasons has also noticed an increase in enquiries from reconstructed and multi-generational families as well as growing demand for the worst holiday concept in history, the familymoon: the most romantic of all the holidays, minus the romance as the newlyweds take their children and stepchildren away with them.
Seasons has added family-friendly product for 2012 such as Long Beach in Mauritius, Niyama in the Maldives and Buccament Bay in St Vincent and the Grenadines.
And it had families very much in mind when it chose decided to significantly increase its villa programme in destinations such as Barbados and Mustique.
"This is a big growth area, especially with extras such as chefs and nannies," says Clarkson. "All-inclusive could be bigger if there was more product at our end of the market."
Mustique reports a marked increase in multi-generational family bookings.
Pippa Ona, a Mustique tourism consultant, believes this is because families are more willing to travel long-haul with infants and toddlers.
She says: "It's also attractive because it is safe – doors are left unlocked, keys are left in ignitions, crime is nonexistent and teenagers can roam the island at will."
It's true that many teenagers are happy to get as far away as possible from their parents on holiday. But Golds regards this age group as a challenge for hotels and operators, and believes there is still a big gap in the market to be filled.
She says: "I have a teenager and trying to find a hotel that caters successfully is a real challenge."
The growing demand for experiential holidays and, as Ona points out, the willingness to travel farther with young people in tow, could be the answer for families with teenagers.
The most convincing evidence of the importance of the soft-adventure family market is, perhaps, the debut publication this month of National Geographic Traveler – Family, aimed at travellers who have children but don't see why that should ruin their fun.
Publishers won't release a magazine unless they are confident of finding advertisers, so the company must have faith in this market.
Carrier reports a strong growth in demand for family trips that combine education and exploration, especially in China, Vietnam, Cambodia, Thailand and India. And for families with teenagers, fly-drives to California and Canada are selling well.
For the first time this year W&O Travel has extended its family brochure beyond Europe to the rest of the world in response to demand for Africa and India in particular.
Golds says: "These clients want more interaction with locals and are looking for education for their children, not just a holiday. Before they go they want to know about opportunities for their children to meet tribes or be involved in communities."
Seasons has a dedicated Africa brochure for the first time and reports soaring demand for family safari holidays, especially in malaria-free areas.
And Justin Wateridge, managing director of Abercrombie & Kent, says North America, specifically the West Coast and British Columbia, has seen a 130% increase in family bookings thanks to its safety and soft-adventure options.
Soft adventure – now there's another phrase coined to describe a new type of travel demand.
But this, and its colleagues in the made-up words world, have been made up to serve a purpose, to define a trend or new market. If you haven't adjusted your business to embrace them, it's probably time you did.
Amanda Matthews, managing director of Designer Travel and an Aspire Advisory Board member, picks her top hotels for families for short-haul and long-haul

"All these properties can accommodate larger families comfortably, some with big rooms, many with options of villas and townhouses, but with the facilities of hotels. They all have impressive facilities for children of all ages," says Matthews.
Short-HaulBahia del Duque, Tenerife (pictured)Martinhal, AlgarveBorgo Egnazia, ItalyPrincesa Yaiza, LanzaroteGloria Serenity Resort, TurkeyAmirandes, CreteAsterias Porto Sani, HalkidikiForte Village, SardiniaSheraton Algarve, PortugalVila Vita Park, Portugal
Long-HaulJumby Bay, AntiguaCotton Bay Villas, Saint LuciaGrace Bay Club, Turks and CaicosViceroy AnguillaMaia, SeychellesLong Beach MauritiusRound Hill, JamaicaZighy Bay, OmanJumeirah VittaveliAngsana Laguna, Phuket