Feature: Delicious Dubai
September 26, 2013
It was between the sixth and seventh course of the Ristorante Armani tasting menu that I relented, slipping the buckle on my trouser belt another notch.
It was between the sixth and seventh course of the Ristorante Armani tasting menu that I relented, slipping the buckle on my trouser belt another notch. After four days of non-stop eating in Dubai, the chef had pushed me over the limit with a sea scallop, lavished in fennel foam and apple puree.
I'm hardly Monty Python's bloated Mr Creosote but Dubai's gastronomic scene is one reason why this new build city has become a tourism hotspot in Arabia. The fishing village made good may be best known for the world's tallest skyscraper, glitzy hotels and man-made islands in the shape of palm trees, but if it's food you want, this is also definitely the place to enjoy a culinary blow-out.
There's a mouthwatering range of restaurants to suggest for your clients, mainly because the city is a melting pot of nationalities. The three main ingredients are upwardly mobile ex-pats, a small clique of super-rich locals and a large number of Asian labourers. Mix them together with 10 million tourists – last year's visitor total – and it's no surprise that chefs are flocking to the gastronomic capital of the UAE.
Among them is TV celebrity Gordon Ramsay, who has set up a popular new kitchen at the Hilton Dubai Creek. Spikey haired Gary Rhodes is also installed and wowing diners at the Grosvenor House Hotel, while there are plenty more big names from the Indian subcontinent, America and Australia too.Most upmarket restaurants are attached to hotels in Dubai, partly to circumvent strict laws on drinking alcohol. The quality of the food is astounding and £100 a head is not out of the ordinary. This is not an amount your clients will balk at, but they'll want options, so suggest they escape the extravagance of mainstream dining, brave the heat, step out of the hotel lobby and take a taxi away from the air-conditioned glamour.
The best street food is on Al Dhiyafah Road. Your clients will find scores of restaurants here vying for business every night of the week. The menus are packed with brightly coloured dishes from all four corners of the planet, most costing less than £4 a head. The hustle and bustle of Al Dhiyafah is exhilarating and a welcome alternative to the sanitised atmosphere of downtown Dubai.
I discovered Sidra (phone: +971 4 345 3044), a restaurant famous for Lebanese food and a lively atmosphere. Nearby is Pars Iranian Kitchen (+971 4 398 4000), where I ate Arab mezze outdoors while seated on a sumptuous chair in a relaxed garden setting. The aromas from the kitchen were heady and enticing, luring passers-by in from the street.
With daytime temperatures regularly topping 40C, early evening is a popular time to eat in the Dubai. So the next day I signed up for a £40 desert safari with Oasis Palm (+971 4 268 6826; email: optdubai@emirates.net.ae), one of the many companies offering a sunset trip to a Bedouin camp in the sand dunes.Bedouins love their camels but I was picked up from my hotel in a 4x4 and driven for about an hour into the desert. After watching a huge, red sun sink slowly over the horizon, it was time to pull out a cushion, sit on a rug and sample traditional food eaten by nomadic tribes.
A Bedouin feast is a memorable experience – not only for the food but also the belly dancing and entertainment. I managed to escape the clutches of the performers looking for a partner, mainly because I had just eaten my body weight in lamb kebabs, creamy houmous and moraras pancakes.Friday and Saturday are the weekend in Dubai and Friday brunch is something of an institution. Many high-rise hotels offer all-you-can-eat menus, plus entertainment for around £120. If that seems pricey, I should tell you that the food just keeps on coming and coming.
Among the most popular is the Brazilian churrascaria experience called Frevo, at Fairmont The Palm (+971 800 7256; palmdubai@fairmont.com). Joints of meat, skewered on swords and carved at my table, came one after another – at least 15 cuts, complemented by a salad bar and cocktails.Dubai is a city of hyperbole and superlatives in every respect, but it has chosen food as the best way to express its cultural diversity. Slip a notch on your belt and feast on the full range of what this incredible metropolis has to offer.dubaitourism.ae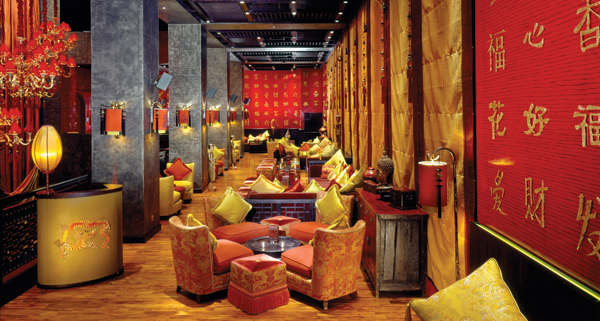 Dubai's Top Five RestaurantsAt.MosphereA meal at the highest restaurant in the world can't fail to impress. The lift up to the 122nd floor travels at 10 metres per second and the views from 442 metres up will only fuel their appetite. Phone: +971 888 3828Email: reservations@atmosphereburjkhalifa.com
ZaroobA well-priced Arabic restaurant of exceptional quality. Traditional food in a non-hotel setting.Phone: +971 4 327 6060Email: info@zaroob.com
Armani RistoranteStylish and spacious, this restaurant is located inside the first-ever Armani-branded hotel. Food presentation is exceptional, as is the service and sartorial elegance of the waiting staff.Phone: +971 4 888 3444Email via: armanihotels.com
AtlantisDiners are surrounded by a giant, floor-to-ceiling fish tank – but the sharks, stingrays and other exotica are only for viewing! Phone: +971 4 426 2626Email: restaurantreservations@atlantisthepalm.com
Caramel Restaurant & LoungeCaramel serves Asian food in a bar-like surrounding. Elegant and understated but clients should book to avoid a long wait.Phone only: +971 4 425 6677
Amazing MealsTomahawk steakA huge succulent steak for two at the award-winning Fairmont Hotel.The Exchange Grill Phone: +971 4 311 8316Email: dbi.fbconcierge@fairmont.com
Tropical Snow EggA hand-blown sugar ball containing an explosive mix of strawberry granita and cream.Armani RistorantePhone: +971 4 888 3444Email via: armanihotels.com
Thai Crab & Micro Cress SaladA taste sensation as your clients cruise down Dubai Creek.Bateaux DubaiPhone: +971 4 814 5553Email: mail@bateauxdubai.com
Razor Clams with Herb CrustFreshly caught clams cooked to perfection in French-style surroundings.La Petit MaisonPhone: +971 4 439 0505Web: lpmdubai.ae
Lebanese MezzeA never-ending feast of Arabic food with belly dancers and music that goes on well into the night.AtwarPhone: +971 4 317 1234Email: dubai.grand@hyatt.com
Traditional Arab FoodFetir -Traditional bread cooked on an open fire, made with flour, water and saltAl-Mathbi - Grilled chicken or lamb cooked on flat stones placed on burning embersQursan - Dried wheat loaves dipped in gravy and cookedHoumous - Chickpea spread plastered on pita bread or baked potatoFul Meddamas - Flava beans, olive oil and spices mixed into a smooth paste
?