Family holidays: All to play for
June 29, 2016
Is that the patter of tiny feet we hear? No, it's the clamour of high-end hotels and resorts competing to seduce parents with ever-more elaborate family holidays.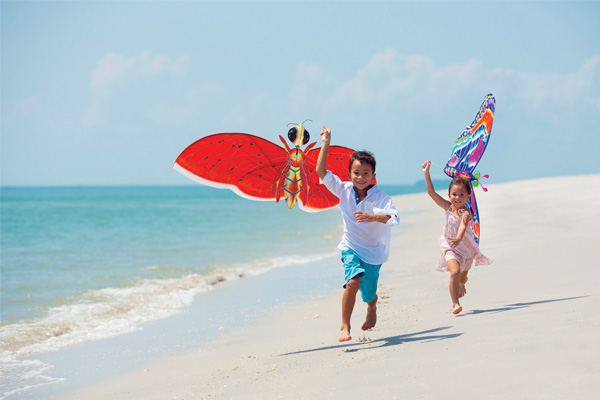 Is that the patter of tiny feet we hear? No, it's the clamour of high-end hotels and resorts competing to seduce parents with ever-more elaborate family holidays. Brace yourselves, it's going to get noisy.
Once upon a time, a family holiday meant rolling up your trousers, dipping for crabs and eating one‑shilling ice creams on a blustery British beach. Today, travel agents are wizards of destiny, conjuring up ever-more fantastic experiences for families to enjoy.
Take, for example, the Ritz-Carlton in Tokyo. Its turndown service for treasured tykes includes a full-on 'night safari' including a tent and a 'home planetarium' to stop sprogs from throwing a tantrum when mummy and daddy go down for dinner. At Le Royal Monceau in Paris, kids' bathroom goodies and soft toys are laid on, thanks to a collaboration with kids' couture house Bonpoint, while the hotel's Le Petit Royal programme keeps little ones entertained with treasure hunts through the Louvre's Egyptian galleries, pirate trips down the Seine and shadowing a prima ballerina for the day. In Crete, Elounda has even introduced a kids-only Six Senses spa, allowing pampered princesses to fill their time while their siblings score goals at the hotel's Arsenal soccer school. Oh, and did we mention the dance classes led by Strictly Come Dancing's Fokas Evangelinos?
Deem it totally justifiable or total absurdity, never has there been a better time for four to 14-year-olds to travel.
Cass Chapman, founder and editor of Kodomo.com, a website dedicated to luxury family travel, acknowledges that Brits are spoilt for choice. "There's so much on offer, and parents are willing to travel farther than ever, thanks to the incredible facilities laid on by resorts once they get there. It may not help with the jet lag, but it makes travelling the distance much more worthwhile," she says.
Parents who once balked at the idea of long-haul flights are now much more open to them thanks to increasingly kid‑friendly flight times and a helping hand at high altitude from 'sky nannies'.
Among the contenders for hottest new family destination are Costa Rica, by virtue of its biodiversity (children love animals) and twice-weekly direct flights from Gatwick to San Jose; and Reykjavik, a winter wonderland just three hours from the UK. Mauritius remains top of the lust‑list for winter sun by virtue of its toddler-friendly residence-style villas and safe beaches. Direct your clients to the newly revamped Shangri-La's Le Touessrok, for starters. Its kids' club – with a wood-fire pizza oven, swimming pool and tree-house – is open until 10pm.
"Exotic destinations are all well and good," says Deborah Wadhams, product manager for Pure Luxury, "but Dubai is hard to beat. It's a manageable six-hour flight, the hotels are big and luxurious and have excellent facilities to keep guests of all ages entertained, and nearby are endless theme parks, water parks and aquariums. Hotels such as Fairmont The Palm, Atlantis The Palm and Jumeirah Zabeel Saray have excellent deals for families with children up to the age of 17, and with three hours' time difference, you needn't change little kids' routines."
Cruising is also booming. Large ships have all the right 'kidentials' for a successful family holiday: tip-top facilities, an endless variety of food, plenty of organised activities and a backdrop of ever-changing scenery. What could be better? Of course, 'all-inclusive' price plans are a large part of the allure, but there are other incentives.
Celebrity Cruises recently recruited household-favourite Ben Fogle for its programme of on-shore Great Adventures. Options include rafting down the River Tiber in Montenegro and mountain biking in Malaga. Experiential travel – for all ages.
Similarly, One Ocean Expeditions, a leading small-ship cruise line specialising in the Arctic and Antarctic, has a full-service lab set up for its young explorers. "Education is key," says Neil Sutton, travel expert at Western & Oriental. "We've observed a sharp rise in interest in holidays offering educational children's activities rather than just somewhere kids can play."
Take, for example, Raffles' Mini Ranger programme in the Seychelles. Designed for children aged seven to 12, excursions involve close encounters with giant tortoises, the planting of endemic trees and taking nature walks with bona fide rangers. Likewise, &Beyond's Wildchild programme, available at all of its African lodges, has activities for children as young as six, involving backpacks stuffed with scrapbooks, solar torches, magnifying glasses and compasses, plus escorted adventures in the bush.
Tom Barber, co-founder of Original Travel, says: "Adventure and 'edutainment' are a big part of the family travel experience but, crucially, you need to take as much stress out of the booking process as possible." How? By laying on 'mothers' advisers' and by sub-contracting travel itineraries to one of UK's best-loved party-planners: Sharky & George. Clever.
Of course, not all kids are 'joiner-inners', and some parents actually want to spend time with their children on holiday. Enter the true hero of family travel: the glorious villa rental. These are ideal for multigenerational gatherings or for families holidaying with other families. Abercrombie & Kent and Scott Dunn dominate at the top end but smaller outfits such as Oliver's Travels and Mallorca Farmhouses have plenty of rustic-luxe appeal for travellers seeking sunshine and seclusion. Trujillo Villas, a collection of medieval hilltop villas in northwestern Spain, is perhaps the prettiest of them all though. A long-held secret with the fashion crowd, they are adored for their away-from-it-all, Tom's Midnight Garden-style charm. No kids' clubs, no clipboard-wielding reps, no heaving buffets. Send them here, and your clients are sure to live happily ever after...
European chic
After a five-year hiatus, ITC Luxury has revived its Kids in the Med range. Its new brochure brings together the best family holidays in Europe along with handpicked family villas from its sister company Villa Select. A second brochure, Kids Beyond the Med, is in the pipeline featuring long-haul family trips to the Caribbean, US, Indian Ocean, Middle East and Far East. Jennifer Atkinson, chief executive of ITC Luxury Travel Group, says: "We've relaunched Kids in the Med based largely on feedback from the trade. The brand has retained strong recognition among agents who appreciated the emphasis it placed on the family-friendly aspects of each holiday and resort. By gathering product from across our brands and also introducing a second brochure of long-haul family holidays, we're giving agents a selection that's larger and more diverse than ever before, presented in a user-friendly manner designed to help them sell to clients."
Cool for kids
1. SKY NANNIES: Thanks to its Flying Nanny programme, Etihad is regarded as one of the most family-friendly airlines. There to offer an extra pair of hands – whether it's getting children settled for bed or keeping them entertained – assigned crew are armed with goody bags, games and activities.
2. JOIN THE CLUB: This summer sees the legendary Peligoni Club in Zante launch a Sharky & George kids' club for four to 14-year-olds. Already a favourite with the smart-set, this venue adds an extra element of fun to the Greek hotspot – think pirate battles, treasure hunts and beach Olympics.
3. HOT WHEELS: Maxi Micro Scooters – the new must-have for hip families: scooters with colourful suitcases attached to the front.
Top tips for selling family holidays
Simplify the choice: There is an overwhelming range of family holidays and time-starved parents need your help! Simplifying the holiday-planning process by educating clients on a great product – whether that be labyrinthine all-inclusive beach resorts or something under-the-radar – is a great opportunity for you to show your value.
Go active: Family travellers are active travellers. They're up early and they're on the go. Recommend a hotel with a surf break right outside or snorkelling just steps from the villas.
Cater for everyone: Families come in all shapes and sizes: single-parent families, grandparents travelling with grandchildren and, more and more, multigenerational travel. For the latter, recommend hotels that have adult-only pools as well as kids' clubs.
Make it special: Bear in mind that every family is unique, and each is looking for something different. Some want to explore new cities and cultures, others want wildlife and waterfalls; some want to bond over a new skill, others just need some good old-fashioned R&R to reconnect. Above all, the common denominator is lasting memories and a great photo album.
New options for family bookings
This year has seen the launch of Ikos Resorts in Greece. Its two properties boast possibly the best all‑inclusive offerings in Europe for families this summer.
For a kid-focused city break, look out for two new Martinhal properties opening around the Lisbon area later this year.
The latest opening of The Pig group, in Devon, is perfect for food-focused families who dig the whole vibe of locally sourced dishes and stripped-back country luxe.
Sample package
The Azores: active lava lands (age 8+)
Spectacular wildlife, amazing scenery and extraordinary experiences form this seven-night wonder trip to São Miguel island in the Azores offered by Activities Abroad. From swimming with dolphins and venturing into lava caves to snorkelling and whale watching, this trip will blow children's minds. Explore calderas and waterfalls, learn about the native flora and fauna, relax on a black‑sand beach and try Azorean delicacies. Prices are from £1,138 per adult and £830 per child (based on four sharing), and include return flights, transfers, seven nights' accommodation, most meals and activities. Departures in July and August.