Diary from Pure Luxury fam to Barbados
July 23, 2012
Sue Cobley, owner of Sketty Travel in Swansea,?shares her diary from?a Pure Luxury fam trip to Barbados this month.
Sue Cobley, owner of Sketty Travel in Swansea,?shares her diary from?a Pure Luxury fam trip to Barbados this month.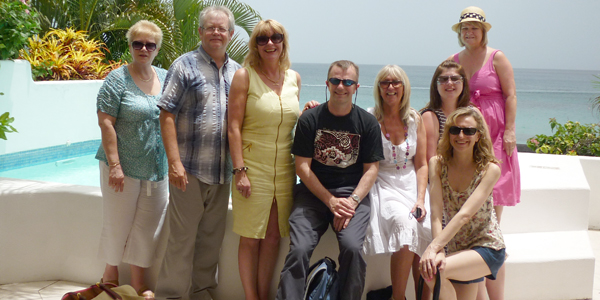 Sunday0700: Meet at the Virgin Atlantic check-in desk at Gatwick Airport.?I'm so excited to meet the other five ladies on the trip, and of course Nigel and Mark from Pure Luxury. Once we're checked-in it's off to Virgin's Club House lounge which is split into several areas to eat, read, or watch television. Breakfast is served in style and you can even get your hair done, enjoy a manicure, or the gents can have a shave.
1000: Depart Gatwick bound for Bridgetown.Who would have thought a seat-back could be so entertaining? I've wanted to see The Hunger Games for a while it made time fly as fast as the Boeing - thrilled to bits.
1345: Arrive in Bridgetown and as we wait for our transfer to The House we are thoughtfully provided with cold towels and bottles of water.
1500: Arrive at The House, check-in and shown to our junior suites. Is this huge room just for me? I could achieve my daily exercise regime just walking to the bathroom and back. The toiletries were an absolute joy, I'm not sure a tourist has ever smelt so fragrant.
1530: Meet on the beach and take up position on the lounger mattresses which are so deep they seem to cuddle you. I'm so comfortable it's almost a chore to drag myself into the warmth of the Caribbean Sea.
1900: Meet for drinks and walk next door to Daphne's restaurant for a delicious meal.
2100: Can't keep my eyes open. Well, it is 0200 in the UK.
Monday0600: I'm wide awake. Still on UK time but certainly not on UK weather, what a strange sensation, all this blue sky and no rain streaks on the windows. I take a barefoot walk along the beach and make it down as far as Sandy Lane; it's great to see for myself where all the hotels are located. How can you feel chilled and warm at the same time? This wonderful island manages it with ease.
0830: We meet for breakfast and what a treat, it's Champagne at The House. I've never met such friendly hotel staff or "Ambassadors" as they are known.
0945: Site inspection at The House where there's some refurbishment going on but you certainly wouldn't know. It's a lovely, laid back, relaxed adult only hotel. What more could you ask for?
1045: Depart for Cobblers Cove for a site inspection at this beautiful and intimate 40 room hotel before enjoying lunch beside the Caribbean Sea.
1300: Coach back to our hotel and after a quick change take the water taxi to Crystal Cove for a site inspection of this picturesque and relaxed all-inclusive resort. I sit on my lounger with my iPod and Kindle and am served a delicious ice cream. The kind gentleman was back in half an hour with a cold drink before once again returning with sun tan lotion and spraying me down - I may refuse to go home.
1845: Meet and walk next door for site inspection of the Tamarind Cove. I wish I could lie in one of the hammocks in the lovely grounds with a rum punch. This is an extremely smart hotel with ocean views that are to die for.
1930: Evening meal at the Surf and Turf where we enjoy a wonderful atmosphere in a restaurant which has food and music to suit every taste.
Tuesday0600: I really must stop waking up so early. I take a walk along the beach, making it past Sandy Lane this time.
0830: Can I manage another Champagne breakfast? I think I may be becoming addicted to this pampering and luxury.
1015: We transfer to Sandy Lane and?|what an experience - this hotel is luxurious but not stuffy. Can you overdose on pink? It seems not as we're surrounded by pink sun beds, pink parasols and pink table cloths; even the assistant manager is wearing a pink tie. I keep an eye out for a famous face but none to be seen this time. Lunch at Sandy Lane is one of the best curries I have ever tasted.
1345: Transfer to Holetown for shopping, the heavens opened and we get soaked – I almost feel homesick - 10 minutes later the sun is out and we're dry again.
1700: Transfer to the Colony Club for two nights in yet another beautiful room, this time a junior suite with a bath you would definitely want to share. The room is so spacious with its bar/lounge area and a huge balcony with sun beds and a table with four chairs for dining. Not to mention the view of the gardens and winding pool.
1845: Meet for site inspection followed by dinner at the Seaside Grill; we enjoy a wonderful buffet with so much choice I'm almost paralysed by indecision.
2100: Time for drinks on the decking under blazing torches, what a setting.
Wednesday0700: Breakfast is delivered to my room and I eat on the balcony - this is the life. Can they really make me get back on the plane?
0800: Transfer to Bridgetown for the Jammin' Catamaran Cruise - what a great day out. We enjoy endless rum punches, great music and swim with turtles in the clearest sea I have ever seen. They were even serving you drinks in the water as you lay on your floating sun bed. Is there no limit to the ways they can spoil you?
1500: Stumble off the Catamaran and transfer back to hotel to grab some more sun for a couple of hours.
1800: Transfer to Fairmont Royal Pavilion – a truly stunning looking hotel. On the site inspection we learn that the ocean view rooms here have decked areas straight onto the beach providing a magnificent setting.
1930: Dinner at the Royal Pavilion and the chef comes to our table to make recommendations. The mango and nut combo was, by a clear margin, the best salad I have ever tasted.
2100: Colony Club for night caps in the beach bar.
Thursday0800: Another breakfast in the Colony Club - will I have the courage to weigh myself when I get home?
1000: Transfer to the Crane Hotel via the bumpiest road I have ever travelled on.
1100: Site inspection of the Crane, which is a resort in itself and one of the most luxurious hotels I have seen, I have a feeling I'm repeating myself? Maybe they should show us something average so I can recalibrate my senses to fully appreciate all this beauty. The views of the bay below are incredible.
1200: Time for more food and rum cocktails. I thought I had better have another salad?|but can't refuse the rum.
1345: Check-in for flight home and hear the great news that we have been upgraded to premium economy. I did have a slight concern that if every passenger had been treated as well as our party the aircraft might never get off the ground.
1654: We board the flight and find there are enough seats in premium for us to have two each. I accept my complimentary champagne before take-off and make room for another G&T.
Friday0550: Arrive home after a wonderful flight home. I slept like a baby.Pure Luxury, what more can I say?