Cruise: Ponant, Silversea and Celebrity Cruises
December 09, 2015
Ponant's newest vessel is the ultimate in chic sophistication, writes Hollie-Rae Merrick Ponant launched Le Lyrial this year with the aim of it becoming the most sophisticated ship at sea.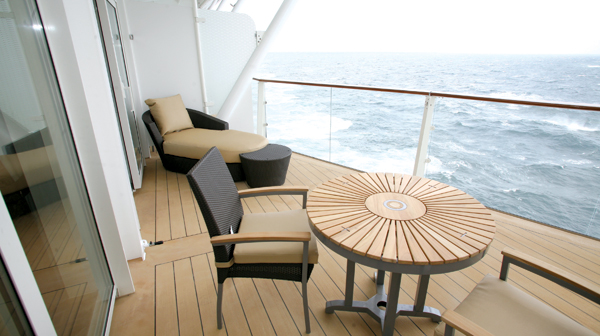 Ponant's newest vessel is the ultimate in chic sophistication, writes Hollie-Rae Merrick
Ponant launched Le Lyrial this year with the aim of it becoming the most sophisticated ship at sea. Its sisters are all sleek and understated, so I was expecting more of the same from the latest in a line that includes Le Boréal, L'Austral, Le Soléal and Le Ponant.
Le Lyrial doesn't disappoint in the aesthetics department. The look and feel is more typical of a boutique hotel than a ship. There are nods to the floating nature of this hotel throughout with the sea, shells and sand making artistic appearances here and there, and a colour palette dominated by blues, turquoises and greys. The main inspiration was the blue light of the Vega star in the Lyra constellation, from which the ship apparently takes its name.
However, there are some notable differences. First, there are 10 fewer cabins on the 128-passenger Le Lyrial than on the line's other vessels (except Le Ponant, which accommodates just 32). The decision to cut back on the number of passengers followed customer demand for bigger top-deck suites. And they are bigger. Some even have two bathrooms, while the Owner's Suite has a balcony big enough for a game of boules.
My sailing began in Valletta, Malta, before heading to Sicily and Sardinia. The ship moved on from Europe in the autumn in favour of Antarctica, and will return to the Mediterranean next summer.
Most guests appeared to be French speaking, but staff told me the split varies depending on the trip, although usually stands at about 50/50.
While the ship caters primarily for adults, kids are welcome, and several sailings throughout the summer feature kids' clubs. To keep younger cruisers happy, the theatre hosts a show each day, while the ship also features an area with games consoles and a pool.
There's a relaxed vibe onboard and guests are not expected to dress up, as is often the case on other lines. In fact, for one evening the daily programme had advised guests the dress code was to "be as elegant as you wish". Most people wished to look seriously dapper, though, and many of the dresses I saw would not have looked out of place at Paris Fashion Week.
Many even looked chic during shore excursions, wearing oversized sunglasses, fitted white frocks and Louis Vuitton pumps to explore Sicily's ancient ruins.
In some ways, the ship's petite size is reminiscent of a river vessel, and you could easily imagine it sailing on the Danube or Rhine. And like many of Europe's river ships, Le Lyrial also has a fleet of bicycles that guests can borrow to explore the local area while in port.
Le Lyrial's spa and gym, however, are far larger than anything you'd find on a river vessel. The spa has treatment rooms, a hair salon and even its own hammam, which is quite a novelty.
When it comes to eating and drinking, Le Lyrial isn't short of venues. With two indoor bars and one outdoors, as well as two restaurants, there's plenty of choice, and nowhere ever feels crammed.
The more formal of the two is La Celeste, on deck two, which serves an a la carte menu each night. However, it's the less formal and chilled-out La Comete on deck six which is the more popular (make sure your guests book in advance). It's a high-quality buffet and barbecue, with the choice of sitting inside or outside – and it's the latter that pulls in the crowds.
I dined here most nights, but it was also my favourite venue for breakfast, thanks to the quality of the French pastries.

A seven-night Best of Croatia sailing onboard Le Lyrial, departing on May 24, leads in at £2,720. The sailing is a round trip from Venice that calls at Split, Dubrovnik, Kotor and Rovinj

On a trip to Montenegro onboard Silversea Spirit, Hollie-Rae Merrick finds why small can be beautiful
Our butler Catalino is waiting by our cabin door with a bottle of bubbly in his hands. As he welcomes us to our suite onboard Silver Spirit, he turns to me and asks: "Would you like me to pour you a glass of champagne now, Miss Hollie?" We became firm friends over the next seven days as we travelled to Corfu, Katakolon, Kotor, Hvar, Dubrovnik and Venice.
You'll know already what butlers do and the benefits for guests. It's rare to get a bad one, and when Catalino went ashore to buy us ginger ale (of his own volition – I'm not a massive diva) because the ship had run out, he proved he's one of those for whom nothing is too much trouble.
Silversea has always been all-inclusive on the drinks front, but just a couple of months before our sailing, the luxury line announced that it was upgrading its offering further by introducing free shore excursions and Wi-Fi on European sailings.
There are several free options in each port or guests can pay extra for activities such as sea kayaking in Dubrovnik or a swanky lunch in Montenegro.
The small size of the 540-passenger Spirit means that it's able to sail into ports that larger vessels wouldn't be able to access. Luxury cruise lines often talk about this, but it's important to understand what it means. I appreciated it when we arrived in the Montenegrin city of Kotor. Aside from being one of the most picturesque European cities I've ever visited, I was awestruck when I opened the cabin curtains to find the city walls and main squares right in front of me. It took only five minutes to get from the ship to the city's main square.
Kotor is home to the most southern fjord in Europe. From our balcony, we could see locals jumping into the clear waters, trying to cool off in the 35C heat. I jumped in too. But not from the balcony – that's not allowed.
Many passengers choose to dine on land when a ship docks close to a city overnight. This was the case in Kotor, although most people, including me, felt the food was far better onboard.
Food is king on Silversea, reflected in its partnership with hotel and restaurant collection Relais & Châteaux.
The line is the only one to feature Relais & Châteaux restaurants, and Le Champagne is certainly a crowd pleaser, with the waiting list growing every night of the sailing as more guests hear about the lengthy tasting menu on offer.
As expected, the food was exceptional, with each course served with a complementary wine.
Another favourite is The Grill. Although by day this is the area around the pool serving salads and burgers, at night it's transformed into something quite special. Guests cook their own meat or fish on hot lava rocks, with a little help from the waiters if needed. The combination of dining under the stars, a few strawberry daiquiris and some perfectly cooked salmon made this one of my favourite meals of the trip.
And it doesn't stop there because there's also the main dining room, sushi restaurant Seishin, Stars Supper Club, and Italian alfresco venue La Terrazza. That's a lot of choice for a ship with little more than 500 passengers.
After dinner, the theatre becomes the hub of the ship. Each day, performers sing hits from different decades, culminating on the last night with 45 minutes of operatic arias and classical songs on a score arranged by the London Royal Philharmonic Orchestra exclusively for Silversea.
Before boarding Silver Spirit, I was a little dubious about what to expect after dark. However, the social scene was up there with the best, with plenty of people making it to the Panorama lounge to strut their stuff each evening.
On the final morning, we took a 6am breakfast on our balcony, as we sailed into the marquee cruising destination that is Venice. This surely has to be the most stylish way to arrive in the City of Bridges.

Silver Spirit departs on a seven-day voyage from Athens to Venice on August 5. The cruise calls at Katakolon, Corfu, Kotor, Dubrovnik and Hvar. Fares start at £2,450. silversea.com / 0844 251 0837

Celebrity's new Suite Class takes the luxury to the max, discovers Hollie-Rae Merrick
Celebrity Cruises has been eyeing up the affluent couples market for some time. This year, the line has stepped up its luxury offering with initiatives such as private jets and Suite Class.
Suite Class (pictured top)?features on all Celebrity's ships except for Xpedition, but the plan is for every ship to offer it, including the two ships launching in 2018 and 2020.
Celebrity isn't the first to introduce exclusive areas for more affluent guests. MSC Cruises has its private access area in The Yacht Club, Norwegian Cruise Line has The Haven and Cunard has its famed Grills Class. Celebrity's sister brand Royal Caribbean also plans to roll out a suite class across its fleet.
I tested Celebrity's Suite Class on Eclipse. From the Sky Suite to the Reflection and Penthouse suites, the more you pay, the more you get. Passengers in the Royal or Penthouse suites get access to Michael's Club bar, a complimentary drinks package, unlimited free speciality dining, unlimited Wi-Fi and a free minbar.
Other Suite Class benefits include a bottle of Perrier-Jouët champagne on embarkation day, Bulgari bath products and culinary treats delivered to the room.
Although the Sky Suite in which I stayed is regarded as 'entry level', the phrase is a little misleading. I was greeted by a butler who showed me around, before asking whether I wanted a tour of the ship or needed to be escorted to a restaurant for dinner – not what I call entry level.
But as impressive as the butler was, I think the new 92-seat restaurant Luminae is probably the biggest perk for Suite Class guests. Not only is it open for every meal, but Suite Class passengers can invite friends who are in lower-grade accommodation to dine with them.
If your client decides they don't want to mingle at meal times, the chefs here will serve food from other restaurants such as Qsine and Murano.
Menus are paired with wines selected from the 400-strong list by the restaurant's head sommelier. It's a list that is highly commended, as the line's wine expert is Oz Clarke.
The Suite Class concept is a clever one and Celebrity does it well. It's the holiday equivalent of a box at the O2. Your client can have everything that everyone else has, but when they're ready to retire to a massive room or a private bar, those luxuries and more are always close by.

Celebrity Cruises offers 14 nights in a Sky Suite onboard Celebrity Eclipse's Scandinavia and Russia sailing from £4,800