Cambodia: From rags to riches
Cambodia | May 31, 2012
Ask a gap-year traveller where their round-the-world ticket will take them and Cambodia almost always makes the list.
Ask a gap-year traveller where their round-the-world ticket will take them and Cambodia almost always makes the list. It became a stalwart of the pre-uni voyage of hedonism many moons ago. Quieter has been its rise to the top of the pops for travellers who enjoy a bit of luxury.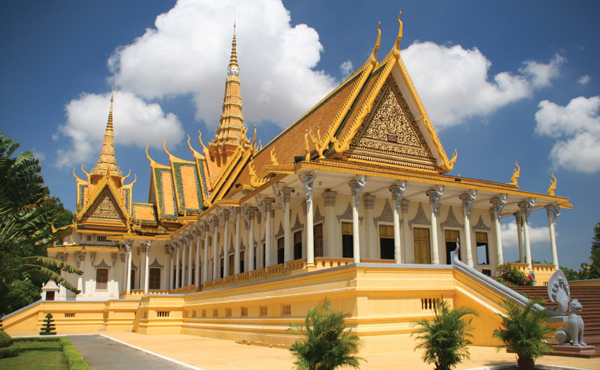 The difference between an affluent person and a gap year traveller visiting Cambodia is choice.The choices money provides are generally easy to spot. A chauffeur-driven car as opposed to a heaving bus sans air conditioning. A hotel with butlers and spas versus a room with occasional hot water.
But choice is also about deciding when to pay for the obvious luxury option, and when to choose to get your hands dirty and enjoy first-hand those wonderful experiences that might not have a high price tag, but keep the backpackers coming back year after year.I pondered these choices as a tourist-laden helicopter soared high above my tiny wooden boat drifting through a flooded forest in the rain.
As my gaze returned from the sky and the rain grew heavier, my lady skipper, who steered our misty path through petrified trees, smiled and gestured over the head of her baby daughter towards the single life jacket that sat beside me.We were hours from anything other than floating village Kampong Phluk (an hour from Siem Reap), and a long way from even that small comfort. But would I have swapped my mode of transport for the chopper overhead? Not for all the money in the world.
As I left the boat I couldn't have looked any less like Anjelina Jolie in her ad campaign for Louis Vuitton shot last year in Cambodia. She posed, peach limbs curled on a rickety wooden boat and framed against the Mekong. It's an image that captures the country's appeal – mysterious, ever so slightly dangerous and, increasingly in the case of this rapidly developing nation, glamorous. After decades of turmoil that left the infrastructure decimated, the days of Cambodia as a Wild West for backpacking, gap-year kids to fire rocket-launchers at cows and stock up on over-the-counter valium are on their way out.
It would appear the luxury market has been growing over the past few years. "Luxury is expanding in Cambodia, but at a slower pace than other countries," says Shona Napier, Kuoni's market coordinator for Africa and Asia. Cox & Kings recorded a 40% increase in passenger numbers between 2009 and 2011, while Abercrombie & Kent says trips to the country are popular with clients over 55 who want to be adventurous, but still stay somewhere comfortable. Finding a luxury hotel is hardly a problem in Siem Reap, the city that serves as a gateway to Angkor Wat.
More than 10 high-end hotels have popped up in the city over the past few years, four of which (Raffles Grand Hotel d'Angkor, H?'tel de la Paix, Sofitel Angkor Phokeethra Golf and Spa Resort and Amansara) featured on this year's Condé Nast Gold List of the world's best places to stay, although the contemporary resort Hotel De La Paix is closing for refurbishment this year.
The vast temple complex at Angkor Wat is still the country's main draw. Seven thousand people tread the ruins (tour ops can arrange private tours), one of the new seven wonders of the world, every day. Few sights are so staggering to bleary, early-morning eyes as those ancient domes rising up from the jungle at sunrise.But Ross Pakes, the regional manager for Asia at Abercrombie & Kent, says its clients are starting to venture beyond the traditional Angkor itinerary, requesting tailor-made tours that take them to farther out temples such as the red sandstone Banteay Srei, as well as the wider country. "Angkor Wat is the perennial draw to Cambodia, but clients are becoming more adventurous in their pursuit of temples away from tourist hordes. If you are willing to spend time in a car on bumpy roads, or for those travelling in style then by helicopter, you are rewarded with less-visited temples but no less impressive."
In response to the demand to see more than just temples, both Abercrombie & Kent and Kuoni have introduced new tours this year that include the capital, Phnom Penh, more remote countryside such as Battambang and boat journeys on the Tonle Sap Lake. "[Cambodia] is fast becoming a standalone destination rather than just being part of a bigger itinerary," Pakes says.
The frenetic Phnom Penh is set for an influx of tourists; the international terminal is expanding to accommodate four million visitors this year. It's a city of two faces. Tuk-tuks career through the streets where backpackers get giddy on 'happy' pizzas laced with cannabis. But mere minutes away a crowd of expats party in cool repose, sipping white Russians by a poolside bar such as Equinox before melting away into clubs such as Pontoon, which play host to international DJs.
A local cafe owner presented us with overflowing bowls of fried cockroaches (surprisingly juicy), while local children tucked into snake lollipops. But at the elegant riverside Foreign Correspondents' Club, guests eat under the gentle whirr of colonial-style ceiling fans, stand at the balcony and watch the sun setting over the Mekong, as locals extend their limbs in synchronised dance on the front.?
The luxury market really has its eye firmly fixed on the coastline, with Song Saa, the country's first private island, recently opened in the Koh Rong peninsula. The couple who set up the resort, in the blue waters off Sihanoukville in the Gulf of Thailand intend to open two more properties. And getting to the islands is far easier since flights between Siem Reap and Sihanoukville were introduced last year.
When I travelled, there wasn't a choice sadly so the fastest route to the beach was a five-hour dash along the road that connects Phnom Penh and Sihanoukville. Rather than a private ride I demonstrated poor decision-making once again. Sweating in the back of a bumpy share taxi, squeezed in between a cheery but extensive Cambodian family, I struggled to distinguish which of the four men in the two front seats was driving. From now on the journey should be a much gentler affair, a statement that could be applied more generally to travelling in this wild, enchanting country.
Three of the bestROSS PAKES, REGIONAL MANAGER, ABERCROMBIE & KENT
4 Rivers Floating Eco-LodgeAmong a virgin rainforest, 12 tented villas rest on the river.? While all tents have modern amenities, they will be no match for the natural wonders on view from the private balconies. ecolodges.asia
Song Saa Private IslandA private island resort in an archipelago of islands that remain undeveloped. There is a sense of being one of the first foreigners to explore this beautiful place. songsaa.com
Banteay Chhmar templeFor 800 years, this 12th-century Angkorian temple has been untouched but it is now in the first stages of reconstruction with villagers being taught how to restore it. They have also started homestays for tourists. tinyurl.com/banchhmar
New for 2012
1. Luxury river cruising on the Mekong has been made possible by Avalon Waterways, which will launch Avalon Angkor in September to cruise from Ho Chi Minh to Siem Reap.2. The intricately-carved, three-tiered Baphuon temple was opened to the public last summer after five decades of reconstruction work.3. Raffles has just finished refurbishing Hotel Le Royal in Phnom Penh (pictured) and Grand Hotel d'Angkor Siem Reap.
Expert View
Yaow Butwisate-LokFar East product manager Cox & Kings
"I've been going to the country since I was a child, as my grandmother is from Cambodia and I'm from Thailand. One of the things that really shines out is the warmth of the people, as well as the majesty of Angkor."The focus is shifting from just seeing temples to experiencing Cambodian life in all areas it has to offer. More and more people are going to Phnom Penh, and spending longer there.?"A lot of people overlook Phnom Penh, but it has such a buzz about it, you can really feel the local life. I love doing a little walk at dusk around the old town, seeing all the colonial buildings and watching the sun set over the Mekong river."The Raffles hotel has a fantastic spa, as does the Sofitel. There are also lots of spas down by the Foreign Correspondents' Club, one particularly called Bodia spa.?"The 4 Rivers Floating Eco-Lodge in the south is a great alternative to the beach, as it's in the middle of the jungle, while the Song Saa resort is setting the standard of luxury. Our partners in Cambodia are trying to open up more opportunities in the northeast of the country as well."
Must-do tours
12-day Cambodia in DepthThis tour is designed to show guests some more remote and dramatic areas. The trip begins in Phnom Penh taking in the National Museum and the Killing Fields while staying at Raffles. Then the tour moves to spots such as Stung Treng for a boat ride to Cambodia's northern border with Laos and Kratie to see irrawaddy dolphins in the Mekong River.From £2,430 including accommodation, private transfers and guides. bridgeandwickers.co.uk
Cambodia Explorer – 14 daysA detailed tour through Cambodia, giving you the opportunity to see hidden gems such as the Angkor period jungle temples of Sambor Prei Kuk. Accommodation varies from comfortable three-star to top notch bolt-holes such as Victoria Angkor. Private tour from £2,689 including flights and all accommodation.transindus.co.uk
Temples of Angkor - five daysStarting in Phnom Penh this trip takes in the Royal Palace, the Silver Pagoda and the Killing Fields. Then the chance to learn about the plight of local street children before flying to Siem Reap to explore the jungle, Tonle Sap Lake and temples.From £559 for tour and accommodation. travelindochina.co.uk