Review: Rome Cavalieri, Italy
Italy | December 10, 2014
Bread and circuses.
Bread and circuses. According to the poet Juvenal, these were all that was necessary to keep the ancient Romans happy.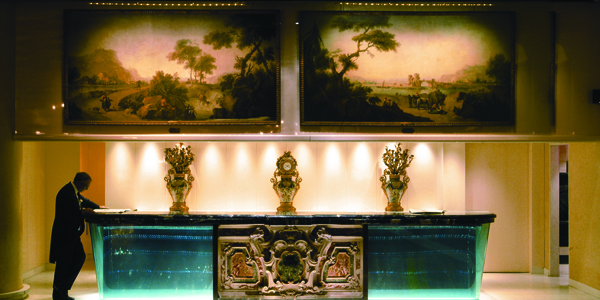 Fast forward 2,000 years, and it feels like the Rome Cavalieri has taken that principle and luxed it up to the nth degree.This hotel provides not only palatial splendour with hilltop views of the Eternal City, but it's also home to Rome's only three Michelin-starred restaurant and a gladiator training school.
Paolo Zilli, our salt-and-pepper-haired centurion, waits on the hotel lawn surrounded by lions. Happily for us, these are marble ones, rather than the live beasts that would have faced those battling for their lives in the Colosseum. After going through four defensive and four attacking moves, it's time to spar, and at first my fellow journalist
Frederika and I are terribly polite and British about the whole thing. Once Paolo starts keeping score, however, all reticence goes out of the window and we're soon swiping at one another like wannabe Russell Crowes – except thankfully with plastic batons rather than real swords. It's a battle of different styles – Frederika is stronger,
I'm faster – and very much to my surprise, my dodge-and-slash technique results in a 10-2 victory.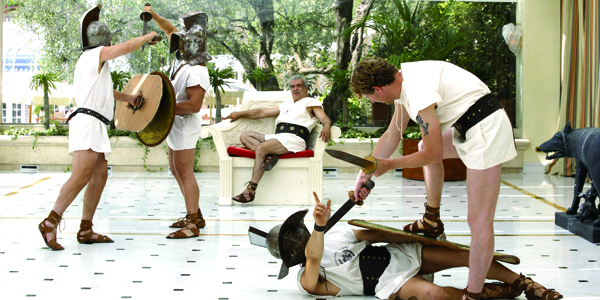 And there's really nowhere more fitting for a celebration than La Pergola. This top-floor temple to the finer things in life is packed with treasures – an Aubusson tapestry here, a samovar from the collection of Alexander I there. Don't turn round too quickly, you might knock over the large collection of S??vres porcelain.
Despite this embarrassment of riches, it's actually a very friendly environment. There's a touch of the hushed awe you find in any expensive restaurant, but once the incredible food from the kitchen of Heinz Beck starts to flow on to the table, our audible gasps of excitement can't be contained. The dainty, delicate dishes are exquisite and taste as good as they look. After a parade of Instagrammable courses – including the chef's famous fagotelli, which are so light the pasta almost bursts on the tongue, setting free a flood of buttery pecorino – a series of miniature silver chests of drawers are brought to the table. These, designed by Beck himself, house a selection of handmade petit fours. I'm not ashamed to admit I ate all 12.
The rest of the hotel lives up to La Pergola's promise. Rooms are opulent in classic Italian style – think gilding, acres of marble, swags of blue and gold – and every inch of the lobby, lounge areas and corridors are as much antique galleries as purely public spaces thanks to the hotel's 5,000-piece collection of paintings, tapestries and objet d'art – the star pieces of which are the Tiepolos in the lobby, worth $28 million, and in the Planetarium Suite, there's even a Warhol or two.
With busts of emperors adorning the mosaic-clad walls, marble whirlpools and an amethyst hammam, the spa is enough to live up to decadent tastes, too. There's an exhaustive list of treatments – I opt for the signature ritual massage, and float out 80 minutes later on a coconut-scented cloud of tranquillity.
The hotel's spell works, even outside its walls. The Great Beauty tour, inspired by the 2014 Oscar-winning film La Grande Bellezza, allows guests to experience the city in signature Cavalieri style. Led by the in-house art historian, the tour visits locations from the movie and gives guests privileged access to private spaces belonging to aristocratic Italian families. By the end of our trip, we'd hung out with not one, but two princesses.
Even if clients opt to stay elsewhere – some, particularly first timers, may wish to be closer to the centre of Rome – it's worth a visit just to experience the hotel. They can take afternoon tea among the Tiepolos in the lobby or book the infamous Sunday brunch at L'Uliveto. Tables groan with every delicacy you can imagine, from prosecco to gelato, so it's the perfect opportunity to have a go at another ancient Roman pastime – eating until you feel a little bit sick.
From £197 per night, including breakfastwaldorfastoria.com/romecavalieri

Joanna Booth