Inside W London: 8 reasons we already want to stay here
December 10, 2010
Nathan Midgley takes a hard-hat tour of the unstoppable hotel brand's new property on Leicester SquareIt isn't every day you hear the phrase, "Part of the design brief was a duality of Englishness.
Nathan Midgley takes a hard-hat tour of the unstoppable hotel brand's new property on Leicester Square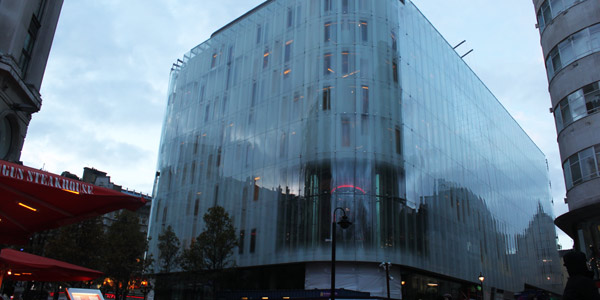 It isn't every day you hear the phrase, "Part of the design brief was a duality of Englishness." But W isn't any hotel brand. With almost 40 properties under its belt, it has managed to square the 'boutique chain' circle by ensuring each one riffs cleverly on its location.
W?London, now just over two months away from its February 14 opening, is no exception - among the surprises awaiting guests are?a remixed gentlemens' club and a sleek nightspot that references Leicester?Square's Victorian heydey.?Duality indeed.
Aspire was treated to a preview of the property as it gears up for launch, and?came away with some details to whet your appetite...?1. Light and magic?In between the two-layer exterior are some 600 lights, which form a huge standalone artwork by Jason Bruges. The lights will usually react to movement and colour picked up by six rooftop cameras, but they're entirely configurable by hotel staff. Aspire saw pictures of the system tested to its limits - James Dilley of hotel architects Jestico + Whiles shared an astonishing iPhone snap of the hotel glowing every colour of the rainbow, assuring us that it 'stopped passers-by in their tracks'.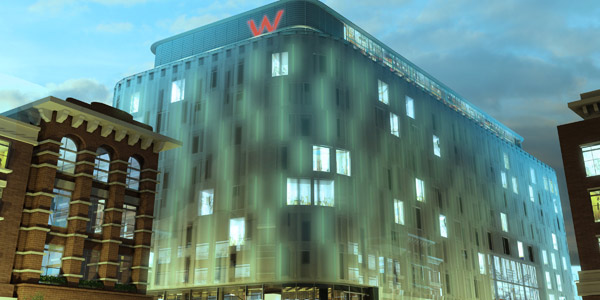 2. It's Chinatown?The Spice Market restaurant, a two-floor affair which will also be open to the public, has an appropriate view over Chinatown's Whitcomb Street. Strategic sliding screens will allow staff let in more or less of the Chinatown atmosphere, according to the occasion and the time of day. Diners can expect a 'wok station', a sushi bar and a la carte dishes such as Pork Cheeks Vindaloo, all overseen by NYC chef Jean-Georges?Vongerichten.?3. Glass ceiling
You'll notice two things about the lobby. One: rows of footlights three-quarters of the way up the wall, one of many nods to the West End location. Two: hundreds of mirrorballs on the ceiling. Follow these through the hotel and they'll lead you to the signature Wyld Bar, where you'll find...
4. Mirror, mirror
...the daddy of them all. Constructed in situ over two weeks, the Wyld Bar's planet-sized mirrorball is even now visible from the northwest corner of Leicester Square. 'Wyld' refers to 19th century cartographer James Wyld, whose 60-foot-wide 'Great?Globe' attraction dominated the square in the 1850s.
5. What's on
The Swiss Centre, the site's previous occupant, incorporated cinemas, and planning authorities insisted that W do so too - hardly a problem, given the film and media crowd the hotel aims to attract. Its screening room is small but perfectly formed, offering HD and 3D capability, with a series of angled strip lights on the walls that are designed to recall an old bellows camera.
6. Books Etc
The culture theme continues in the first-floor lounge (where W has had to drop its usual 'Living Room' moniker, which is already copyrighted in London). The hotel's public bookshelves will be 'curated' by noted authors, with American Psycho writer Brett Easton Ellis the first to be confirmed – and there's a 360-foot long Chesterfield banquette to relax on while you're reading.
7. Bath and bed
Basic rooms are designed on a 'deconstructed bathroom' principle. One half of the 26-metre-square space is dominated by the bed and television, the other by a washbasin sunk into a minimal white table, with toilet, shower and storage behind mirrored doors around it. The wardrobe is behind a sliding padded panel, which rolls across the room door to top off the already excellent soundproofing.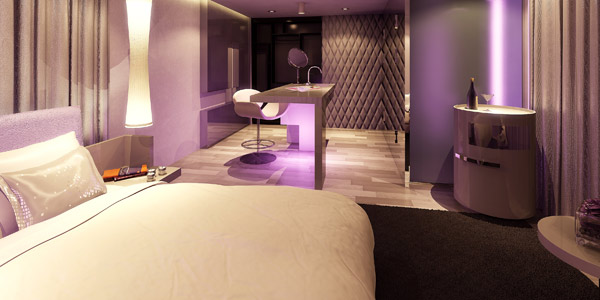 8. Room at the top
Among the creature comforts in the one-off E?WOW penthouse – which Aspire sadly didn't get to visit – are a Jacuzzi, a four-person shower, a 62-inch TV in the bathroom and a huge circular sofa. They'll even close off a corridor if you need a bit more space to party in. It sleeps five and comes in at £5,000 a night. Other super-premium options include the Spa?Suite, which comes with its own steam room.

W London opens February 14th and is already taking bookings, with a special starting rate of £269.