Europa 2 review - by an Aspire agent
British Indian Ocean Territory | July 10, 2014
Mid Counties Co-op personal travel agent Francesca?Barone?shares her recent?experiences on board?Hapag Lloyd's Europa 2.
Mid Counties Co-op personal travel agent Francesca?Barone?shares her recent?experiences on board?Hapag Lloyd's Europa 2. To see the rest of her photos click here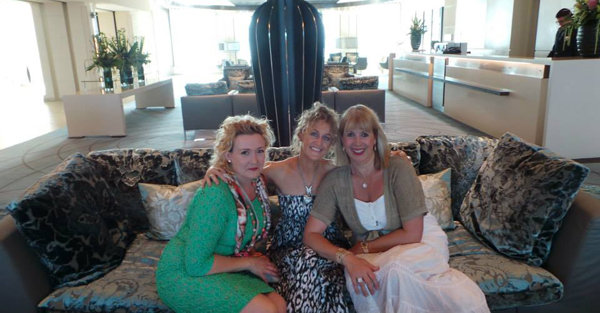 I feel that perhaps Europa 2's current lack of all-inclusivity does make her more exclusive.? It's fair to say that the most luxurious hotels tend not to be all inclusive.? Current market trends are proving that with all the aggressive price cutting going on in the upper end cruise market all inclusive ships aren't what they used to be as of course, something has to give. You can't pay less and expect the same quality.?
Europa 2 however is true to herself and is unashamedly, but modestly, indulgent.?
During our workshops I along with others, did express concerns about managing to entice guests to try this ship when she isn't all inclusive.? Perhaps even to introduce a drinks package of some description to at least give people the choice.? We were advised that the matter is being discussed, but is in very early stages – so watch this space.?? Be sure to advise your potentially interested parties however, that soft drinks enjoyed outside of our guests suites, are currently chargeable.? This is also under review but no indication yet as to when this may change.?
It takes a lot for me to relax and unwind (mission accomplished) and I can honestly say that the zen like ebb and flow of this ship is almost unquantifiable. I had many superlatives swimming around in my mind while experiencing afternoon tea in the Belvedere Lounge, (fwd on Deck 9), soaking up the atmosphere of a lady tinkling away on the ivories, sipping my vanilla rooibos tea and nibbling on my calorific little cakes, that it was hard to decide which to use.
Let there be no mistake here, you are in no doubt of the German origins and it is the first spoken language.? However, Europa 2 is a dual nationality ship (the second language being British) and the HL powers that be are keen for her to become much more international with her guest lists. This is going to have to involve a serious amount of marketing on their part along with the support of key agents/partners (which of course is how a few of us got to be on board on this occasion).??
Currently the guests are approximately 90% German so there is a way to go yet.? That said, even as a minority nationality on board you feel as welcome and involved/accepted as everyone else.
The public areas are all incredibly spacious and the pace on board slow.?She is contemporary in her décor and adorned with around 890 pieces of art courtesy of the likes of David Hockney and Damien Hurst. The actual build-cost is not being publicized – suffice it to say it ran into more than one or two hundred million Euros.? She is 42,830 tonnes and accommodates 516 guests, in a total of just 251 suites, at an absolute max, though rarely as high as this.? The space ratio is excellent as is her crew to guest ratio.???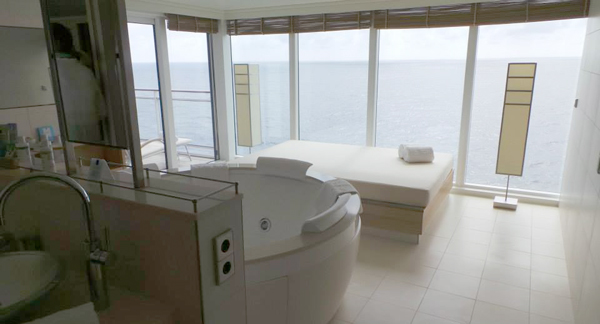 All the suites offer balconies and start from a generous 377 square feet apiece (35 square meters in new money)!?? They really have thought of everything and within the different categories of suite there are varying designs offering up different use of the dimensions even within the same category.? It's all about being able to really hone on the personal preferences of your more discerning guests.? Suites go up to as large as an Owners Suite at 1227 square feet (114 sq meters).?
There are also family apartments where you can have suites that interconnect.? For point of comparison the likes of Silversea, Regent and Seabourn start at around 300 square feet for their lead in suites.? Before leaving the subject of the suites you should know that all beds are doubles.? They can be made up as a twin but there is no way they can be physically separated.? Your suite illuminations are so high tech they come with a little instruction booklet!? Quick solution at night – flick the master switch just inside the door = dark.? Great push to pop out doors x 2 opening to very well illuminated vanity mirror (three dimensional) for ladies to beautify themselves (and metro-men of course).? You know you are experiencing the ultimate when in your top of the range suite your en-suite has a mirror that you can touch and it becomes a television and your full size Jacuzzi bath has mood lighting in it.
The ship is run with military precision – everything appears totally effortless and nothing is too much trouble.? Staff of all levels engaging and happy to inter-act with you.? Europa 2 oozes German efficiency and the technology on board is nothing short of mind-blowing.? The photo gallery area on Deck 4 has large touch screen televisions? and you just got to where you needed via the screen, to see any photos that had been taken on your cruise.?
Also on Deck 4 outside the tour office, were two hi-tech pedestal units with screens on top. From here you could simply input your suite number and book excursions, dining or any number of other things.? You don't even have to exert yourself putting your suites key card into any sort of slot, you simply pass it over the sensor on your door.? The same applied when you were embarking and disembarking.? No palaver of having to remove from the wallet to do so.? Smooth, easy, effective.
The ambiance on board is that of casual elegance.? No formal nights here yet the guests on board at whatever time of day, all appeared to ooze class, elegance and refinement.? There were a wide selection of age groups on board – which proves that from a product point of view – she is appealing to all ages.Whilst on board I also noticed a couple of wheelchairs and in fact Europa 2 does offer 2 'accessible' suites.? Wifi as with the vast majority of ships, is additional and comes in at .19 euros a minute.? You simply set up your access password on the TV in your suite and you are good to go.?
Once on board, based upon your guest information, your suite should be set up in your native language – i.e. the daily programme and additional collateral will be in English as will your daily paper which comes beautifully bound and delivered to you.? It appears to be by default The Times, but if you have a preference for a different paper just let reception know and they will do their best to oblige.
As we seem to find ourselves living in freakily health conscious times, you should also know that Europa 2 (currently), has a slightly more relaxed policy on smoking.? Certainly you can't smoke everywhere, but it's still permitted to smoke on your private balconies and in a couple of indoor public areas – one of which is the dedicated cigar lounge – Herrenzimmer (forward on Deck 4 near the theatre).? You can of course, also smoke in some of the outdoor areas.
Fine Dining – we all know how much of an important part this plays for all cruise guests.? Europa 2 steps up here as well.? No surcharge for her alternative dining restaurants – of which there are several to choose from and an open dining policy giving your clients ultimate flexibility as to where, when and with whom they would like to dine.? Reservations can be made to avoid any disappointment but we were assured it's never usually a problem to acquire a table when you'd like.? For reference you can only book your alternative dining once you are on board.
•?Restaurant Weltmeer is the main dining room, adorned with the most incredible Murano Glass feature lighting arrangements.? Aft on Deck 4.? We dined here on the third evening and it was excellent.? Menus here are a great selection of international dishes catering for all palettes.
•?Restaurant Tarragon offers up French orientated cuisine (we dined here the first evening and it was sublime).? Between aft and midship starboard Deck 4.? It's something when you are brought out a platter with the starter selection on so you could 'see' before making your choices. Also, I have never before experienced a choice of palette cleansing between course sorbets.? Remarkable.
•?Restaurant Serenissimi – Mediterranean fusion dining – sadly there wasn't time for us on this short trip but it was always busy which says it all.? Located on port side along with neighbouring Restaurant Weltmeer.
•?Restaurant Elements – An Asian fusion restaurant with contributing dishes and courses from the huge spectrum of countries making up this part of the world.? Starboard side neighbouring Restaurant Weltmeer.
•?Yacht Club Restaurant aft up on Deck 9 – great place for more relaxed dining offering up plenty of outdoor seating as well (accompanied by overhead heaters for chillier evenings/days)? I dined here a few times – breakfast, lunch and dinner – all excellent and the presentation/quality of food superb
•?Sushi Restaurant Sakura – we dined here on the last night – OMG is all I can say – superb.? Location – adjoining the Yacht Club Restaurant so if you eat with anyone here who isn't so keen on sushi they can always stroll through and acquire something else to enjoy.
•?Speisezimmer – private dining restaurant for a special occasion in the company perhaps of family and friends.? There is a cover charge here.
•?Sansibar – up on Deck 8 aft.?? Light snacks available here at different times of the day and this location tends to be the late night spot for those guests who like to be burning the midnight oil busting some moves as the resident DF livens up the atmosphere.? A very relaxed and popular area with both indoor and plenty of outdoor seating.
•?As if the above wasn't sufficient, you also have the area on Deck 9's pool deck where there is a station offering up different things at different times of the day, including waffles in the afternoon!? Slimline of course.
Places to have a cocktail or two are also numerous:
•?Herrenzimmer – Select a Cuban cigar from the humidor and settle down into a comfy leather chair in front log fire perhaps (not real BTW).? This is also where our most interesting gin tasting extravaganza took place on our last afternoon
•?Sansibar – mentioned above – uniquely wonderful atmosphere here
•?Belvedere – forward on Deck 9 – fantastic panoramic views – lovely seating – artistic performances – afternoon tea.? Multiple personality venue and the inspiration for much of my article here.
•?Jazz Club – forward Deck 4 – great venue – lovely bar area – ambient décor and lighting.
•?Piano Bar – located at one side, midships Deck 4 of? the large but none the less very convivial and comfy lounge? area (offering up lots of lovely different seating areas) and includes Reception.? Lovely place to relax before dinner and enjoy the sound from the Steinway grand.
•?Pool deck of course also offers its own bar area
The ship's theatre is located on Decks 3 and 4, but can only be accessed from Deck 4.? Due to the shortness of our stay on board and dining arrangements, we were only able to see a part performance of the 'Fire' show which was shown our last afternoon on board.? It was phenomenal and by all accounts the Europa 2's entertainment policy is that there is a regular change around of acts to avoid repetition on longer voyages.? There is a drinks service operating in the theatre.
The lovely 15 meter pool is located midship on Deck 9 and has the most incredible and attractive retractable roof which means this is a fully functioning area, whatever the weather.? There are loads of seating options including Balinese sunbeds, cocoon type beds, large wooden sofa right on the pool edge, oodles of sun loungers, and this theme continues on Deck 10 surrounding the edge and forward/aft of the pool dimension size itself.? Via an exterior staircase on Deck 10 you can also access a further great outdoor seating area in a forward location which is great if you fancy somewhere more peaceful.? Again – loads of lovely chairs.? There's a Jacuzzi up there too with a shower.
Other areas/information about Europa 2:
•?OCEAN SPA – incredible, as you would imagine/expect.? A 1000 square meter oasis of calm and activity – depending on your bent.? Exclusive treatments, high tech/high performance gym equipment, private relaxation area, two state of the art golf simulators and much more.
•?LIBRARY – predominantly housing German books though to be fair there was also a section providing English reads too.
•?TEENS/KIDS CLUB – to help entice a younger audience of professionals and couples on board.? Professionally staffed programmes for all age groups.
•?ECO-CREDENTIALS – Europa 2, unsurprisingly exceeds Hapag Lloyds' already incredible environmentally friendly sustainability and technology credentials.
•?CULINARY SCHOOL – what better place to acquire new skills than when you have some spare time on a venue as incredible as Europa 2
•?AUDITORIUM/3D CINEMA – up on Deck 9 tucked in front of the Belevedere lounge.
•?ART GALLERY – also up on Deck 9.?
Attention to detail, courtesy and professionalism of the officers and crew, the yacht club elegance which oozes understated chic-ness, all contribute to the effortless ambiance on board this incredible high-tech, high-spec ship.? Europa 2 gives the feeling she isn't even really trying to impress.
It's fair to say that in this currently 'extreme sport? business', otherwise known as the cruise sales industry, that this stunning 500 plus a few guests all suite, all balcony ship has rather reinstated my faith in the fact that there really is a top notch ship in operation where corners haven't been cut.? Will you pay more for this – of course.??
Europa 2 is not for the faint hearted when it comes to cost (averaging 600 Euros pp per day).? Is she worth the investment? I think so.
Europa 2 is unashamedly at the top of her game and wholly deserves her 6*/ 5*+ rating (Sterns and Berlitz respectively).? She glides graciously through the sea and her engine is but a distant whisper and doesn't offer even the slightest interruption (even when the Captain has his foot down)!? She is a testament to the ultimate in German engineering and state of the art technology.