Why the long face?
oids: from Easter Island's monumental statues to wilderness on a? massive scale in Patagonia, everything is larger than life. If clients are looking for a really big adventure, this 2,700-mile-long country won't disappoint.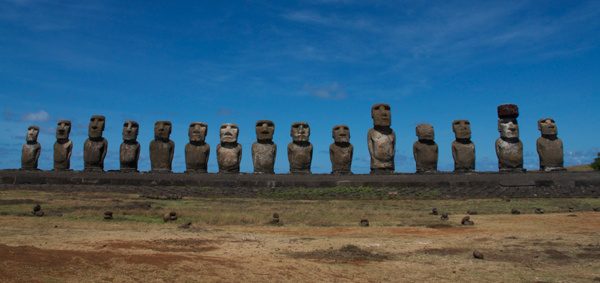 It sat on the third shelf down, towards the right. The book's cover was rather cracked and torn, despite the fact I'd never seen either of my parents actually read it.
It was the picture on the spine that drew my eight-year-old attention – a statue, in stark white against a black background, of a large head. Vastly elongated, with a lowering brow and pursed lips, it didn't resemble anyone I'd ever seen. I couldn't take my eyes off it.
The book was Aku-Aku, by the Norwegian explorer Thor Heyerdahl, and the strange creature was a moai. I read about Easter Island, a tiny dot in the middle of the Pacific Ocean, where mystery surrounded who carved these huge stone statues, and why – and why they stopped, very suddenly, never to begin again. Nothing had ever seemed so exciting, nowhere so exotic. Would I ever really be able to go there myself?
Nearly 25 years later, and the big adventure I'd dreamed of was becoming a reality. Boarding the six-hour flight west from Santiago, Chile (to which Easter Island belongs) admittedly doesn't feel all that adventurous – you're on a Boeing 767 with seatback screens, not a 12-seat propeller plane. But from the moment I saw the emerald green speck in the ocean, I felt like a bone fide explorer.
My four-day trip would be very different to Heyerdahl's year-long expedition, and not in duration alone. The research party had to set up their own makeshift camp and bring all their supplies by boat. Thanks to Explora, the company that runs the island's most luxurious lodge, today's visitors do not.
Explora Rapa Nui is all about delivering a high-end experience in a low-key way. On an island where horses outnumber people, and most of the local population live within the limits of the one town, making minimal impact on the landscape is less a luxury than a responsibility. The 30-room lodge sits alone, tucked into the brow of a hill and almost invisible until you're on top of it. Glazed curves look to the sea; inward-facing walls are slatted wood. Clever alignment means that once inside your room – a symphony in slate, wood and linen – you're unaware of any neighbours.
For those who don't want to feel detached, the double-sided bar, expansive lounge and crescent-shaped restaurant serving gourmet food are all friendly places, with fellow guests gathering to recount their adventures of the day.
And what adventures! On our first afternoon, we climbed down through a chink in the earth that felt barely larger than a rabbit hole. During the infighting of the 16th century, families would hide from neighbours with murderous intentions in these underground caves before escaping down the seemingly sheer cliff face. Later we came eye-to-eye with my first moai, a red top-knotted giant with his back to the sea. As I sat, sipping champagne as the sun set behind the statue, my inner eight-year-old was dancing with excitement.
It was the first of many magic moai-ments. The pinnacle of shiver-down-the-spine excitement came in the quarry at Rano Raraku. It's as if those long-dead sculptors have merely downed tools and gone for a long lunch. Half-hewn moai jut from the side of a volcano; others are dotted at intervals down the slope – from beneath they look like an army of statues on the march towards you. It's here you'll find the island's largest moai, an unfinished monster that would have stood 21 metres tall.
As if the island's sights alone weren't enchanting enough, the Explora staff are always on hand to add a sprinkle of extra fairy-dust. Sometimes it's through superlative guiding – Natalia's explanation of how the moai are a palpable link to her ancestors was truly moving – at other times, it's with little luxuries.
After climbing to the top of the verdant caldera of Rano Kao and exploring Orongo, the clifftop village central to the birdman cult, our 'picnic' lunch turned out to be a barbecue served by chefs in full whites, under canopied tents just metres from the crashing waves.
Maintaining a real tang of adventure while adding full-fat luxury is Explora's signature, and something managed just as effectively by Rapa Nui's sister property in Patagonia.
First, there's another six hour flight from Santiago, this time south along Chile's spine. (Recommend window seats – the raspberry-ripple swirl of sunset-illuminated glaciers is a tantalising taste of what's to come).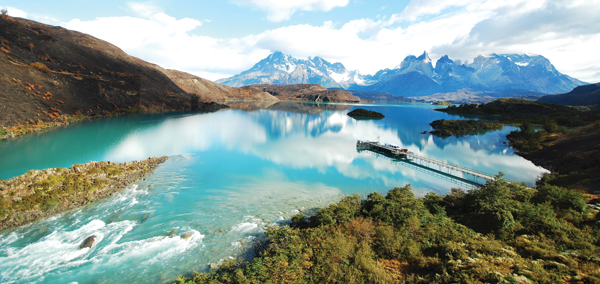 It may not look it on a map, but the Torres del Paine National Park is no less remote than Easter Island. After the flight it's still a four-and-a-half-hour drive to Salto Chico, Explora's Patagonian hotel, in the heart of the park. Unless clients are very pushed for time I'd recommend a couple of nights at The Singular, a new lakeside stunner in Puerto Natales, on the way (panel, page 51).
Whether you break the journey or not, the view from the Salto Chico is worth the wait. Jagged, snow-capped peaks are reflected in a mirror-like lake under a blue sky.
It's impossible to do it justice with words. Imagine the most beautiful mountains you've ever seen. Make the mountains taller, the colours more intense. You're still not even close to this view. And every one of the 49 rooms has it.
It would be easy to sit agog with a glass of something chilled and Chilean – wines by the glass are included in Explora rates – but there are far too many adventures to be had. Those with a decent level of fitness can complete sections of Torres del Paine's 'W' Circuit – without, of course, having to sleep in a tent. One day we hiked along Lake Grey and took a boat ride along the otherworldly blue face of the glacier. The next, we trekked through foothills, across streams clean and clear enough to fill your water bottle from, and clambered over a moraine of rocks large enough to gravel a giant's driveway, right up to the base of the Towers, the rock formation that gives the park its name.
Less-mobile visitors can also feel the thrill. Shorter, half-day walks bring you within reach of ancient cave paintings and weird and wonderful wildlife, from the ostrich-like ñandu to the guanaco, the llama's wild cousin. Explora has its own stables offering horse riding for different levels of ability.
Every third day, the horse ranch holds a quincho, a gaucho barbecue where whole sheep are grilled over a huge fire pit.
This presents an endurance test of an entirely different but no less physical kind, where the biggest bellies tend to triumph.
There's no denying Chile is a long way from the UK. Reaching Santiago takes the better part of a day (though upgrading clients to Air Canada's Executive First service via Toronto will certainly take the sting out of the journey: review, page 44).
But those looking for a big adventure will find excitement enough to justify every air mile – and luxurious properties ready and waiting to pamper the jet lag away.
In just a fortnight, I'd climbed a volcano, drunk from a glacier, eaten a conger eel, seen the fossil of an ice-age giant sloth and come face-to-face with my fill of moai. My eight-year-old self would be proud.
New Hotel: The Singular
A former sheep slaughterhouse and cold storage station, The Singular doesn't sound glamorous. Don't be fooled. This relative newcomer to the Patagonian luxury market is an idiosyncratic gem. The 1915 building just outside Puerto Natales has metamorphosed into a magnificent hotel, with the greater part of the original brick structure now a cavernous three-storey bar and restaurant area with stylish, oversize furnishings that give it a touch of the Alice-in-Wonderlands.
The food really is something to write home about: Patagonian delicacies from conger eel and king crab to fillets of the llama-like guanaco are both flavoursome and quirky.
Rooms are in a new, modern wing, with floor-to-ceiling windows overlooking the shore of Last Hope Sound. Here you'll
?find the spa too, with an indoor-outdoor pool with breathtaking views.
Much of the old machinery has been retained, so between the lobby and the new wing there's a walk-through museum of Heath-Robinson-style Victorian contraptions.
Excursions are excellent. Our guide, Francisco, brought alive the mylodon, an extinct giant sloth dating back to the ice age, from a few bones in a cave, while nearby stables offer complimentary rides (for those staying full-board) around Lake Sofia.
thesingular.com
Luxury lodge: Tierra Patagonia
This luxury lodge on the edge of the Torres del Paine National Park looks almost as if it grew there. Walls and roof combine into one sweeping curve, made of slats of the local lenga wood.
Inside, a sprawling main area segues from restaurant to bar to lounge to library, where a few hanging egg chairs catch the afternoon rays. The light wood is offset by local textiles and sheepskin. Think mid-century modern meets amped-up shepherd's shack. The quality of luxe simplicity is replicated in the rooms. There are 37 standard rooms, three two-storey design suites and five family suites. In the Uma spa, Carmen worked knots out of my shoulders in half an hour that I'd been building up for months. As well as guided park excursions, guests can stroll down to the shore of Sarmiento Lake, where a lucky few have spotted pumas. The lodge is offering puma photo safaris in September and October and next April.
tierrapatagonia.com
Key facts: Need to Know
Stretching 2,700 miles from the arid beauty of the Atacama Desert in the north to the tip of Tierra del Fuego in the south, Chile unfurls along the western edge of the South American continent. Its long, thin shape means it is a country with almost every type of landscape, and all on a grand scale.
Politically stable since the demise of the Pinochet regime in 1990, Chile is one of Latin America's most developed economies, and its luxury travel product is equally well-crafted. Luxury lodges are on offer in all the most popular tourist areas. While these have a hefty price tag, their all-inclusive nature – gourmet food, excellent wine by the glass and group excursions as standard – makes them good value. It's still possible to up-sell for the top-end of the market, with suites on offer, and private excursions – these start from $450 per day at Explora, $350 at Tierra, and less at The Singular.
Two weeks is just about enough to see Easter Island and Patagonia, but to visit the third in the holy trinity of jaw-dropping sights, the Atacama Desert, clients need at least three. Santiago isn't as vibrant a city as Buenos Aires but is worth a day or two, while the wine country, two hours' drive away, is another