Latin America: Double delights
kly.co.uk/cms/media/eas-id-cms/19260" alt="" width="299" height="199" align="right" class="newsArticleImage">
Make the most of Latin America with a twin-centre trip, says Katie McGonagle
Like this and want more details? Click here to download and save as a PDF.
Can you have too much of a good thing? When it comes to gorging on leftover Easter eggs or overdoing the booze, it's one bit of advice worth paying attention to; but when you're talking about travel to a place as vast and varied as Latin America, there's no such thing as too much.
Quite the opposite: once travellers get bitten by the Latin bug, they're practically guaranteed to keep coming back until they've traversed the entire continent. With endless cultures to explore, sweeping scenery, unique wildlife – all capped off with some of the most exciting cities in the world – it's hardly surprising travellers are keen to combine two or more countries in a single trip.
And as it's no short hop by plane, either, it makes sense to extend a visit to get the best value for money on the air fare. Find out which countries match up most easily with our guide to a handful of perfect pairings.
Best for: Mind-blowing landscapes
Tell me more: This is classic twin-centre territory. When two countries share as much border as Chile and Argentina, there are endless opportunities to hop back and forth; and when that border is across the awe-inspiring Andes Mountains, there's no excuse not to cross it at least once.
Patagonia – the region straddling the southernmost sections of each country – is home to some of the most spectacular scenery on earth, from the breathtaking lakes and mountains of Torres del Paine National Park to the icy wilderness of Los Glaciares. Soak up colourful culture in Buenos Aires, ride with the gauchos, and head to the farthest reaches of the continent in southernmost city Ushuaia. It's a popular combination for escorted tours. Travel 2 has added a 12-day Delights of Chile and Argentina itinerary this year, while Bales Worldwide and Journey Latin America also offer routes around the region.
How to book: Cox & Kings' Patagonia: Untouched Wilderness is a 17-day small-group trip visiting four national parks, Buenos Aires, Bariloche, El Calafate and Ushuaia. It costs from £3,995 with flights, transfers, accommodation with breakfast and some meals, and excursions.
coxandkings.co.uk
0845 154 9384
Best for: City and scenery
Tell me more: There is no better introduction to this wild and wonderful continent than Rio de Janeiro, famed for no-holds-barred parties, laid-back beaches, and overlooked by the iconic Christ the Redeemer. Have your fill of fun – and get in there before the world descends for next year's World Cup and the 2016 Olympic Games – then travel on to the majestic beauty of Iguaçu Falls.
From there, make use of four-times-a-week Lan flights from the falls to Lima, for a totally different urban atmosphere. Swap Rio's sexy samba rhythms for nightlife in Lima's bohemian Barranca district, switch your caipirinha for a Pisco sour, and decide whether you prefer to dine barbecue-style at a Brazilian churrascaria or munch on Peruvian dishes like ceviche (marinated fish) and lomo saltado (stir-fried sirloin).
Next, explore the country's Incan heritage at former imperial capital Cuzco, which also happens to be the gateway to the granddaddy of all must-see monuments: Machu Picchu.
How to book: Journey Latin America offers a 13-day break taking in Rio, Iguaçu Falls and Machu Picchu, from £2,539 including international and domestic flights, transfers, excursions and breakfast.
journeylatinamerica.co.uk
020 874 78315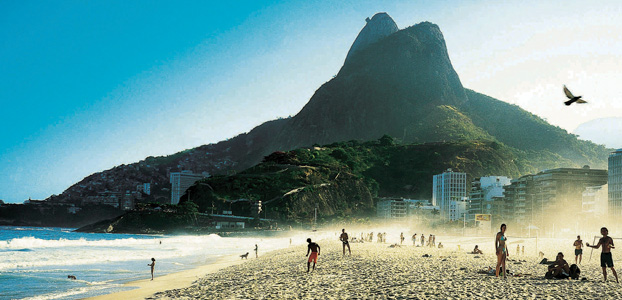 Best for: Wildlife Darwin-style
Tell me more: The Galapagos Islands are part of Ecuadorian territory, but the wildlife-rich archipelago is a world away from the mainland. Look out for giant tortoises, penguins, marine iguanas, blue-footed boobies and red-throated frigatebirds while retracing the steps of 19th century naturalist Charles Darwin, who formulated his theory of evolution while touring these volcanic isles on HMS Beagle.
Tag on time in Ecuadorian capital Quito too: admire the Old City's magnificent colonial architecture, be a typical tourist and get a photo with one foot in each hemisphere at Mitad del Mundo, or stray outside the city for a blood-pumping hike in Cayambe National Park.
Peru also pairs well with the Galapagos Islands, with a short flight between Lima and Quito. Cox & Kings and Bales Worldwide are among many operators offering this combination, and Collette Worldwide has added a 17-day Galapagos Islands and Machu Picchu tour this year, including a five-day island cruise (from £5,749).
How to book: Titan Travel's 12 day Ultimate Galapagos Cruise combines the mainland with a week-long cruise, from £4,995, including flights via Madrid, excursions, on-board drinks, gratuities and $60 credit, most meals and national park entry fees.
titanagents.co.uk
0800 988 5166
Best for: Rainforests and relaxation
Tell me more: Panama is known for its canal and a rather nifty line of headgear, but there's much more to this Central American state. Having said that, Panama City is a place worth doffing your cap for: this modern metropolis is one of the region's most multicultural cities, but also boasts fascinating heritage in Panama Vieja and the later colonial buildings and cathedrals of Casco Viejo. Take a trip down the famous waterway then venture into the jungles nearby for a taste of adventure.
Next, head north to nature lovers' haven Costa Rica. Biodiversity might sound like just another ecotourism buzzword, but it's a key part of Costa Rica's appeal: a quarter of its land mass is given over to national parks or conservation areas, and its extraordinary variety of species – especially colourful birdlife – belies its small size.
These countries also enjoy a choice of coastlines, so decide whether you'd prefer Pacific or Caribbean waves lapping at your feet after an action-packed break.
How to book: Rainbow Tours' two-week Highlights of Costa Rica & Panama itinerary is priced from £3,750. It visits Panama City, the canal, Costa Rican rainforests, Arenal Volcano and Pacific beaches, and includes excursions, transfers, accommodation with breakfast, and flights both international and domestic.
rainbowtours.co.uk
020 7666 1260
Best for: Mayan mystiqueT
ell me more: You'd be right in thinking all the furore around the end of the Mayan calendar was so last year – but since the world didn't end in December, take advantage of the renewed focus on this ancient civilisation with a trail around its intriguing monuments. It's easy to access too, with plenty of flights to Cancun and the option of a beach extension.
Mayan sites such as Chichen Itza and Tulum tend to be busy with day-trippers, but dedicated itineraries also include lesser-known sites. Other must-see highlights include Spanish colonial city San Cristóbal de las Casas, the spectacular Lake Atitlán, colourful Chichicastenango market, and Antigua, once the colonial capital of Central America.
How to book: G Adventures' Mayan Trail departs Cancun for Chichen Itza, Merida and Palenque in Mexico, plus Lake Atitlán and Antigua in Guatemala. The 12-day trip costs from £749 land-only.