Interview: Simon Reeve
people than Simon Reeve. His tally is approximately 110 countries so far and it's constantly climbing. While filming Indian Ocean, which aired on BBC Two this month, he visited 16 very different destinations. From the paradise perfection of the Seychelles to the war-torn Somali capital Mogadishu. Throughout May he has appeared at Kuoni stores and partner stores to talk about his experiences, which cover the full spectrum of life surrounding the Indian Ocean.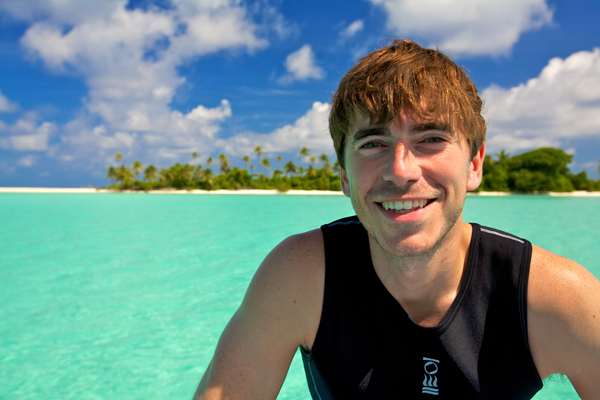 The Indian Ocean you portrayed is not simply the beach paradise of brochures. Was it important to show all aspects of the region? It would be asking too much of the licence fee payer to have me jollying around having a wonderful time in the Indian Ocean. This is my style of travel, I enjoy seeing all aspects of life in places, the problems and the delights, the light and the shade. It's important to give places a context otherwise it's easy to become sucked into resort life and not know what's happening around you. Holidays are about having memorable experiences and to find those you need to get out and explore.
Did you learn a lot about the Indian Ocean while making this programme?
I certainly learned a lot and I hope the audience did too. Some people will already know about the things I talk about, but many won't. It's my job to take an interest in the rest of the world and it's important that everyone does – travel is important. In my lifetime the world has changed so dramatically, as dramatically as it has at any period in our history, and we are in danger of sleepwalking through a staggering change. It's critical that we pay more attention. What has happened in places such as Madagascar with massive deforestation is happening all over the place and we can't go on ripping out trees forever and destroying the oceans. This inability to think long term is frightening. I have a one-year-old son and there is so much he won't see if we carry on this way.
Does tourism have a role to play in addressing these issues?
Tourism has an enormous role to play in this. How ironic is that. Wildlife seems to be surviving in small areas of conservation and it is largely tourism money that is paying for those to keep going. If people don't go we would lose the last protected areas. If tourism and tourists spend money wisely we can save a lot of species, habitats and eco systems that would otherwise be lost. Ultimately it is down to our leaders to be forward thinking in looking after the planet, but those people who work in travel can effect change too by talking to customers and local politicians.
What have you been doing with Kuoni?
Kuoni invited me to talk to its customers and I really appreciate the invitation. After a series there is a real anti-climax as everything goes quiet, but this gives me a chance to talk to viewers, answer their questions and get their views. Operators such as Kuoni can be a force for good. People want to have memorable experiences and the customer should have what they want, but there is no harm in a gentle nudge if it is pushing them in the direction of something? that will fulfil a desire for something truly memorable and does the planet good.
You spent six months travelling last year. do you ever go on holiday?
I do go on holiday and would like to more. My Mrs is half Danish so we go there quite a lot, which is the perfect antidote to the places I travel to – ordered, cool, calm, not great food but great people. My wife is obsessed with Greece too, so we go there a fair bit. I get my long-haul fix through work.
Do you use a travel agent to book your holidays?
Whenever we travel for work we rely on the advice of travel experts – we need a reliable source of information and there is just too much information out there and people don't know what to believe. If I had more money I would love to be able to go to a travel advisor and do the same with my holidays and get qualified advice.
Where will work take you next?
I've been to 110 countries but there are huge swathes of the world I haven't been too yet such as Canada, Russia, Japan, East Africa. There are a lot of stories I would love to tell although we are beholden to the electronic programme guide as viewers are fickle and it's important the title grabs their attention. So I will be coming up with some ideas and hope someone likes them enough to commission another programme.
Maldives is one of our agents' top-selling destinations - any highlights there?
A perfect moment was seeing 12 giant manta rays swimming towards me. It was a rare moment where everything comes together in the right way at the right time. It was such a jaw-dropping sight that my snorkel fell out my mouth! They were coming towards me in a stack, 12 manta rays each on a different level. They found us amusing the more animated we were. I dived down, turning around in the water and they dived down, barrel-rolling around me. That was a very special moment in such a beauti