Interview: Ricky Wilkes is rewriting the private jet travel rule book
right" src="http://api.travelweekly.co.uk/cms/media/eas-id-cms/17694">"We are driving a renaissance in the world of private jet travel and opening it up to a whole new generation."
The man behind the above quote is Ricky Wilkes - the first ever head of partnerships for private jet company Victor.
The renaissance he mentions is what persuaded him to take the position at a firm that celebrated its first birthday this week.
He explained: "I wanted to join something new and exciting.
"To be part of something that is disruptive in the marketplace, something that is shaking the traditional set-in-stone modus operandi of a sector? was the single biggest draw of this role."
Fundamentally Wilkes' job is to show the world that private jets are no longer the preserve of the ultra wealthy.
"A year ago it wasn't a misconception by the trade that private jet travel was irrelevant to their client base. But it is now."
Victor's key USP is that it enables people to buy single seats on private aircraft.
Instead of spending tens of thousands of pounds on a one-off charter (although you can do that too and make some money back), or ploughing enough money for a healthy deposit on a lovely house in the Cotswolds into a jet-share scheme, a couple can pick up a couple of return flights to Mallorca for as little as £3,000.
No airport security, no queues, no waiting for luggage.
Everything irritating about flying removed. Simply turn up 10 minutes before takeoff, stroll on, stroll off. From £3,000 return for two people.
Oh and dogs can sit on the client's lap if they so wish. As a dog lover Wilkes was adamant I include that snippet.
He was also adamant that I tell you he believes the travel trade is vital to Victor's success.
He explained: "The travel industry is certainly a major conduit to success in my eyes.
"We are not a broker. We are the world's first marketplace for private jet travel and, indeed, are the first private jet company to embark on a travel industry partner programme.
For example; Victor recently announced a partnership with ITC Classics. The operator now sells off the shelf package holidays that combine private jet seats with hotels such as St Regis Mardavall Majorca Resort and Four Seasons Resort in Provence.
Wilkes said: "We are building a strategic partner programme, looking to work with like-minded, forward thinking companies that deliver a luxury service to their clients."
Travel agents are firmly on the radar as are hotels and cruise lines.
"Agents have options. They can white label the technology and enable their clients to book jet seats on their site, they can deal with our flight operations team, or use flyvictor.com.
"The white label option costs them nothing and can be in place in a matter of days.
"We've made it easy for the trade and accessibly priced for their clients and we pay commission."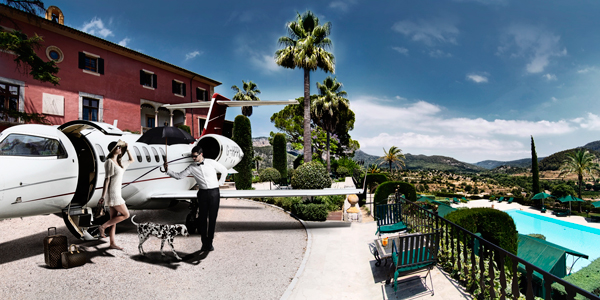 If you'd like to find out how to work with Victor either email Ricky (ricky.wilkes@flyvictor.com) or meet him at the Aspire luxury forum in Manchester on September 12 which you can sign up for