Interview: Daley Thompson
ke care of themselves. There are some who are super-fit. Then there are athletes. And then there's Daley Thompson. The BodyHoliday LeSport in Saint Lucia, where he runs fitness camps twice a year, is perhaps the world's most aptly-named hotel at which to interview the man who was the greatest all-round athlete of his generation.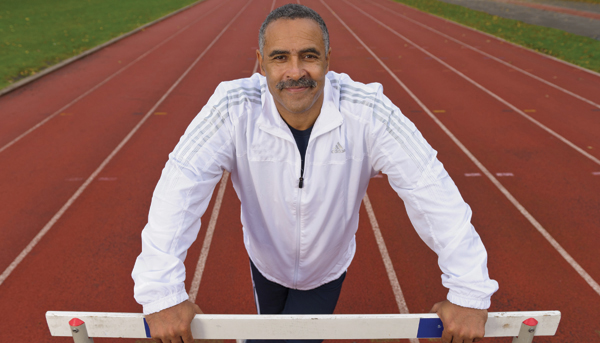 How did you end up at the bodyholiday?
I met the owner's son while here setting up some athletics
and football programmes for Saint Lucia. We got on well
and the conversation quickly turned to the possibility of running some camps at the hotel and I thought 'what could be better!' Kate [Staples, formerly Zodiac in Gladiators] and I run adventure boot camps in England, so we decided to put together something similar for guests at the hotel.?
Some people are fitter than others. Can anyone join in?
In any group there will be different levels of fitness. We pride ourselves on trying to provide the right level of exercise depending on abilities and fitness levels. It's best if the guests come along all week so we can really get to know them.
What is it that sets this place apart from other resort hotels?
One of the things I really like is that there are so many single people here. The big tables are set up for people to get to know each other and chat. Usually when singles go away they feel out of it, but here everyone meets in
the piano bar and chats away and it seems to work really well.
The classes and sessions help them to get to know each other well.
As well as a wide range of sports, there are also spa treatments.
The range of things fits a huge demographic of people.
When you're not putting people through their paces on the beach, what do you do? Mostly I sit out of the sun because I don't like the sunshine much – I get too hot and bothered. I read a few books, write a few emails and visit a few friends on the island. I've been here six or seven times but don't know the whole of the island; I like Rodney Bay and Castries and there are a few nice restaurants. The Pitons are a highlight.?
Where else do you like to go?
I love Australia, California, Cape Town, Mauritius and the Seychelles. My favourite place in the world is probably Melbourne. I have lots of friends there and they love sports and I love watching sports. There's always something you can go and watch and its sunny most of the time so you can go out and do a bit of training. I wouldn't go to somewhere where the only thing on offer is lying on the beach.
Has the Olympics made more people want holidays with an element of fitness and wellness?
Most of the people I meet want to do something, they want to get fit. And there are so many options these days that everyone can do something different. I think many people were inspired by the Olympics. People in Britain couldn't get enough of it. We were doing well, we put it on miles better than anyone thought we would and as a nation we have been looking for things to make us cheery because economically most of us are going through hard times. There's no reason why the Games shouldn't have a positive impact on people's lives. What concerns me is whether sports clubs and organisations have been ready for the influx of inspired youngsters.
When you choose a holiday what are the driving factors?
I have five kids and I tend to go away with them. I'm not actually much of a holiday person, as I like my routine at home, so when I do go away it's paramount that it's right for the kids more than me. During the year they'll always say they like something – they'll want to try skiing or go to Disney – and I try to do it with them. My 11-year-old loved the Olympics and was so enthused by it he is already asking where the next Olympics is and are we going to go to watch. I think I will take him to Brazil [for the 2016 Games].
Do you rely on the internet, travel agents or friends for holiday choices? Mostly I get it from other people. They tell me about something their kids enjoyed or I hear people talking about holidays and I look at the reaction of my boys. It's probably better if you are getting it first-hand rather than from a travel agent. Then I just book online. Unless, of course, any agents reading this think they have something the kids and I should do, I'm more than happy to try something. A couple of days ago some friends of one of my boys went to the local golf club and he started thinking about golf lessons – so maybe a golf holiday might be next. But, my six-year-old would hate that. He likes rock climbing. So we probably need several different holidays in one. There's a challenge for someone: a holiday with golf, climbing and something for them to learn – I always like them to learn something while away.
● To find out how to get fit with Daley in England go to Fitnesscamp.co.uk. Daley will be back at the BodyHoliday in the spring and autumn of