First look at Myanmar river cruiser
first images of its new luxury river cruiser, Orcaella, ahead of the inaugural cruise in Myanmar on July 22.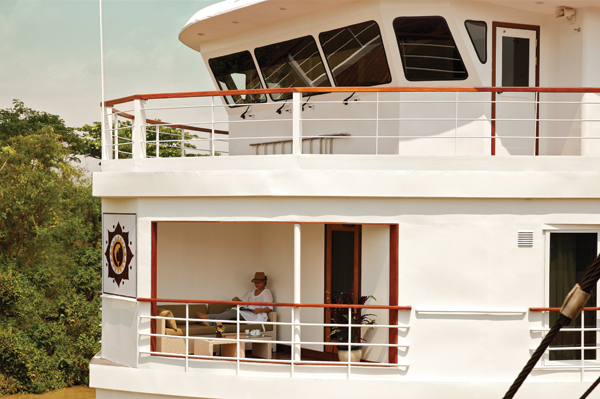 Departing from Mandalay, the 11-night voyage heads up The Chindwin River in the foothills of the Himalayas.
The boat's combination of draft and length mean she can reach lesser visited destinations providing guests with the opportunity to engage with remote communities and areas.
Named after the dolphins that inhabit the Ayeyarwady River, Orcaella is a traditional Irrawaddy Flotilla ship built by local craftsman in Yangon.
The interior, designed by French architect Francois Greck, reflect the local surroundings with traditional furniture and art by Burmese artists.?
There are 25 cabins (some interconnecting) and suites on board all featuring floor to ceiling sliding glass doors with Juliet balconies opening onto the river.
The two largest suites have been named in honour of Burmese traditions and symbols of Buddhism. The Eugenia Suite was named after the special branches that are traditionally attached to the bow of a boat to ensure a safe passage, and The Chinthe Suite is the Buddhist symbol of the lion, a protector of places of worship.
Orcaella joins sister ship, Road To Mandalay that has been cruising the Ayeyarwady River for the past 17 years.
The maiden voyage departs Mandalay on July 22 with highlights including a visit to the mid-12th century temple, Thanbodday Pagoda, a trip to the site of 1,000 Buddhas at Bodhi Tataung, a journey into Kalay, known as the trade gateway to India and a tour of the candlelit street market.
From £3,660 per person including all meals onboard, excursions, transfers and domestic flights.
orcaella.net