Feature: Zeal for Middle-Earth
ent visitors to New Zealand say their fascination with The Hobbit inspired their trip. Now, with the final film in the trilogy due out in December, demand for this stunning country is likely to rise.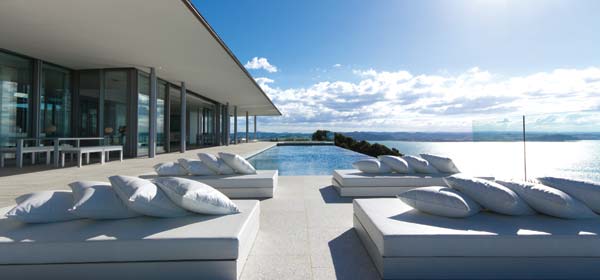 Perfection is a rare and beautiful thing, so when you achieve it it's important that someone is there to witness what you've done and tell you how clever you are.
My latest perfect moment came – entirely unwitnessed, dammit – on a golf course called Jack's Point (jackspoint.com/golf)? just outside Queenstown. From the elevated 18th tee a valley yawns below, bordered by the mirror flat water of Lake Wakatipu on the left and right and Mordor in front. For the four of you who haven't read The Hobbit books or seen the films, Mordor is the region occupied by Sauron in the southeast of northwestern Middle-earth. (Although, if you are one of the four, that explanation is as helpful as a hobbit in a height contest, so let's just call it the baddies' mountainous lair.)
?Like all baddies, Sauron chose well, as this mountain range? – part of the popular ski range The Remarkables in real life – is dramatic, beautiful and imposing, the kind that makes one quake at the thought of tectonic plates scraping together.
So there I was, wiggling my bottom on the 18th tee, practice swings out of the way, and feeling more than a little sense of one off occasion. It was the best drive of my life.
It flew high and true and straight at Mordor, and lingered in the air long enough for me to enjoy a few seconds of bliss, before landing in the middle of the fairway. Fist pump, fist pump, boogie. That moment alone was worth the NZ$175 (£88) green fee.
My visit to the most famous local golf course, The Hills (thehills.co.nz), was no less dramatic thanks to a woman called Choppy and her helicopter. She is the founder of Over the Top (flynz.co.nz), a helicopter tours company that offers some extraordinary experiences, such as viewing Milford Sound from the air or, in my case, landing on top of a mountain with a golf club and driving eco balls over the edge (from NZ$325). There's even a par three hole up there and rumours that a hole-in-one million dollar prize is being put together.
Afterwards, Choppy wasn't content to simply drop us back at base. Instead, she flew low and fast across The Hills golf course and its large collection of animal sculptures before landing by the clubhouse for a quick hot chocolate. Choppy parks the helicopter as if she's parking the car at Sainsburys. A level of confidence that serves, in the words of NZ prime minister John Key, to "put nervous flyers among us at ease." She even has a unique bottle of whisky hidden on a mountaintop somewhere reserved for British guests – tell your clients to ask her about it if they join her for an adventure and they might get a swig of a meticulous recreation of the original malt whisky shipped to Antarctica in 1907 by the explorer Ernest Shackleton to fortify his Nimrod expedition.
The only downside to spending a couple of hours with Choppy was that all else paled in comparison. When placed in the cockpit of a bright yellow Lamborghini Murcielago later that day, the experience felt a little flat (freemanX.com); how's that for a spoilt brat? So advise your clients to split the two adrenaline thrills up, as on any other day the glorious roads of South Island and a car that goes from 0 to 60 in less than four seconds would be the bum tingling highlight.
This part of New Zealand is packed with opportunities to do things that will ramp up your adrenaline to record levels. One sign outside a shop offered a Shotover Jet ride, luge, bungee jumping, canyon swinging, paragliding, rafting, zip trekking, skydiving and quad biking – and that was just the top half of the chalkboard.
So the chances are your client is going to be ready to relax later in the day, which makes it vital they have somewhere splendid to stay such as Azur Lodge (box, page 69). Azur is part of a collection called Luxury Lodges of New Zealand, which has properties dotted across the country. The standard is extraordinary. See the box (left) for a few of the best.
Back up north and for those who enjoyed the Hobbit films there is the chance to see an attraction that has sprung up in the wake of NZ becoming the home of Middle-earth: Hobbiton. Kids' stuff? Not so, according to New Zealand's prime minister, whom I met while attending trade show Trenz. That sounds flippant but I don't say it lightly. It's wonderful that the man in the top job takes tourism seriously enough to sit down with a London-based travel editor for 15 minutes.
He told me: "Both the movies [the first two Hobbit films] out so far have grossed about a billion dollars which give you an idea of how far reaching they are and we have seen a significant number of travellers from US and European markets in particular saying part of the reason they were coming was because they have seen the movies."
Significant is the word. The International Visitor Survey shows that 12% of all international visitors to New Zealand surveyed between October and December 2013 said
The Hobbit was a factor in stimulating their interest in NZ. That figure rises to 14% among just leisure visitors. And with the third film in the trilogy out in December you can expect to see another spike in interest at the turn of the year as the tourist board continues its 'fantasy is reality' promotional messages.
As it happens I haven't seen the films so instead of Hobbiton I headed to Waiheke. It is a small island, a half-hour boat ride from Auckland, that somehow has an average temperature 5C higher than the city. This means wine, loads of it. There's a population of just 8,000 but more than 40 vineyards, including Mud Brick and Cable Bay.
Man O'War was my favourite thanks to its beachside location. If your client enjoys wine – and they probably do – a couple of days here is a must on any itinerary.
Annoyingly for you there are a lot of musts here. Which is probably why the average British visitor spends almost a month in NZ. On the plus side there are countless opportunities to achieve perfect moments – even if they don't want to hit a golf ball at a fictional baddy's mountainous lair.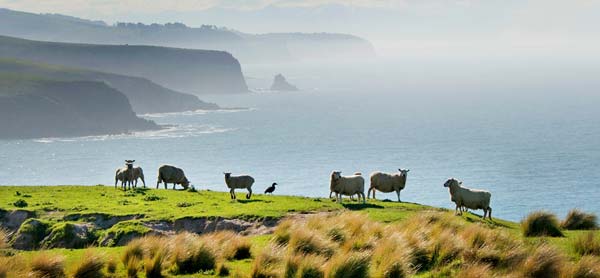 AZUR LODGE
Queenstown, South Island
If it costs £25 for a View from the Shard ticket in London, to sit in one of the baths at Azur should be about the price of a small car. After half an hour's soaking, I got out begrudgingly and was drying myself before realising I'd forgotten to wash.
Each of the nine 75-square-metre freestanding hillside villas offers views of Lake Wakatipu and the remarkable The Remarkables. The glass-fronted villas all face the only direction anyone wants to look, so whether you're in bed, by the fireside sofa or doing a headstand by the coffee machine, that view is a constant.
The main building – small and informal, despite its name – houses the lobby, kitchen, dining room, guest lodge and a dog called Elvis. In fact, it's so informal that they let us order a Fergburger from Queenstown – just a couple of miles away – and chomp it at the dining table. If you've had one of these rather famous burgers you'll know eating one is not a graceful or spill-free activity.
Rooms cost from NZ$1,650 (£833)
including tax in the summer months
azur.co.nz
Other Luxury Lodges
Minaret Station
Accessible only by helicopter, this luxury tented lodge in the heart of the Southern Alps is part of a 65,000-hectare working farm and is genuinely remote.
minaretstation.com
Eagle's Nest
A 75-acre estate with five private luxury villas each sporting heated infinity pools and views across the Bay of Islands.
eaglesnest.co.nz
Annandale
An hour from Christchurch, this Banks Peninsula farm has a homestead with gardens, infinity pool, spa pool and tennis court, plus three private villas to rent.
annandale.com

REVIEW: AIR NEW ZEALAND BUSINESS PREMIER
With many airlines, the business-class seats are predominantly taken by business people. But on Air NZ there was a higher proportion of leisure travellers in the best seats than I'm used to – a higher proportion throughout the plane, in fact. And that showed on board in a variety of ways. The staff were more attentive before take off in terms of ensuring you knew how everything works. I was asked if I had flown in one of these seats before and, after admitting it was my first Air NZ Business Premier experience, they ran me through everything I might need to know.
Considering NZ is a once-in-a-lifetime trip for many people, and the farthest they will ever fly, it's likely a higher proportion of clients splash out on a flatbed and therefore a higher proportion are in that seat for the first time. Business-traveller-heavy airlines haven't asked me this question, probably because their top seats are full of frequent front-end flyers.
The cabin crew also showed a lot of interest in my plans for NZ and offered all sorts of tips about where to go and what to see. The boss of the airline, Christopher Luxon, told me that the flight is very much part of the holiday for travellers to New Zealand. And as if to prove it, while I was in Auckland the airline announced a tie-up with New Zealand Winegrowers to promote the country as a wine-tourism destination, which means your clients will be able to try some of the best NZ wines while on board. Apparently, wine tourists spend 30% more than other tourists, so I can see why it's a focus.
The transition in LA is worth mentioning too. I got off, walked 50 yards, went to a lounge and read for an hour and half and then got back on. It was incredibly smooth. And a fair few people got off in LA, so it is clearly a popular airline between LHW and LAX.
In terms of the hardware, Air New Zealand is among the most inventive in the sky. Its 'cuddle couch' – which turns three economy seats into a flatbed for two – is the first really impressive innovation in the sky I've seen in a while. The premium economy product is the best I've sat in and the Business Premier seat is a 22-inch wide leather armchair that converts to a 6ft 6in flatbed complete with mattress, duvet and pillows. I tend not to eat in bed at home because I'm messy, so I like not having to do it on a plane, especially for a longer journey like this.
The food fits in with the 'welcome to NZ' theme, with a Kiwi chef behind a creative menu, and there's a snack menu available throughout the flight. The touchscreen TV and range of entertainment is excellent.
I realised I'd enjoyed the flight and warmed to the staff because as I got on board to fly home, I was hoping to see the same crew. That has never happen